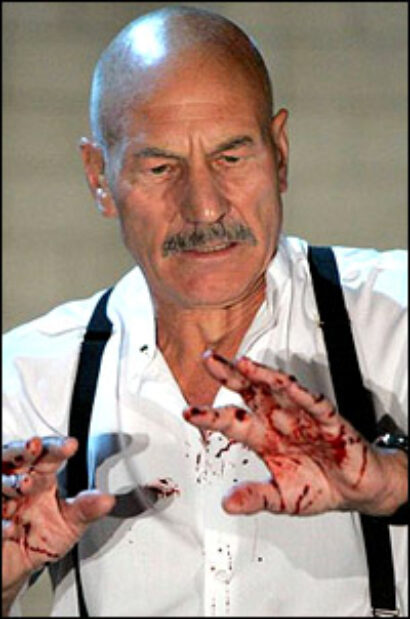 Following a West End run this past December, Stewart and company arrive at BAM's Harvey Theatre with Macbeth through March 22. The production, which originated at the Chichester Festival, features direction by Rupert Goold and is set in a "subterranean kitchen that serves as a military hospital in a timeless and nameless country."
Stewart stars in the title role of Shakespeare's bloody drama with a British cast that includes Kate Fleetwood (Lady Macbeth), Paul Shelley (Duncan), Scott Handy (Malcolm), Ben Carpenter (Donalbain), Martin Turner (Banquo), Michael Feast (Macduff), Mark Rawlings (Lennox), Tim Treloar (Ross), Bill Nash (Angus), Christopher Knott (Old Seyward), Oliver Birch (Lady Macbeth's servant), Christopher Patrick Nolan (Seyton), Hywel John (Bloody Sergeant), Suzanne Burden (Lady Macduff), Polly Frame, Niamh McGrady and Sophie Hunter (Witches).
Macbeth features a design team comprising Anthony Ward (production design), Howard Harrison (lighting design), Adam Cork (composition and sound design), Lorna Heavey (video and projection design), Georgina Lamb (movement director) and Terry King (fight director).
On Feb. 15 Macbeth director Rupert Goold will chat with Public Theater artistic director Oskar Eustis for the BAMdialogue series at 6 PM. BAM will also host Macbeth star Patrick Stewart for BAMdialogue Feb. 17. The Feb. 17 post-show discussion, free to same-day ticket holders, will be moderated by Columbia University Professor James Shapiro.
Patrick Stewart starred in the Broadway revival of Harold Pinter's The Caretaker. His additional stage credits include A Christmas Carol, The Ride Down Mt. Morgan, The Tempest as well as recent turns in the RSC's Antony and Cleopatra and The Tempest, which was also directed by Goold. Stewart is well known for his screen work as Captain Jean-Luc Picard in "Star Trek," as well as the "X-Men" movies. Stewart is slated to return to the RSC stage as Claudius in Hamlet later this year. For more information call (718) 636-4100 or visit www.BAM.org.