Just landing a role on Broadway alone is usually the result of years of training and dues-paying for actors, but New York's best stages have also been known to provide a launching pad for young performers just beginning their careers. Occasionally, these Broadway babies' performances have even become Tony winning.
We're taking a look at some of the youngest people to win acting Tony Awards.
1. Sophia Gennusa (9), Oona Laurence (10), Bailey Ryon (11), and Milly Shapiro (10)
While this quartet did not technically win Tony Awards, they were selected to receive Tony Honor for Excellence in recognition of their performances in the title role of 2013's Matilda The Musical. Gennusa holds the record as the youngest Tony Honor recipients in history.
2. Frankie Michaels, 11 years
For his role as Young Patrick Dennis in Mame, Frankie Michaels took home the Best Performance by a Featured Actor in a Musical Tony Award in 1966. His winning performance in songs like "My Best Girl" led him to beat out fellow nominees like John McMartin (for Sweet Charity), Michael O'Sullivan (for It's a Bird...It's a Plane...It's Superman), and Roy Castle (for Pickwick). The Tony Awards that year were held just a little over a month after Michaels 11th birthday, making him the youngest person to ever win a Tony Award—a record that still stands today.
3. Daisy Eagan, 11
Twenty-five years after Frankie Michaels' win, Daisy Eagan turned in a winning performance as Mary Lennox in the 1991 musical version of The Secret Garden. She won that year's Tony Award for Best Performance by a Featured Actress in a Musical, over fellow Secret Garden castmate Alison Fraser, Cady Huffman, and LaChanze—Huffman and LaChanze have both gone on to win their own Tony Awards for their performances in The Producers and The Color Purple, respectively. Eagan was 11-and-a-half when she accepted her award, solidifying Michaels' place in the record books, but she remains the youngest-ever woman to win a Tony.
4. Trent Kowalik (14), David Alvarez (15), and Kiril Kulish (15)
When this youthful trio shared the title role in 2009's Billy Elliot The Musical, they made Tony history as joint nominees for a single role—and they won, over Gavin Creel (for Hair), Brian d'Arcy James (for Shrek the Musical), Constantine Maroulis (for Rock of Ages), and J. Robert Spencer (for Next to Normal). This is the only time the Tony Awards have recognized three people as one single performance. (Though in 1960, seven children shared a single nomination for playing the various Von Trapp children in The Sound of Music.)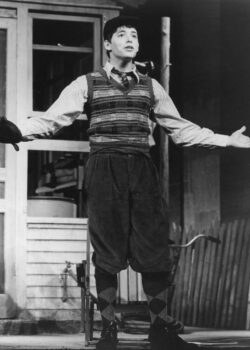 5. Matthew Broderick, 21
Before Matthew Broderick starred in The Producers and How to Succeed in Business Without Really Trying on Broadway—even before Ferris Bueller's Day Off—he was somewhat of a Broadway wunderkind, receiving acclaim for his performances as Eugene Jerome in Neil Simon's Brighton Beach Memoirs and its follow-up Biloxi Blues. Broderick won a 1983 Tony Award for Best Performance by a Featured Actor in a Play for his performance in Brighton, making him still the youngest-ever winner in that category.
6. Ben Platt, 23
Ben Platt's heartwrenching turn in the title role of Dear Evan Hansen became one of the 2016–2017 season's most talked about performances on Broadway. The buzz only strengthened through Tony time, when Platt won Best Performance by a Leading Actor in a Musical, winning over Christian Borle (for Falsettos), Josh Groban (for The Great Comet), Andy Karl (for Groundhog Day), and David Hyde Pierce (for Hello, Dolly!). At only 23, he is the youngest person to ever win that award solo.
7. Audrey Hepburn, 25
During this movie icon's early career, she straddled the realms of Broadway and Hollywood; she created the title role in the 1951 play version of Gigi, enjoyed her first starring film role in 1953's Roman Holiday, and returned to Broadway the following year playing the title role in Ondine. Though Hepburn chose Tinseltown for the remainder of her career, Broadway awarded her quite the going away present with the 1954 Tony Award for Distinguished Dramatic Actress (analogous to today's Best Performance by a Leading Actress in a Play award). At only 25 years old, Hepburn remains the youngest to take home this award. In a nice Tony history coincidence, Hepburn presented the Best Performance by a Featured Actress in a Musical trophy in 1991 to Daisy Eagan, youngest-ever to win in that category.
8. Alex Sharp, 26
Alex Sharp graduated from Juilliard's drama department in May 2014 and, four months later, made his Broadway debut leading the company of The Curious Incident of the Dog in the Night-Time. Sharp played Christopher, a 15-year-old with high-functioning autism and an incredible aptitude for math. At the 2015 Tony Awards, Sharp won the Tony for Best Performance by a Leading Actor in a Play over Bradley Cooper (for The Elephant Man), Bill Nighy (for Skylight), Ben Miles (for Wolf Hall), and Steven Boyer (for Hand to God). The win made Sharp the youngest winner ever in that category.

Note: The youngest-ever winner for the Tony for Best Performance by a Leading Actress in a Musical was indeterminable based on historic records at the time of publication.
Logan Culwell-Block is a musical theatre historian, Playbill's manager of research, and curator of Playbill Vault. @loganculwell