The Edinburgh Festival Fringe is the biggest arts festival in the world, with over 3,000 shows. This year, Playbill will be going to Edinburgh in August for the festival and we're taking you with us. Follow along this summer as we cover every single aspect of the Fringe, aka our real-life Brigadoon!
The Edinburgh Festival Fringe can be intimidating to newcomers and returnees alike. With thousands of different shows on offer, Playbill has sifted through programming from many of the different venue operators at the festival to offer you a handy guide to some of the best at the Fringe.
One of Fringe's best known venue hubs is Summerhall, an arts and events complex which was home of the Royal Dick Veterinary College from 1916 to 2011. The building subsequently features an Anatomy Lecture Theatre with curved, tiered seating and a vaulted skylight, an old laboratory, a dissection room, and a former women's locker room. All four rooms host performances at the Fringe, with the venue favoring boundary-pushing new shows. Read more to get a taste of Summerhall's offerings this year!

READ: 11 Edinburgh Fringe Shows to See at Gilded Balloon's Teviot Venue
Soldiers of Tomorrow
Playwright and performer Itai Erdal writes of a day when his eight-year-old Israeli nephew came home from school with an empty box to be filled with goods for soldiers on the front lines. Inside the box the boy's teacher had written: "To the soldiers of today from the soldiers of tomorrow." Erdal is incredibly honest about the conditioning that creates nations that fight, own, or dominate other populations. Expect extraordinary insight and moments that seem truly unbelievable to safe western audiences. The production will also feature immersive stage design.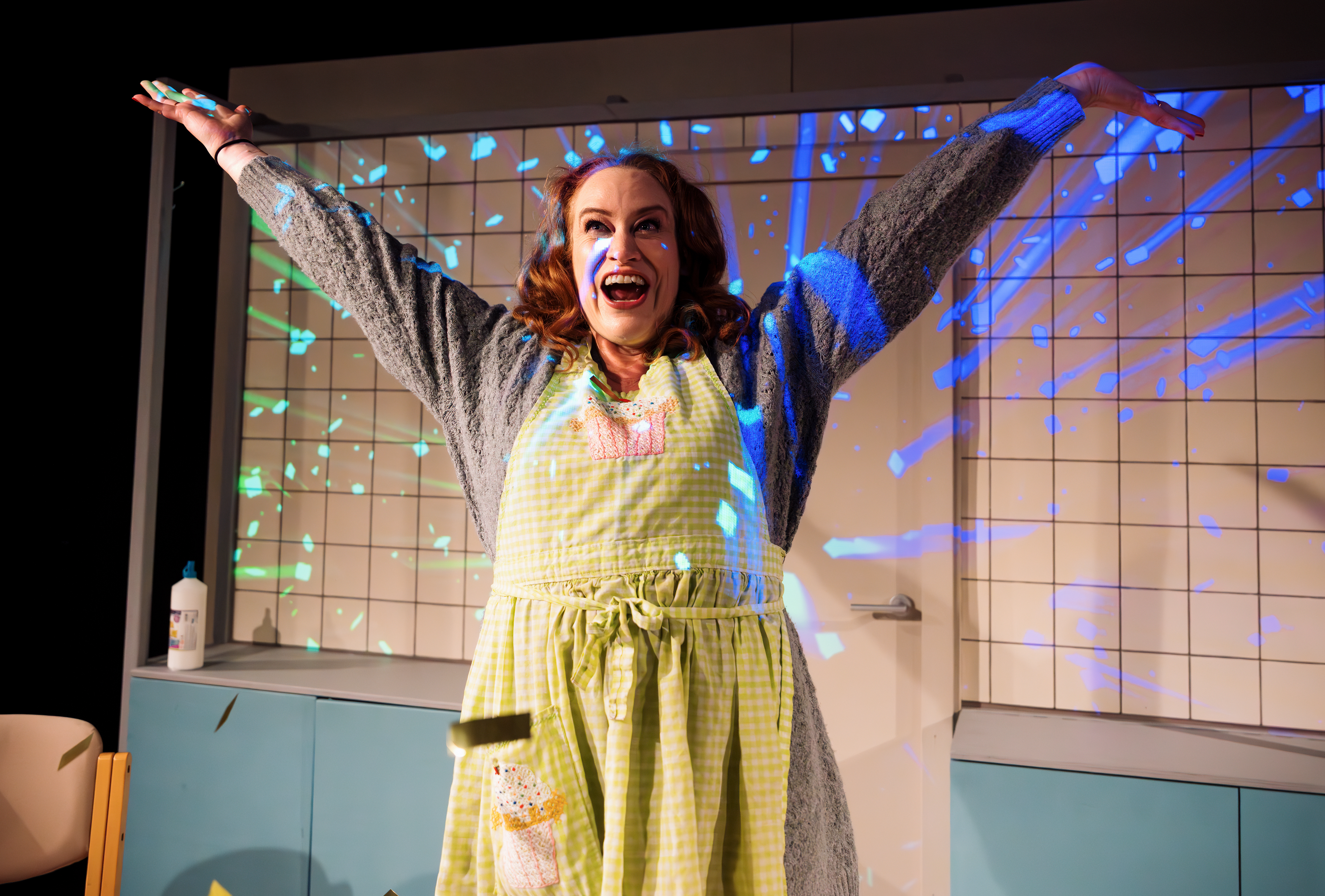 Summer Camp for Broken People
Summer Camp For Broken People is a new show about rape, losing your mind, and finding yourself. After a violent sexual assault, a 40-something single mum thinks she's "fine" until an unexpected email sends her spiraling into a serious mental health crisis. The semi-autobiographical solo show is based on diary entries, letters, and essays written during time in a psychiatric hospital. This dark comedy by Emily Beecher shines a light into the darkest of places. It's a bold, brave show about how mental illness infects our lives, our capacity for pain, and, ultimately, what it takes to put a shattered spirit back together.
You Are Going to Die
Performed entirely naked, You Are Going to Die is a nail-biting descent into existential anxiety. A surreal meditation on annihilation, illuminating the darkest corners of the human psyche, Adam Scott-Rowley weaves together vignettes that spin in and out of the mundane and magical moments of being human.
Piece of Work
James Rowland is back in the Anatomy Theatre with a new show, Piece of Work. Trauma or none, we all have our family dynamics, and we all have a desire to help our family to thrive. How do we love so dearly and how do we keep those we can't bear to see in pain, alive. Rowland has been touring his storytelling theatre shows for half of his adult life, but this year was different. Upon returning home after a stint on tour, he received a letter that exploded his life. His tour then became a search for the person who sent it and a journey to maybe save a life.
Playing Latin X
Upon moving to London as an actor around nine years ago, Guido Lueches noticed that casting directors had a penchant for asking him to slip into any number of South American stereotypes. Now he takes back the power, welcoming audience members on stage to be the casting director and see how far he can take it. Sombrero and avocado costume, sir?

Party Scene
Diving into the underbelly of queer culture, Party Scene asks the tough questions about drugs, sex, consent, and mental health within the marginalized community. Exploring desire, intimacy, isolation, and addiction, the provocative new dance-theatre show asks: 'When does an underground scene become a community crisis, and when is it time for the party to end?' Performed by a cast of four, the performers push themselves to their limits in this hour long rave, a service to the joy that queer men should have free access too, but still do not.
Creepy Boys
Sam Kruger and Grumms (two self proclaimed "soon to be Queer icons") transform into chaotic, weird, and dare we say creepy, twin boys - inviting the audience to celebrate their 13th birthday - in Creepy Boys. The Canadian-comedy darlings mash together clowning, drag, puppetry and sexy songs to launch the audience into 2000s nostalgia in the comedy-horror that took Adelaide Fringe by storm.
Concerned Others
Multi-award-winning company Tortoise in a Nutshell will present Concerned Others, an intimate tabletop performance that shares the stories of under heard voices—accounts which paint Scotland as a nation struggling to recognize a deadly culture of shame, ignorance, and misunderstanding surrounding addiction and drug-related death. Immersive soundscapes, shoebox installations, turntables, micro-projection, and 32mm figures combine to create a multi-textured piece which explores a defining crisis.
Good Morning Faggi
Good Morning Faggi's Bjarni Snæbjörnsson explores his queer experience in this autobiographical musical, asking why a nervous breakdown happened to a gay actor in his prime in the "queer paradise" of Iceland. The show addresses internalized homophobia, micro-aggressions, and subtle and systematic violence against queer people through the forms of comedy and musical theatre. Good Morning Faggi previously had an 18-month run in Reykjavík, and toured the entire country. It has sparked vital, nationwide conversations about the human rights of queer people in Iceland and what it really means to belong.
Bangers
A smash hit for campaigning theatre company Cardboard Citizens, Bangers is coming to Fringe for another glorious night of heady music, as two headliners crossfade between stories of love, sex, and losing their creative spark. Set against a backdrop of precarious lives in urban London, and featuring original tracks inspired by early aughts and present-day R&B and garage music, Bangers is the perfect opener to a night out at the Edinburgh Festival Fringe.

Growler
Growler is an 82-year-old drum banging shamanic vulva from the Liberties, inner city Dublin. Her mission is to "heal the past to heal the future" through transmuting the eejit out of ourselves. Using storytelling, song, spoken word and comedy she will take you on a nekyia (journey) to the shadowlands. This theatrical, alchemical trip is at times mesmerizing and is unlike anything you've ever witnessed before. All at once confronting and adorable, challenging and hilarious. Growler leaves no stone unturned and no one left behind as she blazes a path with her Holy Trolley and Staff.
GUNTER
A true story of deception, magic, and torture. 1605. Two boys have been murdered. Their mum wants justice. Hot from their five-star sell out, Belly Up, Dirty Hare presents GUNTER, a chaotic reimagining of the most notorious bewitchment case you've never heard of. The show opens with a football match and rises to a crescendo as we ask "will women ever be safe'"and "IF WITCHES WEREN'T REAL. WHAT WAS?"

Help Yourself
This satirical self-help seminar, which breaks down into a story of loss, explores how humans aren't taught how to deal with grief and loss, even though it's fundamental. Help Yourself is a new performance by Jess Brodie and Victoria Bianchi that explores grief and friendship. Drawing back the veil of self-care and toxic positivity, the performers unpack their relationship with loss and empathy, and ask why humans struggle to accept sadness in themselves and others.
BAKLÂ
Hilarious, sombre, and deeply personal, Max Percy explores the weaponization of religion through an intergenerational Filipino lens. A mosaic of Max's own life experience meshed with history, politics, and sexuality, BAKLÂ boils down to butoh dance, performance art, circus rope...and the occasional sexual moan. Glorious and vital to understanding the Phillipines and dismantling colonisation. BAKLÂ asks whether sex and sexuality might be a way of making sense of who you are when Catholicism has been weaponized to oppress both people of color and the queer community across history.
Hysterical
A fierce and feminist take on the "hysterical woman" trope from internationally acclaimed poets Carrie Rudzinkski and Olivia Hall. Women are frequently told they are too emotional—too hysterical—to be taken seriously, to be leaders of countries and companies, to be believed when pointing to their own hurt. Hysterical challenges these myths with poetry that confronts body politics, systemic sexism, and weeping uncontrollably in the supermarket.
iCON
Welcome to iCON, a show in which everything is probably fine. In a world that is crumbling and thoughts are spiraling and the void you used to scream into for sweet relief tells you to go f*ck yourself, Sian Clarke asks: "Can we all just TRY to have a nice time?" Clarke trained as a comedian and then realized performance art was more her bag. If everything is a consummate disaster, how does she raise her voice above the fray? By being famous! Directed by multi-award winning world-touring, performance art superstar, Ursula Martinez, it's time to get on stage or hide in the back, but either way let Sian teach you how to be an icon. Maybe, sneakily, find how to discover a little comfort in community and the absolute fire-cracker magic that is an hour in a room playing with others.
ARCADE
ARCADE is the latest immersive audio experience from Darkfield. Using the nostalgic 8-bit aesthetic of 1980's video games, ARCADE's interactive narrative explores the evolving relationship between players and avatars. Over 30 minutes in a completely dark shipping container, this choose-your-own-path experience will fully immerse the players in alternate environments using 360 degree binaural sound and sensory effects.

Hungry for more Fringe recommendations? Check out Playbill Goes Fringe to keep up with our coverage before, during, and after the festival! For more information about Summerhall's Fringe programming, visit https://www.summerhall.co.uk/.