Half the fun of being a Broadway fan (theatre nerd, drama dork, show queen, musical maven, Broadway baby, however you identify) is seeing shows and talking about them. Another favorite hobby, though, is anticipating shows (and talking about them). Just as sports fans have fantasy football, we thespians love to debate and handicap the coming season.
I've already come to blows with three close friends over the 2016 Best Musical Tony and the 2015 nominations haven't been announced yet. Even hypothetical shows inspire great passion. In high school math classes, I used to doodle dream casts for shows: Betty Buckley in Annie Get Your Gun, Mandy and Bernadette in Sweeney Todd, that kind of thing. Of course, part of the heartbreak of the Rialto is the shows that get announced and then don't happen, or they happen, but not with the star you were promised.
Click through to read my selections for the Top Ten "What Ifs" from Broadway History.
10. Lauren Ambrose in Funny Girl
For a production that never happened, there was an awful lot of hullabaloo about the recently announced (then canceled) revival of Funny Girl. It would have been the show's first Broadway revival since the original production made a superstar out of Barbra Streisand and her indelible footsteps have made any notions of a revival extremely daunting. Lauren Ambrose was an appealing idea with her significant acting talent and unique sense of humor. People were concerned about her singing ability, but some viral videos of her singing with her band, including the Fanny Brice/Barbra Streisand hit "My Man" offered high hopes. Alas, it was not to be.

9. Cyndi Lauper in Sweeney Todd
When John Doyle's innovative London production of Sweeney Todd was announced for a Broadway bow, there was great speculation on who would essay the roles of Sweeney and Mrs. Lovett. Of course, ultimately they went to Tony Award winners Michael Cerveris and Patti LuPone, the latter having already proven her mettle in the part with the New York Philharmonic and for PBS. But prior to that, one of the names floated was pop legend Cyndi Lauper, who had already appeared on Broaday in the Roundabout Theatre Company's production of The Threepenny Opera, opposite Alan Cumming. It's tantalizing to imagine Lauper's distinctive and rangy belt voice scaling the intricate highs and lows of Sondheim's score. Rumor has it Lauper was considered again when Tim Burton was casting his movie version of the show, but again, the world was denied a Cyndi Nellie. Perhaps someday.

8. Faye Dunaway in Sunset Boulevard
The original production Sunset Boulevard was fraught with offstage drama from its inception when the gossip pages pitted workshop star Patti LuPone against Meryl Streep in the casting predictions. LuPone ultimately booked the role, for both London and subsequently, Broadway. When a Los Angeles production was scheduled in between Patti's two runs, film star Glenn Close was cast. Much has been written about the scandal that ensued with Close eventually creating the role on Broadway (likely to secure ticket sales for a show that had garnered mixed reviews) and LuPone winning a hefty settlement to compensate for her broken contract. With Close leaving the L.A. cast for NYC, Faye Dunaway was chosen to take over. Dunaway rehearsed the role and was about to begin performances when the production was suddenly closed. Another lawsuit followed with negative statements flying back and forth from both sides. The net result is no audience ever got to experience diva Faye Dunaway as Norma Desmond.

7. Angela Lansbury in The Visit
There is tremendous excitement for John Kander, Fred Ebb and Terrence McNally's forthcoming Broadway musical adaptation of 1956 Friedrich Duerrenmatt play The Visit, starring octogenarian triple-threat powerhouse, Chita Rivera. Much work on the score was completed before Ebb passed away in 2004 and the piece has been "on deck" so to speak for many years. Originally, it was announced to star Angela Lansbury, who then withdrew from the production to care for her ailing husband. While one delights at the prospect of Lansbury in this dramatic role, a better substitute could hardly have been found than Rivera, one of the most thrilling performers ever to grace the stage.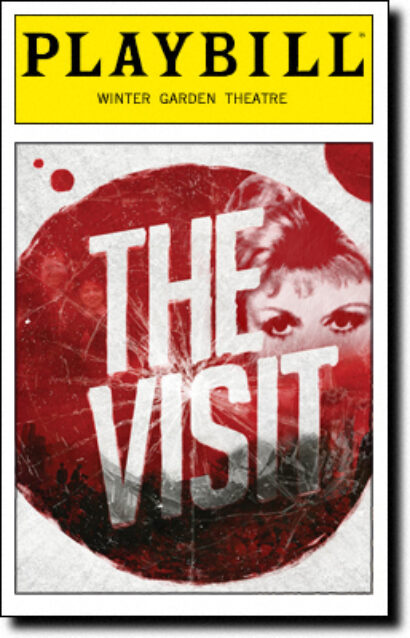 6. Marisa Tomei, Jenna Elfman, Charlotte D'Amboise and/or Britney Spears in Sweet Charity
Before beloved television star Christina Applegate opened in the 2005 revival of Sweet Charity, many actresses were attached to the production. Powerhouse producers Barry and Fran Weissler have mentioned both Hollywood's Marisa Tomei and Jenna Elfman as potential stars before settling on Applegate, in whom they had more confidence as a singer and dancer. Then, in the show's out-of-town tryout, Applegate broke her foot and had to be spelled by her standby (veteran Broadway dancer Charlotte d'Amboise). As doubts circled about the fate of both Applegate and the production, d'Amboise received rave reviews. It was then announced that she and not Applegate would open the show on Broadway and the marquee on the Martin Beck (née Al Hirschfeld) Theatre was adorned with d'Amboise's name and photo. Then, all of a sudden, it was not; Applegate's casting was restored and she successfully made her Broadway debut as Charity, injury not withstanding, with d'Amboise returning to standby position. The poetic justice is d'Amboise went on to create the role of Cassie in the Braodway revival of A Chorus Line. In a bit of especially high-profile casting, there was talk that pop princess Britney Spears would take over in Sweet Charity after Applegate concluded her run, but it didn't pan out.

5. Bernadette Peters in Annie
Believe it or not, Bernadette Peters almost created the title role in Annie! In 1972, when Martin Charnin first had the idea to adapt the popular comic strip Little Orphan Annie into a stage musical, the plot was to come more directly from the source material, resulting in a more satirical tone. The idea was floated to cast an adult as Annie, to point up the parody and the obvious choice was burgeoning Broadway star Bernadette Peters, who had already demonstrated a distinctive charm, a subtly sophisticated edge and a knack for period material. Ultimately, the show was reconceived as a more realistic piece inspired by the comic strip and the decision was made to use an actual child. The rest is history.

4. Patti LuPone in Cabaret
In 1987, Hal Prince directed a new production of his landmark 1966 musical, Cabaret. Original star Joel Grey was announced to recreate his Tony-winning role of the Emcee (for which he also won the 1972 Academy Award) and the question on everybody's mind was who would play Sally Bowles. Fresh on the heels of her Olivier Award-winning triumph in the original London production of Les Misérables, Evita legend Patti LuPone was at the time an obvious choice for any musical requiring a dynamic leading lady (indeed she went on to score big, reinventing Reno Sweeney in Lincoln Center Theater's Anything Goes), but Cabaret would have been an especially good fit for her. LuPone's explosive spontaneity would have brought new life to the impetuous Sally Bowles and her decadent voice would have been a revelation in Kander and Ebb's classic Weill-esque songs. Per LuPone, an inquiry was made, but the producers were unable to secure the in-demand diva and Patti's Sally that never was another casualty of fate in the history of the Great White Way.

3. Natasha Richardson in A Little Night Music
Speaking of Cabaret, conventional wisdom holds that any woman playing Sally Bowles in Cabaret must contend with the inescapable shadow of Liza Minnelli's Oscar-winning performance in the movie. While this is true to a large extent, there is another bar by which all new Sallys are judged and that is Natasha Richardson's Tony-winning turn in the Roundabout's 1998 revival, upon which the current Broadway production is based (again starring the incomparable Alan Cumming). Richardson's work reinventing the role of Sally was so convincing that another role in musical theatre had to be found for her and it was: Desiree Armfeldt in A Little Night Music. Scott Ellis directed a gala concert which found Richardson triumphing (opposite her legendary mother Vanessa Redgrave as Madame Armfeldt) and buzz began immediately that a Broadway revival would follow. Sadly, Richardson passed away before this could happen and we are left only with our dreams of her Desiree — and our YouTube videos!

2. Elaine Stritch in Gypsy
Arthur Laurents wrote the book for Gypsy, but did not direct the original production, which was helmed by Jerome Robbins. A frequent Broadway director, Laurents went on to shepherd several actresses to Tony-winning triumph as Rose, namely Angela Lansbury, Tyne Daly and Patti LuPone. But Laurents and Sondheim's original notion for the 1973 West End production (which ultimately starred Lansbury) was none other than the late, great Elaine Stritch (who had recently triumphed in the Broadway and London productions of Sondheim's Company). Unfortunately, Stritch was not cast and the closesest we'll get to her Rose is the version of "Rose's Turn" she performed ("cabaret style" as she called it) at the Café Carlyle, available in bootlegs only, oh, cruel world.

1. Judy Garland in Mame
Judy Garland is the great Broadway star that never was. Her only actual Broadway appearances were in concerts — legendary engagements at the Palace Theatre in 1951, 1956 and 1967, but she never acted in a play or musical on Broadway. Still her, dramatic, expressive singing is the gold standard that has inspired essentially every Broadway diva to this day from Barbra Streisand to Betty Buckley to Audra McDonald and Anna Kendrick. Another artist to be inspired by Garland is Jerry Herman who has said that he writes all his songs with her voice in mind as his muse. This was most perceptibly the case with Herman's rich songs for Mame. In fact at one point in the original run of the show, Judy Garland wanted to take over the role. Herman, of course, was ecstatic, but tragically, the producers could not secure an insurance policy for what was by then the somewhat risky prospect of casting the notoriously troubled star. Every night, I pray that somewhere there exists a recording of That Voice singing those songs. I can't imagine anything better in the world.
(Ben Rimalower is the author and star of the critically acclaimed solo plays Patti Issues and Bad with Money, running in repertory through April 29 at The Duplex in NYC. Read Playbill's coverage of the show here. Visit him at benrimalower.com and follow @benrimalower on Twitter.)