"Flamenco is a traditional art, but it's also an art of the vanguard," says Manuel Liñán, the groundbreaking bailaor who has introduced flamenco to a new generation through his dance company. In shows like Baile de Autor, Reversible, and Viva!—part of the 20th Anniversary Flamenco Festival that opens at New York City Center April 22—Liñán and his dancers have dazzled audience members with their technical mastery, breathtaking traditional gowns, and a seductive sense of humor. In anticipation of the return of Flamenco Festival to City Center this month, we spoke to Liñán about the gender-bending joys of Viva!
Can you describe Viva! in your own words?
Viva! means to recover my childhood, to rekindle with the child that wanted to dance and wear dresses from a place of love and honesty. Viva! shows the dramatic weight this love for dance represented as a child. I used to hide in a room to dance, but this private act should've been a public one. Leaving that room, I used to feel so sad when I removed my mother's clothes, the makeup I wore, the flower I put in my hair. I had to get rid of all the elements I loved in order to appear in society the way people demanded I should be.
I love how Viva! can both mean the act of being alive, as well as a cheer. What does it mean for you?
I associate the meaning with that of a celebratory cheer that lingers in the air. For me it's also a cry of bravery, of telling the world, "I'm here and I celebrate it."
You have talked about all these wonderful bailaoras that inspired you as a child. Were they the ones that made you shout "viva!" as a child?
It's a bit more complicated. Before having female referents, I started behaving according to what I saw around me. I saw flowing skirts, beautiful long hair that moved as girls danced. I remember how powerful it was to see the circumference of the skirts and imagining how much one could play with that. I approached this in a completely honest way, and once I expressed myself this way in public, I became the object of ridicule. People laughed at me, they made me feel discriminated against for doing what I loved. I couldn't understand why they'd do this when I was being so sincere.
I realized societally and artistically there were standards of how men and women had to behave. Once I started dancing I discovered female and male referents. In public I could embody male movement of course, but when I saw my female referents—women like Milagros Menjíbar or Manuela Carrasco—I said to myself, "What misfortune to have been born a man and I can't behave and dress like them." I felt it was so boring to be a man (laughs).

What is so seductive about that way in which women move?
By now, I no longer know what's "masculine" and what's "feminine." For me both live side by side in a warm embrace. If I think about the past, I can't explain it to be honest. It simply seduced me. As a child I loved my sisters' clothes, I found men's clothes so dull. If I went shopping all I could get were pants, a shirt, and a jersey. Meanwhile my sisters had many shirts of different styles, dresses covered in sequins … their options were endless. I can't really translate this into dance other than by saying: this is how my body wanted to move.
What do you feel when you're dancing?
It's as if you spoke without moving your mouth. As if with your gaze you were able to say everything.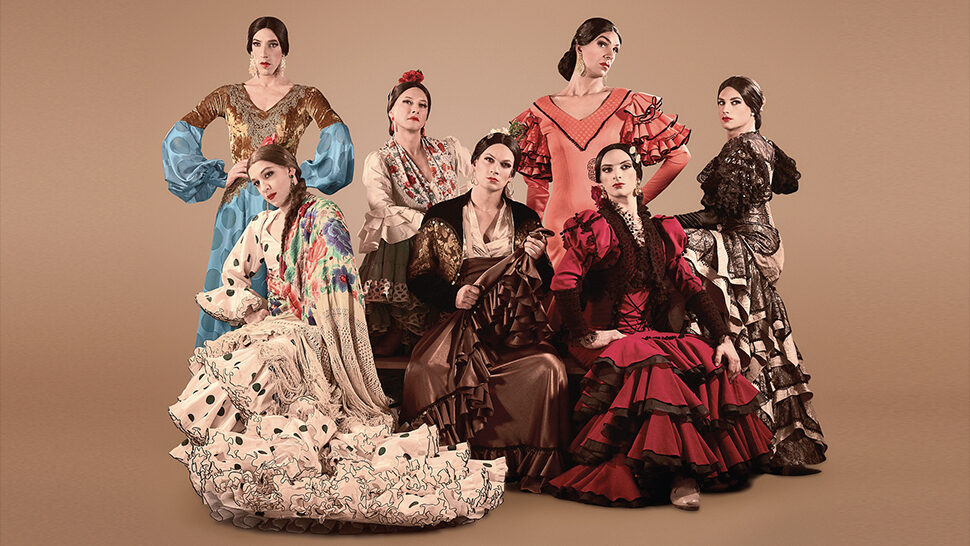 When you founded Compañía Manuel Liñán you became a parent figure of sorts to many dancers who saw what you did and wanted to be part of your community. What has that been like?
Many of us have similar life experiences; we know what it's like not to be understood for wearing a dress. It's also very important to state that with our show we don't intend to represent women or femininity. Viva! is an aesthetic option; we aren't trying to play women, we remain ourselves throughout.
What would you say to the little Manuel who wanted to express himself in public but didn't know he could?
I would tell him not to be afraid, to be who he wants to be.
As a dancer, how did you find a way to express yourself during lockdown?
I felt so much pain and boredom at the beginning. I couldn't understand what was happening. Eventually the pandemic led me to become more reflective, to ask myself why I move. By thinking, my body moved in my mind as well, and that was so important.
How was it to return to the stage?
Una bomba! It felt like the very first time we were dancing. Talking to the dancers some evenings we wonder: How is it that we enjoy what we do so much?
Are you excited to finally show Viva! in New York City?
We were supposed to bring the show to New York around the time the pandemic began and when the lockdown happened we felt horrible. To finally show Viva! at City Center nos llena de ilusión.
If you could invite the Statue of Liberty to dance flamenco, what musical piece would you suggest she do?
I'd place her right at the center of Viva! just like she is and make her bailar por alegrías.
Jose Solís is a Honduran cultural critic. He is the founder/director of the BIPOC Critics Lab and the creator/host of Token Theatre Friends.
Flamenco Festival: 20th Anniversary Season runs at New York City Center April 22–24.