Joe Iconis' Love in Hate Nation released a cast recording via Ghostlight Records February 11 featuring the cast of the musical's 2019 world premiere at New Jersey's Two River Theater, which included Sydney Farley, Amina Faye, Jasmine Forsberg, Lauren Marcus, Kelly McIntyre, Lena Skeele, Emerson Mae Smith, Ryan Vona, and Tatiana Wechsler.
With a book, music, and lyrics by the Be More Chill songwriter, Love in Hate Nation is a love story about two women caught in the middle of a changing America in the 1960s, centering on teenagers Susannah and Sheila and their time at the oppressive National Reformatory for Girls. The Two River production was directed by John Simpkins and featured musical direction and arrangements by Anastasia Victory and music supervision and orchestrations by Charlie Rosen.

Iconis takes us through the songs, artists, and stories behind Love in Hate Nation in this exclusive track-by-track breakdown:
"And if we meet again / how I hope the world is different then…"

Hello, again. The first track by track I wrote for Playbill was in the early spring of 2018 for the original cast recording of my musical Be More Chill. I thought I was writing what would essentially function as a lovely remembrance of the Be More Chill score.
The backstory: My musical opened at the gorgeous Two River Theater in New Jersey in 2015, got a bad New York Times review and was destined to live out its days where most small-scale original musicals that get bad New York Times reviews out of town live: in the memories of those who saw it, in the bootlegs of show-cultists and theatrical schadenfreudists, and absolutely nowhere else.
To the surprise of everyone (especially me), the album went viral two years after its release and my track by track ended up being more birth announcement than eulogy. You know what happened next. Cue James Corden, Sara Bareilles, and Josh Groban singing unauthorized parody lyrics to "Michael in the Bathroom" on the Tony Awards. Life as a musical theatre writer is strange.
In 2019, Be More Chill opened (and closed) on Broadway, my brand new original musical Broadway Bounty Hunter opened (and closed) Off-Broadway, and my other my brand-new original musical Love in Hate Nation opened (and closed) in New Jersey. Life as a musical theatre writer is… a lot.
I'll save the trials and tribulations that occurred post-opening of Love In Hate Nation for the coffee table book, but they involved another disappointing New York Times review, lots of behind-the-scenes drama that had nothing to do with the actual show, a global pandemic, a surge, another surge, another surge, and many other disasters both natural and otherwise.
But after all of that, the long-awaited (by me and my mother) original cast recording of Love in Hate Nation is finally here. I never thought it would happen, but the fine people at Two River Theater and Ghostlight Records made it possible. My eternal thanks to those hardy souls who have stood by me, supported me, advocated for me, and believed in me over the years. This album exists because of them. So don't blame me.
1. "Opening"
Written during previews at Two River Theater, November 2019
A folky calm before a "Wall of Sound" storm. This simple acoustic solo by the great David Cinquegrana starts the show in a warm, nostalgic glow and is directly in contrast with the energy of the Riot Grrrl Group maximalism that's coming. It reminds me of the Woody Guthrie records Susannah might have been listening to at the time.
Be More Chill also begins with a short little instrumental, although the tone of that one couldn't be more different. I want every musical I write to live in its own sonic world, as determined by the characters, the time period, the energy of the score. Charlie Rosen, my closest musical collaborator and one of the more brilliant humans currently living, makes it easy to accomplish that.
The melody of this little instrumental is taken from "I Fell in Love in Juvie Hall!," the show's theme song which is never heard in full until the end. The song itself is adapted from a tune I premiered many years ago, one that served as inspiration for the entire piece. In 2012, I wrote a standalone love song entitled "I Was A Teenage Delinquent!" It was performed at an Iconis and Family concert at the Beechman by the incredible Jenny Donoghue and Rachel Lee. We did the song a few times in concert over the years and I always thought there was more to be mined from the material. The idea of a love story between two girls in a Juvie Hall for girls in the early 1960s felt like a fertile one. The idea never left. Around 2016, I was wanting to write a political piece that captured the combustible energy of America without writing something that was literally about Trump's America. I was commissioned to write a musical for Penn State School of Theatre around that time. The only restriction was that there were parts for everyone in the current Senior class: seven ladies and one fella. It felt like this was the moment to write my politically-charged full-length adaptation of "I Was A Teenage Delinquent!"

2. "Susannah's Song"
Written in Pittsfield, Massachussetts August 2016, Re-Written at Penn State, 2017; New York City, 2018; Two River Theater, 2019
The Prologue—The first song I wrote for Love in Hate Nation and the material I've re-written the most over the subsequent five years. It used to be six minutes long, not bringing the release of the chorus until after the audience had gone on a massive (literal) journey with Susannah, eventually arriving at Juvie Hall. I was really inspired by the structure and build of David Bowie's "Five Years" and thought that would be an unexpected way to open this musical. I could never get it to work. No matter how much back-story I packed in, it felt like everything was just wheel-spinning until we got to Juvie and the story began. My writer brain kept fighting for starting the show with a sequence that let the audience know exactly who Susannah was. I thought: "We've got to develop a connection with this kid. The audience needs to know what's going through her head before we see her thrust into this insane new situation." But then I remembered the great Michael John LaChuisa's advice from the NYU Tisch Graduate Musical Theater Writing Program: "It's called a show not a tell." I cut most of the tune, re-wrote the lyrics, and ended up with a snappy little prologue that allows us to jump right into the action and meet Susannah through her actions. I'm still not sure if it works perfectly, but it feels down and dirty and gets us to the girls as soon as humanly possible.
I was always kind of fond of the language Susannah used as she drove away from her childhood home, watching from the back window: "Looking out the window I see the house get smaller. Then like a slug under salt it disappears. I bet that Juvie Hall will look scarier and taller. I bet it's grown real big because it's watered with delingquents' tears."
The only lyric in the song I never changed was the opening stanza.

3. "Life In Hate Nation"
Written in Weston, VT, October 2017
The song really functions as the proper opening number in that it establishes the dramaturgical and sonic world of the musical. I've often described the sound of the show as "1960s girl-group Pop as filtered through 1990s Riot Grrrrl rock and roll." The term "girl-group pop" is really a catch-all. There are the biggies that everyone knows—Whattup The Ronnettes and The Supremes?—but there were so many other girl groups who sprouted up in all different musical styles. Brill Building pop! Stax soul! Motown soul! Country-Western! Rockabilly! What really connected the various groups was two things: gender and attitude. Whether the lyrical content of the song was rough or mournful or sexy or wistful, women were at the center of their own stories. For all the on-the-surface femininity of many of the famous girl group tunes, there was always, always, some anger lurking underneath. A growl. A yelp. If you, the listener, didn't agree to be Ronnie Spector's baby, she would absolutely kick your ass. Sure, the music was melodic and lush and sweet as all hell, but you barely had to lean in to hear the snarl packed into every "sh-boop-boop." 1960s girl groups, the musical equivalent of a chocolate bonbon with a razor blade hidden inside.
For the longest time, our introduction to The Girls existed as a scene. My brilliant collaborator, John Simpkins, kept insisting we needed a song for this moment. One of the first notes Jennifer Ashley Tepper (my other closest collaborator-best friend-eventual Love in Hate Nation producer) gave on the script was: "I feel like this show is missing it's 'Typical High School Senior' [from Marvin Hamlisch and Howard Ashman's short-lived Broadway musical Smile]." (Trigger Warning: This is not the first time the work of Howard Ashman will be referenced.) An early attempt called "The Girls of the Fifth Floor" was so awful that every time I heard it I would consider leaving musical theatre all together and becoming a goat farmer. (I would be a terrible goat farmer.)
"Life in Hate Nation" had become one of two unwritten songs in the show that hung over my head as we developed the musical. I knew we needed it, I knew I would have to write it eventually, I just couldn't crack it. There was a reading of the show scheduled for mid-October 2017 at Musical Theatre Factory in NYC and in the weeks leading up I was doing a concert at the Weston Playhouse in Vermont. I found myself getting up every day at 5am writing like mad and then spending the next eight hours in rehearsal for an entirely different show. I was frenzied and at my wits' end and one morning, I woke up and the song was just there. I wrote this grimy, gritty, batshit crazy riff on "Getting To Know You" quickly, surrounded by picturesque Vermont in the Autumn. Life as a musical theatre writer is surreal.
There was a verse for Judith I always liked that had a nice attitude but gave us no new information, so we cut it: "I mind my business / And you best mind yours / Every girl for herself / Behind these Juvie doors / If ya bug me / I'm a / Slash-a slash-a smack / I get ugly / None of them'll have your back / This place ain't buddy-buddy as it seems / We look out for ourselves / Cuz we on different teams."
In the show, the sequence is longer, with more dialogue and exposition, but the effect is the same. An assault on the senses by way of a classic musical theatre "welcome to our town where nothing ever changes" song. Whattup "Iowa Stubborn," "In The Heights," and "Downtown (Skid Row)!"
I tried to make the chorus feel very of the time. In my mind, this is the national anthem of the National Reformatory for Girls (aka Nation). The girls have resigned themselves to the misery of their current life with no hope for change. It just is what it is. The way the lyric fits into the melody (especially on lines like "this is hell, don't doubt it," etc.) is weirdly formal and constricting. It's awkward in a way that is very much in line with the music of the time but also of the characters, who are going through the motions within the constructs of their prison and their country. By the time the girls decide to overthrow the regime in Act 2, the song they sing ("Revolution Song") is unbridled, wild, and rhythmically loose. A stark contrast to "Life in Hate Nation."
4. "I Fell in Love In Juvie Hall! (Snippet)"
I take great pains when it comes to naming my characters. I chose Susannah because the name sounds so American. Early on I realized that the name made me think of Stephen Foster's old-timey song "Oh Susanna," and I liked the idea of Susannah writing her own version of the popular children's tune. I later discovered the racist origins of the song and it felt even more correct that our Susannah would've been saddled with this name by her parents and forced to rewrite her own theme song. Her last name is Son because I believe she is cosmically connected to the character of The Son in my musical Bloodsong of Love.
Sheila Nail is named after the actress Joanne Nail who starred in one of my favorite "Girl Gang" movies of all time, Switchblade Sisters. The original title of which was The Jezebels.

5. "The Three Failed Escape Attempts of Sheila Nail"
Written in Joe's 43rd Street apartment, October 2016
The latest in a career of impossibly long songs written for characters who are not the main character. Ahem, "Michael in the Bathroom." Ahem, "Feelings." Can't stop, won't stop.
There's a great history of sordid story songs in the world of 1960s girl-group pop with tunes like and I'd like to think that "…Sheila Nail" can hang alongside. Except, of course, for when she starts discussing the mental implications of her escape attempts, something that probably wouldn't have flown on 1960s radio. (Or 2022 radio, if we're being honest.) But I do like to imagine "Leader of the Pack" being seven minutes long and having a whole section devoted to the singer's mental state after Jimmy was killed in that gnarly car wreck.
I wanted the music, lyric, and orchestration to be as charismatic as the character of Sheila, herself. She's essentially putting on a show for the girls and we wanted the vibe to feel familiar and seductive—until it's not. We go bluesy and grittier for the internal bridge and finally arrive at a more aggressive version of the original vibe. Charlie and I thought a lot about Amy Winehouse and the Dap Kings for this tune. The past as filtered through the present.
The performance of Kelly McIntyre is so astounding here. She makes the marathon vocal journey of the tune sound effortless. It isn't always pretty, but it's human, her growl sounds mournful, exhausted, furious, and celebratory all at once.
For those who care: Yes, "tell her about it, Sheila" is a nod to one of the great rebel musicals of all time, The Rocky Horror Show.

6. "Doc Shock"
Written in Weston, VT, October 2017; Re-Written at Two River Theater, 2019
A nightmare theme song version of a very-real threat as conjured up by a group of teenagers. This used to be sung as sort of a "Monster Mash"-style rave up by the girls, but it became clear that the menace of Doctor Shokski was best communicated by the good doctor himself, in a more sinister mode.
There's not a ton of it on the album, but much of the underscore associated with Doc Shock was inspired by Krzysztof Komeda's haunted lullaby score for Rosemary's Baby. And as befitting music for electrode-obsessed monster of the early 1960s, there's even a touch of theremin. (Whattup, Be More Chill?!)

7. "Montage: This Is The Way… / Miss Asp's Song / Mother Mother"
In the show, this is a massive sequence with many scenes and songlettes, here it's compressed and presented in slightly different order.
One of my initial guiding lights for the furious juvenile delinquents of Nation was early John Waters movies. I've always loved John Waters, both his art and the family of artists he collaborated with, known as The Dreamlanders. The "This Is The Way" refrain the girls return to feels like it would fit right in with the criminal teens of Female Trouble.
Miss Asp was formerly the center of a massive sequence titled "Lovelier (The Cockroach Song)" wherein she held a jewelry-making workshop with the girls and had them make necklaces out of the cockroaches that infested the building. The song was fun but didn't give us any new information about Asp. More than that, it pushed us too far into over-the-top camp territory. The initial conception of Miss Asp was a monstrous caricature of a 1950s housewife. We'd start her as this delicious villain ala Miss Hannigan, one of Mary Woronov's great authority figures, or the demented Reform School Girls matriarch Pat Ast (whose last name inspired our own character.)
Then we'd have to deal with the actual real-world consequences of her comically ghastly acts. Suddenly, this character the audience was laughing about at the beginning becomes all-to-real by the end. What would happen if Miss Hannigan murdered Pepper in Act 2? That was the idea. We eventually realized that Miss Asp was just as brutalized by society as the young women she was now brutalizing. The new version of Asp is still villainous but far more grounded and thoroughly tragic. We cut "Lovelier," but the bridge of the song survived as part of the montage. It even got its own sequel in Act 2.
"Mother Mother" is a song that Susannah is writing. In the show proper we don't get a full verse-chorus, but I thought she would appreciate its inclusion here. I like to think that Susannah revisits "Mother Mother" many years later and it becomes a lowkey hit, which Johnny Amoroso rips off when he's writing "Lisa" in The Black Suits. (The two songs share a similar opening line.)
I'm particularly fond of cast albums that include bits of dialogue and when you've got actors as compelling as Sydney Farley, Jasmine Forsberg, and Lena Skeele delivering that dialogue, it would be a crime against Nation not to include.
The nonsense-syllable chorus that ends the Montage is one of the noisiest moments in the show, a few bars when the girls aren't using the musical language of their time to express themselves. They're just letting it rip. If most of the score is toeing the line between orchestral mid-century pop and ragged '90s rock and roll, this is a blast of pure punk.

8. "The Other One"
Written at Two River Theater, August 2019
This was the last song I wrote for Sheila and Susannah. I wrote it during a weeklong workshop of the show in August, 2019, which began the day after Be More Chill closed on Broadway. It was a song I tried writing for two years but never could. After seeing Amina and Kelly play off each other for the first time, I wrote it during a lunch break. Great actors make things easier.
I was listening to a lot of Jonathan Larson during this time, and I really hear the influence of both him and Howard Ashman, another one of my favorite lyricists, particularly in the list-style bridge. Both of those gents were masters of the list song and I hope I did them proud.
Sonically, we're in Sam Cooke-Otis Redding mode here. Chill, easy, laid back. The girls feel comfortable with each other and the orchestration reflects that. Shout out to the sweet soul sounds of Geoffrey Ko on organ.
In the show, the "gruesome twosome" is interrupted before they finish, but we let them close out their glorious vocal harmonies for the record. We came up with that ending all together in the studio. Which is the kind of thing you can do when you've got brilliant performers and a musical team as genius as Annastasia Victory, Mr. Ko, and the extraordinary Danielle Gimbal.

9. "Francis's Song"
Written at Two River Theater, October 2019
For the longest time I was adamant that Francis did not deserve a song, but I eventually relented. This was the last proper song I wrote for the show, which I wrote during rehearsals on a little keyboard plugged into Bob Rechnitz's old office at Two River Theater. There was a poster of a Ralph Steadman painting next to me, which I took as a sign, or at the very least, a nice omen. Ralph is a character in my new musical The Untitled Unauthorized Hunter S. Thompson Musical.
Francis was a character I loved writing. Today, one would refer to him as "performatively woke." Combine that performative wokeness with his means, ruthlessness, and his inherent privilege, and I find him a far more dangerous villain than Miss Asp. I have known many Francises in my life. I bet some of them even came to see Love In Hate Nation! And I can guarantee that none of them saw themselves in this character at all.
One of the goals with Francis was to make him endearing despite his motivations and actions. The fact that Ryan Vona's stunning vocal is so moving is a testament to his ability to play both sides of this complicated, wrong-headed man.
We wanted the song to have an early Bob Dylan-vibe, as that was the sort of hip, cutting-edge sound Francis would've pretended he loved but didn't actually. In truth, he was probably more of a Johnny Horton guy. Shout out to the great Nick Frenay, who not only blows horn like crazy on this album, but who learned harmonica just for this tune.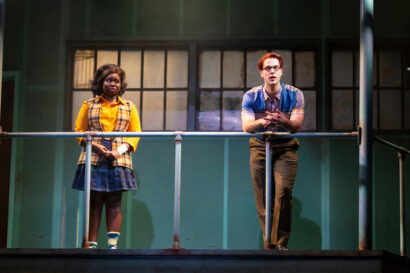 10. "Oh Well"
Written in Joe's 43rd Street Apartment, October 2016
This is my favorite song in the show. I wanted to write a proper unrequited love song that conveyed an almost-overwhelming sense of longing and anguish. I don't know if the song is any good, but I know that it sounds exactly how I intended it to.
It was important to me that the song wasn't twee or precious. It had to have teeth. Susannah and Sheila are terrified to express their feelings, for a myriad of reasons, and their complicated emotions get distilled down to two words: "Oh Well." I wanted to imbue those two syllables with the sweeping sonic drama we normally associate with musicals featuring battles between nations or asshole opera ghosts or Audra McDonald doing unfortunate things to her children. (Whattup, Ragtime and Marie Christine?!) Charlie and I obsessed over the orchestration to "Oh Well" more than any other song. We kept trying to make the highs higher and the lows lower. I was desperate to reconceptualize the iconic "Be My Baby" drum figure (kick kick-kick snare) as the sound of a beating heart. An exploding heart. A heart that sounds like dynamite detonating inside of a cathedral. I wanted to give the ladies an appropriately volatile landscape to both support and inform what they were singing.
I wanted the song to function as an anthem to a different kind of leading romantic couple. A different kind of partnership. My favorite moment of the song is the very end, when they hold out "oh well" for the last time. The performances and the arrangement conspire to make the moment operatic, and that's just the sort of high-passion, high-drama two confused juvenile delinquents deserve. Two against the world, darlin'. Two against the world.
The collaborative aspect of theatre has always been my favorite part and I've always let my writing be informed by the fellow artists working on any given show. In the case of Love In Hate Nation, it became even more essential for me to gain the perspective of other human beings whose life experience was different from my own. I'm a cis white straight man and the majority of characters in this musical are decidedly Not That. I am eternally grateful to my friends and collaborators who were always willing to engage in an open dialogue with me about script stuff, both big and small. Often these conversations were fairly intense and led to major changes in content. Other times, it was matter-of-fact stuff. For the longest time, I had Sheila singing the line "Her hair she washes daily" about Susannah, and Amina Faye had to say to me: "Let me tell you a thing or two about Black women's hair, buddy." I made the change. It's something both small and huge. I wanted to respect not only the convictions and morals and ambitions of the people I was representing, but the normal day-to-day business of their everyday lives. I try my best to write characters who are humans not symbols. I was only able to do this on Love In Hate Nation because of my collaborators. I feel so lucky that the artists surrounding me felt comfortable being forthright and casual when sharing their stories, opinions, and hair-care tips.
I only recently realized that the descending line played on tubular bells and electric guitar in the final chorus was completely ripped off (by me) from Blondie's "Maria." It feels appropriate, as Debbie Harry feels like the patron saint of juvenile delinquents.
I'd love to take this opportunity to shout out the incendiary Bobby Wooten III on bass. I like that the top of the tune is basically a duet between Amina and bass. If the drums in this song are Susannah's heart, I think the bass is her gut.
For those who care: I always thought that "The world wasn't ready for two girls going steady!" would make a good tagline for the show. I know, I know. My Russ Meyer is showing.

11. "I Hope"
Written at Joe's 43rd Street Apartment, October 2017
This was another one of those songs that hung over my head for the longest time. Our October 2017 NYC reading was fast approaching, and I knew I needed to have this song ready for it. Rehearsal began, no song. I was being pulled in a million directions, and, at the time, I was seriously doubting my future in theatre. I felt like I had been fighting for so long to try to get to the next level and it wasn't happening. I felt stuck and frustrated and overwhelmed and like I didn't belong and sad about a million things. One night after rehearsal, I sat at my keyboard and wrote this song. Even though "I Hope" is so specifically about what Susannah is going through, when I listen to it, the song feels embarrassingly personal. I'm not saying that my frustrations as a musical theatre writer are remotely comparable to the horrors of what the character of Susannah Son goes through. They are not even in the ballpark. They are not even the same game. But I do think that the experience of being trapped in an impossible situation and choosing to be hopeful and persevere is universal.
My guiding light for the sound of this one was "Jesus Was A Cross Maker" by Judee Sill. Stylistically, it couldn't be further from "I Hope," but I was inspired by how it sounds genuinely soulful but not sentimental. This was another tune that Charlie and I obsessed over. Even though there is clearly growth from the beginning to the end, it's not a straight shot. The song rises and falls many times before reaching its pinnacle. The orchestration became all about inching close to the brink and then pulling back. In a typical song like this, the organ might play a bigger role, but Charlie hangs closest to the piano (this might be the only piano-forward song we've ever had in one of our musicals!) to provide the soul. Annastasia Victory is a monster conductor and musical director and I think the elegance and attack of her piano playing really shines here. It's not at all treacly. There's heft.
The song itself is a true collaboration with Amina Faye and her performance is the stuff of legends. Sure, the vocal pyrotechnics are thrilling but they are all rooted in truth. There's no singing for singing's sake. Everything is in service of giving voice to Susannah's internal struggle.
Something I noticed during the run of Love In Hate Nation at Two River was how certain theatrical gate-keeper types had a different set of standards for Black leading ladies. When a white leading lady sings about her hopes and dreams, she's allowed to be general. She's allowed to want to be wanted by somebody, somewhere. A white leading lady is allowed to have character traits that don't go deeper than "head in the clouds" and people not only buy it, they buy the t-shirt too. I had a few conversations with people from fancy New York City theatres and one of them literally said to me: "I know that if you ever did another production of the show, you'd really want to see Susannah be abused more? Like, all gritty and brutal?" When I explained that wasn't actually the intention, this person responded with: "Well, I think we just really need to see why she's so upset. She needs a specific thing to be upset about and rebel against." I realized that there's an actual desire from certain types of people in the theatre to see Black women be brutalized on stage, as if the only way for the Black woman to earn her place in the center of the narrative is to be punished for it. I realize this is not a new phenomenon in art, but I was surprised at how on the surface it was.
Susannah is clearly oppressed in many ways. Aside from the madness that goes down in the show, she is a Black woman living in 1962. I felt like that was a fairly obvious inherent problem and didn't feel the need to constantly remind the audience that I, The Writer, was aware of it. I felt like Susannah would always be aware of it and that was enough. In Nation, Susannah's race is not an issue. The girls don't care, which I find a far more interesting dynamic than depicting an environment where groups of women are hating other groups of women.
In crafting Susannah, Amina Faye and I were committed to letting her be a human being, not a symbol. We didn't saddle her with the expository language that might justify some of her behavior or over-explain the ways in which she feels oppressed or different. Belle doesn't have to explain exactly why she feels different from everyone else in her little town, so why should Susannah Son? Why can't Susannah just want adventure in the great, wide somewhere too?
I am proud that our team (not only director John Simpkins but choreographer Mayte Natalio and genius artistic associate Kamilah Bush) put a character on stage who is complicated and persnickety and dealing with her circumstances in a way that feels authentic to her. Every time I watch Amina sing any of her songs from the show, I think back to my conversation with the theatrical gate keeper who felt let down by the lack of torture porn. I'm glad we chose hope.

12. "Solitary"
Written in Joe's 43rd Street apartment, March 2017
In the show proper, this song is part of a whole sequence wherein we learn the true backstory of Miss Asp and the mysterious Harriet A. For the album, we morphed this into a more conventional song structure, and I'm glad we did because otherwise Zac Zinger's colossally nasty sax solo might have never found its way to the album. I asked him on the spot to play an insane, terrifying, out of control solo, something that you'd hear on a David Lynch soundtrack. The idea was to use the instrumental break to express all the aggression and anger that builds over the course of the entire extended sequence.

13. "Masochist"
Written in Joe's 43rd Street apartment, February 2017
Even though the plot of Love In Hate Nation is one that was born from my own overactive little imagination, I didn't set out to write a story that involved quite so many marginalized communities, but the characters and their situations evolved organically as I wrote. As an artist, I felt like I needed to follow where my impulses took me. As a human being, I struggled with whether this story was mine to tell. In the end, I realized my job was to honor and respect the people whose lives I was depicting and make sure that the actors inhabiting these characters felt heard, seen, and celebrated.
The character of Kitty was one I was particularly concerned with getting right. It is not lost on me that there are not many trans characters in the musical theatre cannon and there are even fewer trans characters written expressly for trans performers. Every actor who played this role over the course of our development process shaped her. Alex Dorf, Murphy Taylor Smith, Dana Aliya Levinson, and Emerson Mae Smith are all part of the fabric of Kitty, as is my beloved friend and collaborator Shakina Nayfack, who was instrumental in guiding me to what felt authentic about the writing on the page and what felt not that.
I wanted to make a trans character who was funny and strange and took no shit. From anybody. I've seen so many pieces of art where a trans character is either the butt of the joke or has to function as some inhuman, otherworldly plot device. The Transwoman As Angelic Prophet Creature is pretty much the new Manic Pixie Dreamgirl, except that the transwomen in pieces of art often die after they impart their magical knowledge. And then other people sing or talk about how great they were. Before they, ya know. Die. Can you imagine what Garden State would be like if Natalie Portman's character committed suicide three-fourths of the way through to pay for the sins of her quirkiness? I guarantee The Shins never wrote a corresponding pop song for that scene.
"Masochist" is instigated by a pamphlet from the 1950s that Kitty has stolen from Miss Asp's office that warns against the dangers of homosexuality. The language came from an actual document I found doing research for the show. The thought of a queer person, let alone a young queer person, reading it filled me with sorrow. And so "Masochist" became the rebuttal. It is a song that is about life. About living. It was important to me that Kitty was the one who conveyed a message of demanding to exist to Susannah. I really wanted the music itself to work against the sentiment. No ballad here, I wanted the music to be soulful and rockin' and alive. Emerson's performance of the song is all attack and bravado. She's singing about butterflies but she's roaring like a lion.
When Emerson performed this song in the studio for the first time, everyone was in tears. I've been to all sorts of recording sessions, filled with all kinds of people, but I've never seen a first take as confident and flawless as Emerson's. I think we had all spent the better part of two years waiting to make the album. Emerson's performance made it clear that the time away was not actually spent waiting. It was spent simmering.
14. "Miss Asp's Song II"
Written at Two River Theater, October 2019
We need to talk about Lauren Marcus. As a writer, it is such a gift to have an actor who is willing to Go There. And she is. Always. She isn't afraid to dial in to the ugly side of a character and it's why I return to her work time and time again. She is so funny and so scary and so sad and it all feels real. There are people like Miss Asp. I know them. And Lauren captures the pathos of a woman whose world is rapidly slipping away from her as she tries desperately to cling to the vestiges of her old life. I love how the pristine sound at the top of the song splinters and gives way to a guttural, scary delivery by the end.
Orchestrationally, we wanted to mimic that degradation. We start very much in the Miss Asp mold (the sort of orchestration one might hear in Golden Age musical of the '40s or '50s) and get progressively angrier and more unhinged. In the climax, a fuzzy electric guitar even makes an appearance, which Miss Margaret Asp would absolutely hate.
15. "Revolution Song"
Written at Joe's 43rd Street Apartment, December 2016
This is where it all comes together. When the girls learn how to work together as a unit and fully embody a sound all their own. They aren't working in the musical idioms of others, they aren't operating within the pop structures of the time, they are just themselves. The lyrics hang on the music in an organic way.
The song has connections to 1960s girl-group tunes (with "Iko Iko" by the Dixie Cups being the most obvious fore-bearer) but it's a far nastier sound than most of our other group moments. I wanted those Wall of Sound drums to feel just as massive as they did in songs like "Oh Well" or "Solitary," but here they take on an almost tribal quality. They sound like the drums of war, which is exactly what they are. Shoutout to our other worldly drummer Rosa Avila, who is the very definition of the word badass.
I wanted to give a sense of growth in the song, and the melody of the line "revolution in the institution" actually develops very subtly as the song goes on. The melody under the word "institution" begins as 1-1-2-1. It then changes to 1-1-1-3. (It's finding its feet! It's growing!) It then arrives on 1-1-2-3, where it remains. It's the sort of slight change that happens a lot in pop music. I've always been fascinated by how the hook of Prince's "Nothing Compares 2 U," as performed by Sinead O'Connor, never takes on its most complete version until the final time it's sung. Most of the time when something like that happens in a pop song, it's unintentional. But I like fantasizing that perhaps there was a method to some of the madness. What if the small inconsistencies in pop music melodies were actually the songs themselves going through puberty? Or therapy? Finding the most authentic version of themselves?
Tatiana Wechsler is the anchor of this song and her performance as Judith Ramone is straight poison. Tati found a way to play the tough-as-nails exterior while never losing sight of the human. I think you can hear Judith's sad, angry heart during the almost-a capella beginning section.
The coda of the song (the "Hate Nation is coming down" part) abandons the '60s pop of the song proper and goes full 1990s rock. It's the sound of the future and it's springing forth in real time by a group of angry young people who are starting a revolution. We're full-on Hole by the end.
There's a mistake in the song that drives me crazy. I will not say what it is, but it involves a slightly historically inaccurate lyric that I fell in love with before I realized it was, in fact, slightly historically inaccurate. It's not something that is noticeable enough to take anyone out of the song, so I decided to keep it. Because the heart wants what it wants. I fell in love in Juvie Hall and it was with a slightly historically inaccurate lyric.

16. "Operation: Sha La La"
Written at Gotham West Market, NYC March 2017. Re-Written at Penn State, April 2017; New York City, 2018; Two River Theater, 2019
In the Track by Track for Be More Chill I wrote about being inspired as a child by hearing big action-packed climaxes captured on the cast recordings (and bootlegs) of classic musicals. "Operation: Sha La La" is my attempt at that. The sequence is much longer in the show itself, taking us from Sheila bopping out of a second-floor window to climb down a drainpipe, up through the complete destruction of Nation.
The girls have been feeling the oppressive effects of an increasingly divided Juvie over the course of the show and have organically concluded that a radical revolution at Nation is necessary. Little do they know that widespread revolution across the larger Nation is about to erupt as well. The turning point of the scene is when a telegram is delivered informing Miss Asp of the racially charged violence at Ole Miss University. After years of keeping the building isolated from society at large, the outside world has officially infiltrated.
I wanted that Sheila Nail "Freedom!" rallying cry in the production, but there was always so much going on (riots are noisy) that there was no way of hearing it. I'm glad it's nice and audible on the album, as ferociously performed by Kelly McIntyre.
Something you can't hear on the album is that as Nation is burning to the ground, Miss Asp finds an old camera in the Confiscated Items Cabinet and, in a moment of madness, takes a picture of herself. It's the last time we see the character, and I'd like to think that in that moment in 1962, Margaret Asp started a chain reaction of events that lead to the invention of the selfie.

17. "I Fell In Love In Juvie Hall!"
Original Version written at Sharon Playhouse, Sharon, CT, August 2011; Show Version written at Penn State, April 2017
The one that started it all! When I initially wrote "I Was a Teenage Delinquent!," I never imagined that the song would end up in the musical. I kind of felt like the show itself was an adaptation of the song, so including the song would be like having a screening of the film Hairspray in the middle of the musical Hairspray. If the Link Larkin of Hairspray The Musical knew there was a movie made about him in the 1980s, would he spontaneously combust? These are the questions that keep my mind young.
When I initially put the song into the script, I had it sung by both girls while Sheila is in solitary. Susannah was confessing her love, but Sheila's verse was internal. It felt both too soon and too late for such a bifurcated song moment, and the earliest re-written version included a lyric that tested the limits of good taste, even for me, in which Sheila sang "Will my feelings be refuted / Before I'm electrocuted?!" Once again, the goat farm calls.
It became clear that the only time Sheila and Susannah were meant to sing about their feelings to each other was at the very end, on the heels of their forever-goodbye. After experimenting with a few different reprises and a few new songs, I kept coming back to this one. It was there all along; it just needed a new shape and some new lyrics. Lots of new lyrics, actually. Good ones this time.
I rewrote most of the lyrics in a flurry as we geared up for the April 2017 Penn State workshop and they haven't changed since. I feel like I cracked the song when I realized that they weren't ever going to sing the words "I love you" to each other. It felt honest to have them get as close as they possibly could without ever actually saying those words.
The way the song starts in a folky, sparse place and then keeps building in orchestration, tempo, and intensity was meant to convey the youthful giddiness of finding your person. Young hearts set free, that kind of thing. For all the heaviness of the subjects that are explored in the show, I wanted to maintain a lightness and never lose sight of the fact that the people who inhabit this story are just kids. Their feelings get the best of them and even in the darkest of situations, they find moments of exhilaration. I think there's a temptation when a piece of art (particularly a musical) is about "heavy" subjects to limit the joy in it. Musical theatre audiences are programmed to associate joy with comedy and misery with drama. I often try to combine the two, because it feels truer to life. Well, my life, at least.

18. "Finale"
Written at Gotham West Market NYC March 2017
Spoiler Warning: Major, massive, point-of-no-return spoilers for Love In Hate Nation abound. Enter at your own risk.
Twenty-two years Later. 1984. St. Mark's Records in New York City. An entirely new group of characters chat about music and the band Operation: Sha La La, which is about to do an in-store performance. We meet the band's lead singer, Susannah Son at age 39. Elsewhere in the store, we meet Sheila at age 40. They are both doing alright. After an (intentionally) excruciatingly long scene, we finally see the two of them notice each other and begin to talk for the first time in two decades. End of play.
When the Love In Hate Nation story was first swirling around in my head, the thing that made it click was the ending. As soon as I stumbled on the idea of jumping 22 years in the future in the last ten minutes of the musical, I knew how to write it all. From the very beginning, I wanted to end on a note of genuine optimism. We don't know if Sheila and Susannah are going to end up together, but we know they are okay. They've navigated their lives and arrived at the same place at the same time, 22 years later.
I'm normally confident in my choices, but I felt a little eggy about this ending for a while. It is the ultimate kind of finale that a certain type of theatre snob finds cheesy, or not serious enough. Still, I thought it felt more revolutionary to show that these young, troubled kids turned out alright than to show them miserable or dead. My fears were allayed when I told my friend Shakina about the show. The first thing she said upon learning that my new musical was a love story between two girls? "Oh, please tell me one of them doesn't die at the end." I realized that we have become so conditioned to assuming that most queer story lines will end tragically. It may not be the "coolest" ending of all time, but I think it's audacious in its own, sweet way. And you know what? I don't think it's bullshit. For as awful as the world can be, for as hard as life is, for as much as the bastards beat you down, sometimes love wins. People find each other. I truly believe this and Love In Hate Nation does too.
I love how you can really hear Susannah and Sheila's shared inhale on the album. The idea is that they are speaking, and the audience can't hear what they are saying but we can hear their inhale, the moment before they say something else. What is that something else? Who knows. It doesn't really matter. The future is here. "And if we meet again, how I hope the world is different then." Well, they met again. And the world feels and looks different. There's hope and there's music and, if only for a moment, our leading ladies can breathe a little better than they could when we first met them. Which isn't too bad for the end of a musical comedy. Sha la la.

19. "B-Side: Jezebel"
In the show, "Jezebel" is a song playing on the turntable during the big party toward the end of Act One. Ya-Ya sings along as we cross-cut between multiple conversations amongst the girls. I initially wrote the full song as homage to the more misogynistically grotesque tunes of the time. "He Hit Me (And It Felt Like A Kiss)" is the big bad grandaddy of them all. The more we workshopped the show, the more the song got cut down.
In the current version of the script, you only hear a few lines of the song, but I was so grateful to get the full, definitive version here, recorded by Ian Kagey in glorious mono, just like the old days. It's sung by Sidney Farley, Ya-Ya herself, with back-up by Lena Skeele, Jasmine Forsberg, and Lauren Marcus. I always imagined Lauren was singing as the ghost of Harriet, a character she played in flash-back.
The song itself is the most pastichey of any of the tunes in the show, intentionally trying to crib the melodic structure, lyrical style, and instrumentation of the time. The only thing that wouldn't have flown in the mid-'60s was the lyric "holy hell." Cursing was not ok. Teenage suicide and slut-shaming, however? 1960s radio loved that shit. I mean "stuff."
I think "Jezebel" would've been a very low-level hit back in the day. The group who sang it probably would've broken up shortly after recording the song.

20. "B-Side: Masochist (The Smith Twin Version)"
Murphy Taylor Smith played Kitty in our workshop production at Penn State and her identical twin sister Emerson Mae Smith played Kitty at Two River. Can you even? The Smith Twins are impossibly talented actor-singers, but they are also really stunning musical theatre writers. I saw them perform their own arrangement of "Masochist" at a Feinstein's/54 Below concert and I knew we needed to include it on the album.
I've spoken about how all of the actors who have touched these roles are woven into the fabric of them, so it feels only right to have Murphy be on the album, spiritually repping every actor who has been a part of the journey.
It brings me joy that the arrangement is the product of their brilliant minds. They took my song and turned it into something specifically and beautifully tailored to themselves and I had nothing to do with it. I gave them the tools, but they built the ship. I feel like this track really cuts out the middleman and lets the song be interpreted in the rawest, most direct way possible. A shot to the heart!
--
And there you have it. Thanks for going on this odyssey through the dark halls of a crumbling Juvie, the sweet'n'spicy echo chambers of 1960s pop, the convoluted world of new musical theatre development, and the crackling grooves of an original cast album. I'm comforted to know the show will live on in the ears and imaginations and hearts of the weirdoes listening to our remarkable cast and team on our badly-behaved record. And will we ever see Love In Hate Nation on a stage again? I hope. I really do.

To stream or order Love in Hate Nation, visit GhostlightRecords.com.