When it comes to Asian American theatrical history, 1988 was a banner year. That was the year of M. Butterfly, where David Henry Hwang was the first Asian playwright to win a Tony Award and BD Wong was the first Asian actor of any gender to win a Tony. (Coincidentally, that was the year the author of this article was born.) So if 1988 was a good year for Asian Americans on Broadway, then 2023 is also shaping up to be momentous. Because this year, there are a notable nine artists of Asian descent nominated for a Tony Award.
In honor of Asian American and Pacific Islander Heritage Month, we thought it would be fitting to celebrate this year's Tony nominees of Asian descent. And when we say Asian, we also mean people of Middle Eastern and Indian heritage.
Within these nine nominees, everyone has their own unique story. It's a group that spans multiple generations—from people receiving a nomination for their first Broadway credit, to people who are already Tony winners. It contains people who are the first person of Asian descent to be nominated in their category. Some were born in another country and immigrated to America, others were born in the States. But all of them are pioneers in their field and in their category.
Nine might seem like a small number, but it's a sign of positive growth in an industry that is striving to become more diverse both on stage and off. Considering that it wasn't until 1981 that there was even an Asian Tony winner at all (Willa Kim for costuming), ground has been gained in the intervening 30 years.
And this Broadway season contained two shows created by artists with Asian heritage: the hit play Life of Pi (created by Lolita Chakrabarti and featuring a mostly Asian cast, including Olivier-winning actor Hiran Abeysekara) and the ground-breaking musical KPOP (featuring a mostly Asian cast, with a book written by Jason Kim and co-composed by Helen Park). It's a thrilling sign of not just an increase in onstage representation, but in more Asian creators making work and having ownership of the stories being told.
We hope this year's batch of nominees and this Broadway season is a sign of more change and more artistry to come.
The nine nominees below don't include the many producers who have Tony-nominated productions (who you can find out more about from this post by the Asian American Performers Action Coalition, which won a 2022 honorary Tony Award for their advocacy around diversity in theatre).
Learn more about these nine barrier-breaking Tony nominees, and their personal journeys, below.
Nominated for: Best Performance by an Actress in a Featured Role in a Musical, Sweeney Todd
Fun fact: This is Miles' second nomination in this Tony category. The first time, in 2015, Miles won the Tony Award (for Lady Thiang in The King and I), becoming the first Asian actor to win the prize in that category. Her other notable role was playing Imelda Marcos in the world premiere of Here Lies Love, written by David Byrne and Fatboy Slim, when it was done Off-Broadway. And this is not Miles' first time starring in Sweeney Todd—she also did the national tour of the 2005 Broadway revival, where she played Pirelli and also played the flute, piano, and bassoon on stage.
Nominated for: Best Performance by a Featured Actor in a Play, A Doll's House
Fun fact: This is Moayed's second Tony Awards nomination. He was first nominated in 2011 for Bengal Tiger at the Baghdad Zoo, in which he co-starred with Robin Williams (who played a Tiger). Williams even threw Moayed a surprise birthday party during the run. Moayed was born in Iran and immigrated to America when he was five years old. He is also a cast member on HBO's Succession, where he plays Stewy Hosseini, the apolitical investor with some killer one-liners.
Helen Park
Nominated for: Best Original Score, KPOP (shared with Max Vernon)
Fun fact: Park was born in Busan, South Korea, and when she was in second grade, her parents moved to Missouri. For a time, Park actually wanted to write Korean pop music, but she pivoted to musical theatre instead. Now she's the first female Asian composer to have a musical on Broadway, and to be nominated for a Tony Award.
WATCH: Helen Park Celebrates Her Tony Nomination by Singing a KPOP Megamix
Nominated for: Best Scenic Design of a Musical, Sweeney Todd
Fun fact: This is Lien's second Tony nomination. She is a Tony winner for her work on Natasha, Pierre & the Great Comet of 1812. Lien was born in Connecticut and she went through a number of career paths: she plays violin and piano so she initially wanted to work in opera. Then she studied architecture in college, before deciding on theatrical set design.
Nominated for: Best Sound Design of a Musical, New York, New York
Fun fact: Harada is a Tony winner, for his work in 2018 on The Band's Visit, where he was the first sound designer of Asian descent to win a Tony. This is his third Tony nomination. Harada's parents are classical musicians (his mom's a violinist and his dad's a cellist). Before he started pursuing sound design, Harada was a trained classical pianist.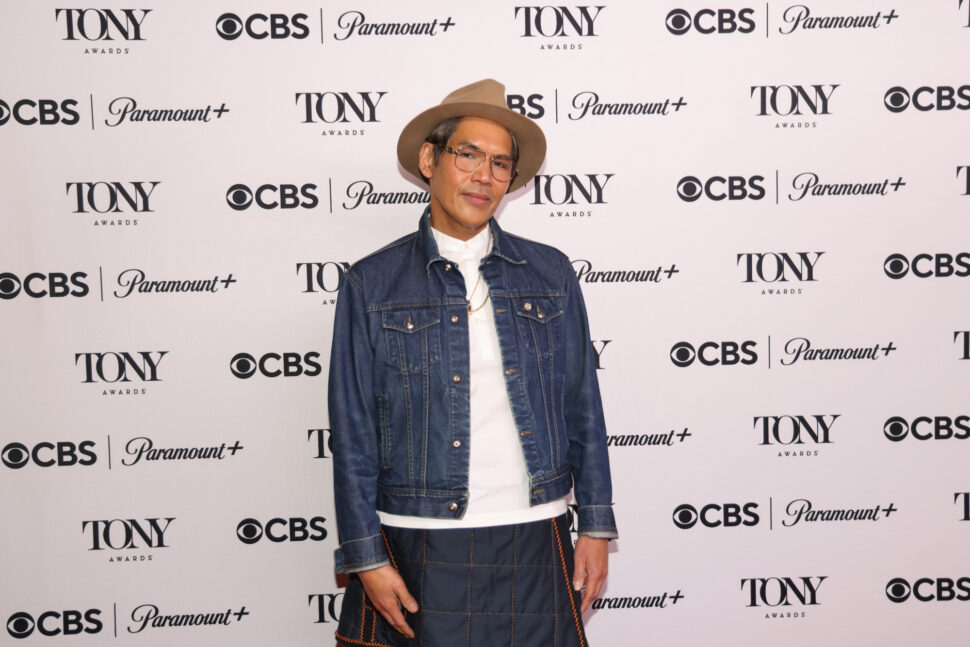 Nominated for: Best Costume Design of a Musical, KPOP (shared with Sophia Choi)
Fun fact: A profile scenic and costume designer, this is Ramos' sixth Tony nomination. He's a Tony winner for the costume design of Eclipsed (2016). This summer, Ramos will make his producing debut on Broadway, with Here Lies Love, which features an all-Filipino cast. Ramos grew up and trained in the Philippines before moving to New York City in his 20s.
Sophia Choi
Nominated for: Best Costume Design of a Musical, KPOP (shared with Clint Ramos)
Fun fact: This is Choi's first Tony nomination and KPOP was her Broadway debut. She was born in Queens, New York, but was raised in Virginia. She attributes her love of costume design to seeing The Phantom of the Opera when she was a teenager, which inspired a love of period clothing. When it came time to choose a major for college, she debated between art history or costume design, and the latter won out.
Nominated for: Best Lighting Design of a Musical, Camelot
Fun fact: Though Chu's career spans over 30 years, Camelot is his Broadway debut. That's because Chu has mostly worked in regional theatre and Off-Broadway, doing mainly plays. Chu was born in the U.S. but spent his childhood in Hong Kong. This season, at the same time as Camelot, Chu was also the lighting designer on The Coast Starlight in Lincoln Center Theater's Off-Broadway space.
Nominated for: Best Costume Design of a Musical, Camelot
Fun fact: This is Moeller's second Tony nomination. And this season, Moeller also designed Pictures From Home on Broadway. Moeller learned how to sew from her grandmother, who was from Korea.

READ: Yes, the Armor of Broadway's Camelot Is Actually Made of Metal