There is nothing quite like gathering with 2,000 of your favorite musical's fellow superfans to watch a special performance of your favorite musical. That's what March 27's Ragtime: In Concert, a one-night-only event benefitting The Entertainment Community Fund, felt like. The energy, the excitement was palpably in the air even blocks away from the Minskoff Theatre, which was, in an ironic twist, the evening's venue (Ragtime's original production won an impressive four 1998 Tony Awards, but famously lost Best Musical to current Minskoff tenant The Lion King).
But this wasn't just any Ragtime: In Concert. This concert version of the Ahrens and Flaherty musical was a reunion of the original Broadway cast, with much of the incredible principal and ensemble cast back to recreate their performances in full for the first time in decades—including Brian Stokes Mitchell, Peter Friedman, Mark Jacoby, Judy Kaye, and Audra McDonald. Yes, all attendees were transported back to a magical time in which six-time Tony winner Audra McDonald played supporting roles.
Ragtime is one of those musicals, and the original production one of those productions, that theatre fans effuse about. It's easily the best show in Lynn Ahrens and Stephen Flaherty's catalog—which is really saying something. That team has given us lots of incredible musicals, to say nothing of the equally landmark work of book writer Terrence McNally.
But few musicals, Ahrens and Flaherty and McNally or otherwise, achieve what Ragtime was able to manage: telling an epically huge story on an epically huge scale, all while leaving its individual characters fully rendered, complex, and worth following. Based on E.L. Doctorow's equally grand 1975 novel of the same name, Ragtime tracks an Eastern European immigrant and his daughter, a Black ragtime pianist and his fiancée, and a wealthy white family. It's set in NYC, during a moment of unique change around the turn of the century—"an era exploding," as the musical's title number puts it.
Over a decade, we watch as these three groups—wealthy white suburbanites, immigrants, and African Americans—all struggle to find their own piece of success in America, a struggle that seems to put them constantly at odds with each other. The show's fictional characters are placed against the backdrop of real-life historic figures like Harry Houdini, Booker T. Washington, Henry Ford, and Evelyn Nesbit. The effect is that these comparatively small stories about individuals speak to something larger, to the history of this country at the dawn of the 20th century—and, unfortunately, well beyond.
Watching Ragtime 25 years after its Broadway premiere, one is struck at the sharpness of its narrative, as well as the vital and ever-present relevance of its themes. In many ways, cultural conversations have only recently started to catch up with some of the lessons Ragtime has to teach, at least in our dominant white society. It's a bittersweet irony that Ragtime feels as poignant as it does in 2023. The musical, no doubt, played its own small role in helping the world become more receptive to its messages of compassion, of the shared human experience, of the horrors of prejudice and poverty, and of the invented and unnecessary competition for success. But then it's also clear that even in 2023, we still have so much to learn, so much work to do. One can't help but notice that the events of Ragtime don't feel as distant as we'd like them to.
But it's not just the show's relevance that get people talking about the original production. Staged by the late Frank Galati, Ragtime's original outing was produced on a scale equally as epic as its story, with a cast of 49, an orchestra of 28, and a sprawling physical production (designed by the late Eugene Lee) that included fireworks and a working Model T.
Broadway is no stranger to grandeur, but we're not likely to see a show mounted on the scale of the original Ragtime again. It seems to be beyond the bounds of the Broadway business model—and of course, that was somewhat infamously true for the original production as well.
The excitement on the evening of March 27 was high at the Minskoff. And the performance, a true triumph, more than justified that anticipation. When the schedules of this many A-listers are involved, these reunion concerts can often end up hastily put together, with the resulting performance feeling like it's flying by the seat of its pants. Not so with Ragtime, directed here by Stafford Arima (who directed the musical's 2003 West End production). The performances were beyond top notch, in many cases as if no time had even passed since 1998.
Admittedly, we didn't get a re-mount of the original production's epic physical production—we only got our Model T and fireworks via unusually effective projections (via projection designers Wendall K. Harrington and Shawn Boyle). But we did get a company that numbered a staggering 53, many of which were veterans of either the original production or the musical's 2009 Broadway revival. And we got an orchestra numbering 29—one more than the original 28-member ensemble—led by original associate music director James Moore (original music director and conductor David Loud served as music supervisor for the concert) and playing the late William David Brohn's incredible original orchestrations.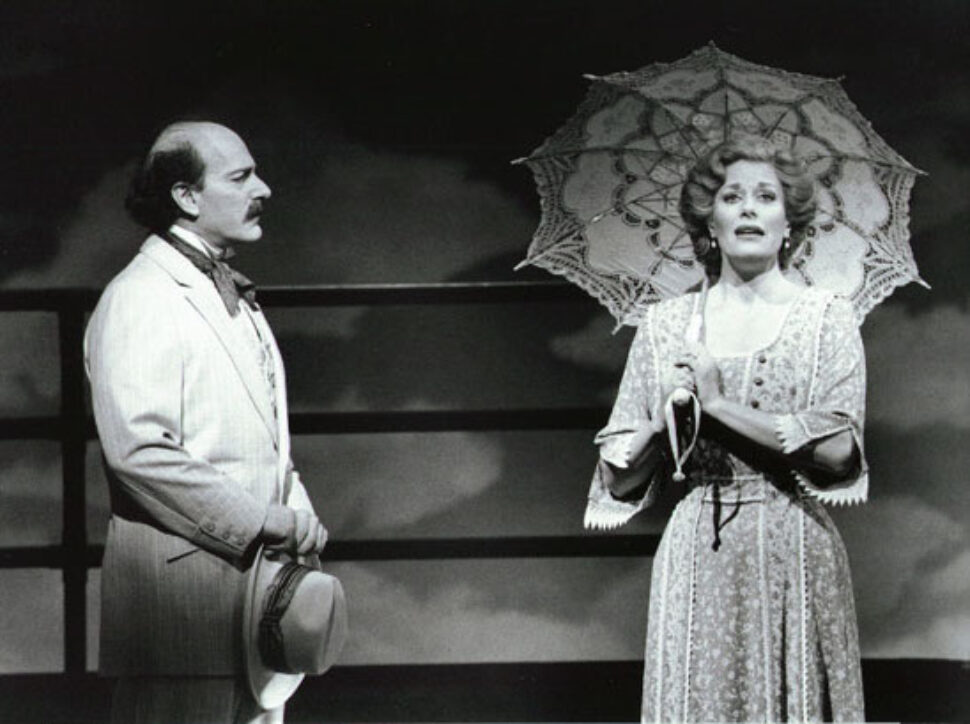 The evening was sadly without one of the musical's most beloved original stars, Marin Mazzie, who created the role of Mother—Mazzie tragically passed away in 2018. Her absence was felt deeply (along with other original cast members who have passed: Conrad McLaren, Tommy Hollis, Ralph Deaton, Panchali Null, Mike O'Carroll, and Valerie Hawkins). Luckily, for the reunion concert, the role was in the expert, Tony-winning hands of Kelli O'Hara. She made made Mother something all her own, paying homage to Mazzie's Tony-nominated performance without trying to copy it. "What Kind of Woman," sung as her character discovers a baby buried alive in her garden, was a standout—a reminder of O'Hara's incomparable ability to convey complex and difficult emotions alongside stunning vocals. Her take on the character's second act 11-o-clock number, "Back to Before," was also a thrill, sung up a half-step from the original key to better suit O'Hara's soprano—it was greeted with an immediate standing ovation.
Friedman's Tateh was another standout, especially because the actor has largely moved his career to the screen since starring in Ragtime. In the 25 years since, his take on the character has gotten even more poignant and nuanced. Friedman's performances of "Gliding" and "Buffalo Nickel Photoplay, Inc." were stand-outs. After the latter, a particularly tricky patter song, a visibly proud Friedman victoriously turned the page in his score with a flourish, signaling his satisfaction at having not only gotten through the difficult number, but dominating it once again.
Speaking of performers Broadway hasn't seen in a while, it was also a particular delight getting to see Steven Sutcliffe's Mother's Younger Brother, Lynnette Perry's Evelyn Nesbit, and Jim Corti's Harry Houdini. All three count Ragtime as their most recent Broadway outing, and all three returned to their roles as if 1998 was yesterday. Sutcliffe mostly performs now in Canada, where Ragtime played its pre-Broadway engagement—he's currently playing Serverus Snape in the Toronto run of Harry Potter and the Cursed Child. Seeing his Ragtime performance again makes one long for a Broadway return.
But when it comes to legendary Ragtime performances, it doesn't get much more legendary than Audra McDonald and Brian Stokes Mitchell. The fact that these two even shared the stage, much less played directly opposite each other, is a wonder. Both are world class performers in their own right, and though that was true before they starred in Ragtime, the show solidified Broadway stardom for both—McDonald won her second Tony Award for the performance.
McDonald's "Your Daddy's Son" remains the definitive rendition. The song, and its performance, have a tall order: to make a character who's done an almost unbelievably terrible thing—burying her newborn child alive—understandable and even sympathetic. McDonald doesn't shy away from the character's darkness, showing us the hurt and trauma that leads Sarah to do the unimaginable. Her final "forgive me" remains one of the more moving moments in Ragtime, and in all of musical theatre.
And then there's "Wheels of a Dream," the euphoric love duet between McDonald and Mitchell. Their performance exudes joy and hope, made all the more poignant and moving when you know the tragedies ahead for their characters. McDonald and Mitchell performed this song on Today to promote the reunion event, so luckily you can watch that one even if you weren't there for the concert.
But the true showstopper of the evening was and always has been Mitchell's climactic "Make Them Hear You." There's no question why so many have found inspiration in the song, a tribute to the seemingly never-ending fight for justice—to the importance and righteousness of that fight even when it feels unwinnable. Mitchell's vocals, even 25 years later, transcend the text, making an already moving sentiment downright overwhelming. Mitchell's performance of the song was quickly followed with yet-another well-deserved mid-show standing ovation, many faces stained with tears. Suffice it to say, McDonald and Mitchell proved they own their roles in Ragtime and their performances remain among the best ever seen on a Broadway stage.
The evening paid tribute to members of the Ragtime family that have passed in the last 25 years, with original company member and current Funny Girl star Lea Michele, who created the role of Little Girl at age 11, giving a post-intermission speech that introduced an In Memoriam slide show. It was accompanied by Flaherty himself, in a solo piano rendition of "'Til We Reach That Day."
Here are Michele's remarks: "For the past 25 years, this piece has touched the lives of so many audiences. But for me, and for many of us here on this stage here tonight, Ragtime forged a family, a family of actors, musicians, producers, stage managers, dressers, crew, and creatives. People bonded by more than just the joys of work, of putting on a show. We were brought together by the powerful message of this piece and the urgency of the story that we had to tell. I was 11 years old when we started the show in Canada, and I was star-struck by the company. The talent and power in every individual standing before me was undeniable. Even at the age of 11, I knew we were about to do something so special—not just for us, but for the world. I remember almost everyone's face that I saw that first day, and it's so incredible seeing everyone here again, reunited 25 years later. It's hard to grasp the fact that we lost some of this family along the way, but the memory that we created in Ragtime lives in all of us. So let's take a moment, as Marin would say, to remember the joy."
Among those sorely missed from the evening was book writer McNally, who passed just a month before the reunion concert's original 2020 date. We did, however, get a special message from the five-time Tony honoree, penned before his passing and included in the evening's Playbill, where he dedicated the evening to Mazzie.
Read McNally's message in full below:

"Working on E.L. Doctorow's masterpiece of creative imagination brought out the best in all of us: the creatives, the cast, and musicians, and the crew. Our determination to honor Ragtime the novel guided us as we brought Ragtime the musical to life as a theatre piece. It was an intense and lasting collaboration, the bonds of which are still strong. Tonight is a reunion of old and deep friendships, profound and perfect work experiences. Ragtime is all of us at the top of our respective games. We are jubilant to show it again to you.
"But at the heart of our pride and celebration is the sadness that the great Marin Mazzie is not on the stage with her Ragtime family. A brutal cancer had a rendezvous with her before tonight. She didn't put up a good fight; she put up a great fight. The war against ovarian cancer is a whole new ball game because of Marin. She gave of herself unstintingly until the very end.
"In many ways, Marin embodied the very spirit of Ragtime: American to its fingertips, hopeful even though the darkest clouds were already beginning to darken her once Eden-like landscapes.
"The story of Ragtime is precipitated not by hateful racists but by Mother's spontaneous generosity in taking in Sarah's infant baby. My favorite line in our show (often not heard in performance) is Younger Brother's "Thank you" to his sister for her instinctive kindness. Marin embodied all these qualities in every scene, every song. If possible, but probably not, she was even better off stage than on.
"We dedicate this evening to our beautiful, radiant, fearless friend. We will make her hear us.
"And we welcome and embrace her friend and colleague, the wondrous Kelli O'Hara, to the Ragtime family tonight. Thank you, Kelli. Ragtime the musical and all its people will take very good care of you. It's all for Marin tonight."
The Ragtime: In Concert company also included Mark Aldrich, Shaun Amyot, John D. Baker, Jack Baumrind, Darlene Bel Grayson, Dara Paige Bloomfield, Sandra M. Bonitto, Sherry Boone, Jack Casey, Mark Cassius, Jamie Chandler-Torns, Albert Christmas, Pierce Cravens, Larry Daggett, Bernard Dotson, Roberta Duchak, Donna Dunmire, Adam Dyer, Duane Martin Foster, Patty Goble, Elisa Heinsohn, David Hess, Adam Hunter, Kimberly JaJuan, Anne Kanengeiser, Mary Sharon Komarek (Dziedzic), Joe Langworth, Kai Latorre, Joe Locarro, Dan Manning, Michael X. Martin, Mary McCandless, Anne L. Nathan, Orgena Rose, Gordon Stanley, Addyson Evelyn Tabankin, Keith Thomas, Todd Thurston, Vanessa Townsell-Crisp, Allyson Tucker, Rema Webb, Leon Williams, Bruce Winant, and Eric Jordan Young. Michele was joined by Alex Strange, The Little Boy in the original company, for a special appearance in the concert's curtain call.
The production featured costume design by Tracy Christensen, lighting design by Donald Holder, and sound design by Peter Hylenski. Bernita Robinson served as production stage manager, and Allyson Tucker and Mary Sharon Komarek (Dziedzic) recreated excerpts from Graciela Daniele's original musical staging. The original production was cast by Beth Russell, Arnold J. Mungioli, Michael Walters, and Sherry Dayton.
This production of Ragtime was licensed by Music Theatre International. To make a donation to the Entertainment Community Fund, visit EntertainmentCommunity.org.