*
The show follows 29-year-old Kimmy Schmidt, who escapes from a doomsday cult in Indiana and decides to start a new life for herself in New York after traveling there for an appearance on "The Today Show."
In setting down roots for herself in the city, Kimmy finds a kind of second family, made up of her roommate Titus (played by Broadway regular Tituss Burgess), their landlady Lillian Kaushtupper (Carol Kane), and, in a way, her new boss, Upper East Side socialite Jacqueline Voorhees, played by Tony Award winner Jane Krakowski.
See these "Unbreakable" stars in their greatest stage roles:
Though Tina Fey's work has primarily been in TV and film, she's no stranger to the theatre. She's frequently been photographed on the red carpet at Broadway opening nights and wrote lovingly of her time as an actor and director in summer shows during her teen years in Pennsylvania in her 2011 memoir "Bossypants." Alongside her husband, composer Jeff Richmond (who also wrote music for "Kimmy"), and Nell Benjamin (Legally Blonde), she's currently working on a musical version of the 2004 film "Mean Girls," for which she wrote the screenplay in addition to starring as Ms. Norbury.
Aside from the actors mentioned above, "Kimmy Schmidt" is peppered with fun cameos from Broadway performers and inside jokes about the theatre scene and New York City, from the costumed characters invading Times Square ("That is definitely not Miss Piggy") to the agony of balancing waiter gigs with auditions for Broadway, especially the fictional injury-prone musical Spidermen Too: 2 Many Spidermen. Broadway regulars' appearances on the show and its frequent nods to show business are like Easter eggs for theatre fans binging on the show since its 13 episodes hit Netflix on March 6. Click through to read about the various Broadway actors who can be seen in "Unbreakable Kimmy Schmidt."
Tituss Burgess as Titus Andromedon
As Kimmy's roommate Titus Andromedon, a fiery aspiring performer consigned instead to inhabit a knockoff "Iron Man" costume in Times Square, Broadway veteran Tituss Burgess has perhaps the showiest role on the series. Burgess' character on the show comes to New York from Mississippi and auditions for The Lion King 20 times in 15 years before being told he's "not passing as a straight giraffe" (he later decides to produce his own disastrous one-man version). He and Kimmy end up forging a mutually supportive friendship, wherein she supports his dreams of performing (including an impromptu rendition of "The Circle of Life" in Times Square) and he encourages her both in love and fashion. Theatre fans will spot album covers hanging on his apartment walls from the original cast albums of Dreamgirls and Pippin and a tank top emblazoned with the logo for Starlight Express (which, coincidentally, marked co-star Jane Krakowski's Broadway debut in 1987). The real-life Tituss starred on Broadway most recently as Nicely-Nicely Johnson in the last revival of Guys and Dolls in 2009 but is perhaps most well-known for his performance as Sebastian in The Little Mermaid, which gets a brief nod in the show (when Kimmy brings home a TV she found on the street, Titus exclaims, "Ariel, this thingamabob isn't going to work").
Jane Krakowski as Jacqueline Voorhees
As Kimmy's boss Jacqueline Voorhees, Tony winner Jane Krakowski steals the spotlight in most of her scenes. With a lap dog named Abattoir and an addiction to spinning classes and plastic surgery, Krakowski is tasked with lampooning the image-obsessed Upper East Side mentality that's synonymous with New York wealth, and she pulls off the feat with aplomb. Krakowski, who worked with Fey on "30 Rock" as self-inflated actress Jenna Maroney, is also a serious Broadway talent, having won a Tony Award in 2003 for her performance as Carla in Nine opposite Antonio Banderas (complete with an aerial entrance for her number "A Call From the Vatican"). She's also starred in Broadway revivals of Once Upon a Mattress and Company and in the original productions of Grand Hotel and Starlight Express, in which she made her Broadway debut on roller skates.
Carol Kane as Lillian Kaushtupper
Perhaps best known for roles in film, including Woody Allen's "Annie Hall," veteran theatre performer Carol Kane has also appeared frequently on stage, including a number of stints on Broadway and on tour as Madame Morrible in Wicked, a supporting role in Roundabout Theatre Company's revival of Harvey alongside Jim Parsons, and her recent Off-Broadway performance in Craig Lucas's play The Lying Kind in which she played legendary film star Bette Davis. On "Kimmy Schmidt," she's Titus and Kimmy's meddling landlady, a kooky, politically incorrect hippie who ultimately helps Titus make a music video for his brilliant song "Pinot Noir," in an episode which is sure to go down as a first-season highlight.
Sara Chase as Cyndee Pokorny
As Kimmy's naïve fellow cult captive (they're dubbed "mole women" by the media) Cyndee, Sara Chase, featured in 2013's First Date on Broadway and in The Toxic Avenger Off-Broadway, is the attention-seeking foil to Kimmy Schmidt's attempts at reinvention. While Kimmy tells her boss Jacqueline that her last name is Smith in an attempt to lead an ordinary life, Chase's willfully oblivious Cyndee manages to capture the heart of her high school sweetheart Brandon, who may or may not be gay. Onstage Chase also starred recently in the San Diego production of The First Wives Club the Musical, playing all three of the husbands' mistresses in a performance that won her the San Diego Theatre Critics' Best Supporting Actress award.
Christine Ebersole as Helene
"The only B.S. around here is butternut squash," exclaims Christine Ebersole as Helene, the staid Connecticut mother to Jacqueline's stepdaughter Xanthippe on "Kimmy Schmidt." After having donned the "revolutionary costume for today" in Broadway's Grey Gardens and winning a Tony Award in the process, the 12-time Broadway veteran takes on a noticeably more buttoned-up role on "Kimmy Schmidt." Ebersole is also known for her performances as Dorothy Brock in 42nd Street, for which she won her first Tony Award in 2001, and as Elvira in the 2009 revival of Blithe Spirit alongside Angela Lansbury.
Mark Harelik as Julian Voorhees
A veteran of Lincoln Center Theater's The Light in the Piazza, in which he played Italian charmer Signor Naccarelli (father to Matthew Morrison's Fabrizio), Mark Harelik, who last appeared on Broadway as Ben Weeks in the Tony-winning revival of The Normal Heart, plays Jacqueline's businessman husband on the show. Krakowski's Jacqueline thinks he's cheating on her and tries to catch him in a lie at a dinner party she throws at their home only to find that Julian's secret distraction might be of a different making.
John McMartin as Grant Belden
When Kimmy asks Jacqueline to set her up on a date, it's octogenarian Grant Belden, played by Broadway mainstay John McMartin, whom she ends up with. McMartin, who has performed in 24 productions over more than 50 years on Broadway, most recently as Senator Richard Russell, Jr. (a mentor to President Johnson) in All the Way, is perfect on "Kimmy Schmidt" as a World War II veteran who initially wins Kimmy over by countering each of her outrageous revelations about herself with something equally astonishing ("I ate giraffe, and I liked it!") but whose paranoia kicks in when he suspects Kimmy might be a German spy. McMartin, in recent years, has also tread the boards in Anything Goes, A Free Man of Color, Is He Dead?, Grey Gardens and as the Narrator in the Vanessa Williams-led revival of Into the Woods, but he's perhaps most well-known by Sondheim fans as having created the role of Benjamin Stone in the original 1971 production of Follies.
Richard Kind as Mr. Lefkovitz
Richard Kind guest-stars as Kimmy's inept GED prep teacher Mr. Lefkovitz, who plays movies on VHS tape and takes naps instead of teaching and who dreams of ending up in the school's "rubber room," a kind of limbo where teachers who've been bumped from their assignments wait, sometimes for years, for a new gig. Kind is a comic actor who's played on Broadway in The Tale of the Allergist's Wife and The Producers (as Max Bialystock), and most recently as studio exec Marcus Hoff in The Big Knife, a more dramatic departure in an otherwise laugh-filled career that earned him a Tony nomination in 2013.
Martin Short as Dr. Franff
As Jacqueline's plastic surgeon Dr. Grant, whose name is inexplicably pronounced "Dr. Franff," Martin Short, who's currently starring in It's Only A Play on Broadway, is nearly unrecognizable. His hair is bleached blond, his lips are pulled tight, and his tan is deep enough to be beet red, but most notably his dialogue is nearly incomprehensible; he needs to finagle his lips with his fingers just to eke out words Jacqueline and Kimmy can understand ("We now validate parking, if that's important to you guys at all"). When he is audible, Short gets one of the show's most memorable lines when he tells Kimmy she has "very distinct scream lines." An impish comic actor, Short has starred on Broadway in The Goodbye Girl, Little Me and his original musical revue Martin Short: Fame Becomes Me, which he co-wrote with Marc Shaiman, Scott Wittman and Daniel Goldfarb.
James Monroe Iglehart as Coriolanus Burt
In addition to currently starring in Aladdin on Broadway, James Monroe Iglehart appears on "Kimmy Schmidt" as Titus' nemesis Coriolanus Burt, a rival actor with whom Titus competed years ago for the role of Sharecropper #2 in an all-black version of Oklahoma! called Alabama. When tragedy strikes the fictional production Spidermen Too: 2 Many Spidermen (directed by the supposed third Affleck brother, Myron), Titus finds himself at a cattle call for replacement performers and ends up running into Coriolanus on his way to the line for the audition. Iglehart, who won a Tony last year for his performance as the Genie in Aladdin, previously starred in Memphis as Bobby, and played the Lion opposite Ashanti in the Encores! Summer Stars production of The Wiz in 2009.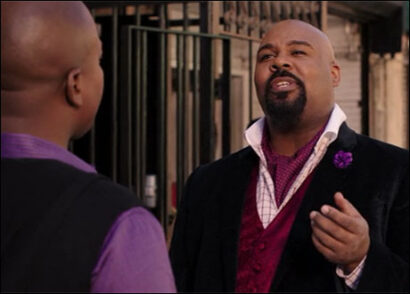 John Cullum as Daddy's Daddy, Jefferson Mays as Daddy and Nic Rouleau
One of the highlights of the first season of "Kimmy Schmidt" comes in the form of "Daddy's Boy," a fictional 1930s musical movie that, in the context of the show, is being screened on TCM in a Robert Osborne-hosted presentation. Nic Rouleau (a recent Elder Price in The Book of Mormon) makes a brief appearance as the title role of the film in a Navy cap and a jaunty-looking pair of shorts opposite Jefferson Mays (A Gentleman's Guide to Love and Murder) as "Daddy" in top hat and tails, with John Cullum (who made his Broadway debut in 1956 and starred most recently in The Scottsboro Boys and Casa Valentina) as "Daddy's Daddy." Aside from featuring these three Broadway favorites, "Daddy's Boy" takes a jab at Golden Age Hollywood musicals. Be sure to stay tuned during the credits of the Daddy's Boy episode ("Kimmy's In A Love Triangle!") to hear the hilarious song "Dicky Bird," an irreverent duet performed by Rouleau and Mays.
John Bolton as Bus Driver
When Kimmy finds herself heading back to Indiana accompanied by Titus, it's Broadway actor John Bolton who plays the bus driver who takes them there (despite questionable driving skills). Bolton most recently played the Old Man in A Christmas Story the Musical and also appeared on Broadway in Curtains, Monty Python's Spamalot, Contact and Titanic.
John Ellison Conlee as Professor Rick
When Titus takes a job at Professor Dracula's Spooky Laboratory and Bar & Grill (akin to 44th Street's Jekyll & Hyde Club Restaurant and Bar, where scenes from the show were shot), his competition for the role of the mad scientist in the floor show is Professor Rick, a gay actor who overcame type casting with the help of the mysterious "M. Le Loup." Professor Rick is played by John Ellison Conlee, a frequent theatre performer who starred most recently off-Broadway in Murder Ballad and on Broadway in The Full Monty, for which he was Tony-nominated in 2001.
Richard Patterson is a critic and editor for Exeunt Magazine as well as a playwright and lyricist-in-training. Visit him at therichardpatterson.com and follow @broadwaygayby on Twitter.