The Edinburgh Festival Fringe is the biggest arts festival in the world, with nearly 3,500 shows. This year, Playbill is in Edinburgh for the entire month in August for the festival and we're taking you with us. Follow along as we cover every single aspect of the Fringe, aka our real-life Brigadoon!
Something has changed within Tim Murray. Something is not the same. But don't get too excited—he's just painted his face green.
And Murray has been doing so every night for this year's Edinburgh Festival Fringe, where he's performing his new 60-minute solo show Tim Murray is Witches nightly at Underbelly Bristo Square's Dairy Room—the hilarious performance is a Playbill pick.
Murray digs into his lifelong obsession with witches. The performer has learned that his love of all things witchy is more than just enjoying flowy, black gowns and pointed hats. As an out and proud queer performer looking back at an isolating childhood (where he felt like the only queer person for miles), Murray finds lots of connections with witchy stories of societal outcasts with fabulous magical powers.
But telling that equal-parts-hilarious-and-moving story requires looking the part. We got to follow Murray as he prepared for a recent performance at Edinburgh Fringe, where his show is running through August 28 (get tickets here as it's selling very fast). He only had around 90 minutes to get ready for the show, perform the show, and get off the stage.
Follow along as Murray greenifies himself for a performance with these photos from Playbill Photo Editor Heather Gershonowitz.


At Edinburgh Fringe, if you're lucky you'll get a dressing room. But most of the time, you're getting ready in a bathroom. Here Murray puts the finishing touches on his green face in the fanciest of Fringe bathroom dressing rooms.


But it's not just his face that has to be green. Murray is going all-in, no marking, and doing his hands, too.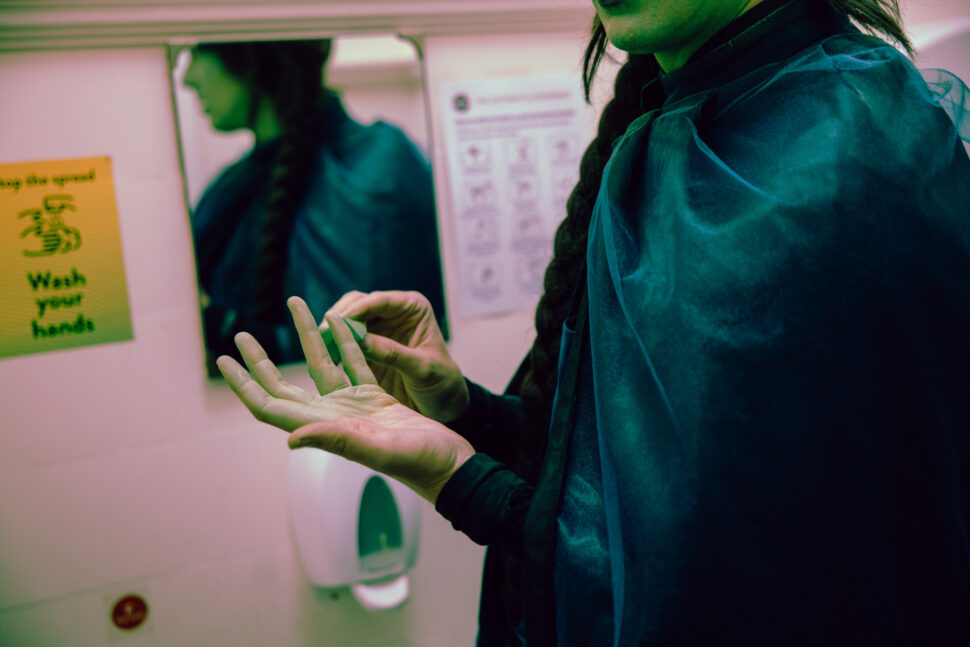 Buildings that are usually part of the Edinburgh University campus have been transformed into theatrical venues for the Fringe. This means Murray waits for showtime in this elegantly appointed space worthy of the Ivy League.


No witch is complete without a long, black braid. Murray adjusts his witchy wig here as it's almost time to go on.


Equally important pre-show witch ritual: brooding.


The schedule is so jam packed at Edinburgh Fringe that you can never keep the audience waiting. Murray is ready to do a spell or two, and put on a hell of a show.


Showtime!


"I'll get you, my pretties!"
But don't worry. Tim Murrray is Witches is no fright night. This wry smile is frequently on display as he tells hilarious stories and anecdotes from a witchy life.


It's best left unsaid what he does with this mic stand. You'll just have to get a ticket to find out.


Plus, there's original songs—because of course there are!


Another standing ovation. They love him—they really, really love him!
See more photos from Tim Murray as Witches, playing at Underbelly Bristo Square's Dairy Room through August 28. For tickets, click here. To learn about more Playbill-recommended shows at this venue, click here.