For more than 30 years, Jonathan Freeman has lived with Jafar, the love-to-hate villain from Aladdin. He originated the voice in the 1992 film, continued to do voiceover work for several projects, and in 2011, he stepped into the live-action role for the Disney Theatrical Production stage adaptation.
In 2014, he originated the role of Jafar on Broadway at the New Amsterdam Theatre, where he has stayed since. On January 23, he plays his final performance, with Dennis Stowe set to take over January 25.
In honor of his legacy with the famed antagonist, Playbill sat down with Freeman to discuss how he landed the role on stage, his memories of the audience, and what's next. [The interview has been edited for length and clarity.]
How are you feeling about it all?
Jonathan Freeman: Well, it's a mixed bag. Emotionally, I'm feeling a lot inside, and I am "sorry-grateful-regretful-happy" like the Stephen Sondheim lyric from Company. It's been a long time, and it just feels like it was time for me to move on.
Was there a specific moment that helped you decide to step away?
No, I think that I had decided that 2020 was going to be my last year but then 2020 went away and evaporated. So, a year and a half later, when they said that they'd like me to come back, I said yes. I didn't want to end like that, in the middle of the pandemic, I didn't want to just evaporate. That seemed like the wrong thing to do. It wasn't anything dramatic at all.

What was the longest run you had prior to Aladdin?
I think the longest run I'd ever done was two and a half years with 42nd Street, maybe. When I started this I thought, "Well, you know, maybe I'll get more than a couple years out of it, maybe it'll be a big hit, fingers crossed!" Nobody sets out to make a flop, after all.

What is it about Jafar that you were initially drawn to?
"Drawn to it" is the right phrase. From the time I was a kid, growing up in the '50s and '60s, I was attracted to villains in Disney animated movies. They were the most interesting characters to me and I liked everything about them: the way they look, talk, and dress, the things they ate, their friends. They always look like they're having a whole lot more fun than the heroes and I had developed a kind of a taste for that sort of operatic scale character at an early age, I guess. It just always appealed to me.
I really admired Cyril Ritchard, who was Captain Hook in the Broadway version of Peter Pan, and Hans Conried, who was the voice in the animated film. Their voices impact me. And I've had this voice since I was a kid. When I'd answer the phone at home and they'd say "Mr. Freeman?" I'd say "yes," and they'd think I was my father.
When this particular character came up many, many years later, after having that wish, it was kind of interesting. We've been together now for 30 years. This most recent leg has been eight years so it's a relatively short amount of time compared to others like the films, the TV series, the talking books, Aladdin on Ice, etc. It's like time-traveling with an imaginary person.
How do you approach having fun as the antagonist?
I've come to have a very fine appreciation for villains, they're like the gasoline that fuels the story forward. The heroes just get to look nice and sing nice songs and then characters like the Genie just get to have a ball from the start, so you have to find a way to have a ball and be a villain. I say don't go bigger, go deeper…that will make the character delicious enough that an audience wants to love to hate you.
I think if they love to hate you, you can make them come along with you a little bit. It can't just all be about the hero or heroine; you really have to figure out a hook. Sometimes that happens in a song and sometimes it happens in the text and sometimes it just happens from the get-go because of a physical thing or the way somebody looks at the character. There's a lot of different ways, but it's all important.
Do you ever have moments where the audience has a negative reaction to Jafar and you're happy?
Absolutely. When a child starts to cry at a matinee or be carried out of the theatre, I want to stop the show and just look at Don Darryl Rivera, who's playing Iago, and go, "yes, we did it today!" I don't really mean that I want anybody to be unhappy, though.
We have a couple of scenes that are very close to the edge of the stage and our orchestra pit is not that wide, so we're fairly close to the front row, especially when you get to stage right and stage left. I've heard people in the front row sputtering or expressing their disapproval of Jafar. I love that reaction like, "oh, he didn't just say that!" It could be anything; sometimes it's just these weird sounds, I could probably do a little recording of all the various negative reactions that are pleasing.
By the way, the audience just forgets that we can hear them, too. One night at a curtain speech for Broadway Cares we were selling these T-shirts with Jafar on them and Don Darryl said something like "Jonathan Freeman, the voice of Jafar from the original film, is who you just saw today," and there was a woman, close to the front row, who shouted "He's alive?!" Just like that. I called her on it, like "I said I can hear you."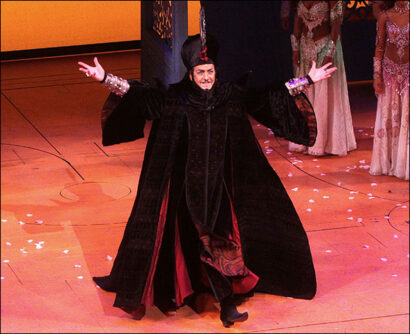 Do you ever get souvenirs from fans?
I have volumes of art, mostly from children, although some from adults, that's been sent to me and I've kept. I don't even know how many pieces there are at this point—it's 30 years worth. It's fascinating to me what's important to them that they decided to draw a particular aspect of the character. One person has their drawing of Jafar fixated on the diamond in the rough, for another, it's the cobra staff.
What was it like when you first stepped into the clothes of Jafar after spending so much time as just the voice?
I think I'm the first person to take an animated character into another media. As with all multi-million dollar Broadway musicals, it's a long process. So all through that period, the costume designer, the brilliant Gregg Barnes, he's just a genius at what he does, it's like magic. Still, it's a very collaborative effort. From the beginning, he has conversations with you and asks questions. There's so many times I wish I'd recorded our talks.
We had an image of something from the animated movie that was pretty spectacular in terms of the silhouette and structure but we knew that it couldn't be exactly like that. Nobody in this show can be exactly like the cartoon character, and so we had to work on it. We had to get the shape of the turban right and make the length of the cape so that I didn't trip on it and I wasn't tripping everybody else on stage and all of that. You know, we had to have the right kind of fabric that moved so that it looked like the way the cape moved in the cartoon you know.
We pretty much had it by the time we were in Toronto, but Gregg is phenomenal because he never stops working. When we got to New York and we had our final dress rehearsal, that may be where we actually had all the elements. There probably was a moment when I had it all on and I said "That's it. We got it."
What was it like balancing your existing idea of the character with changes implemented for the show?
When they first said that they were going to do this, I had a conversation with director Casey Nicholaw. I said, "I have to tell you… I'm not sure that I'm the right person." It's exciting to know that I would be the only person having taken their character to another medium. All that's great. But, there was nobody else in the room from when we started that was connected to the original source material, except for Alan Menken. So I knew it would be challenging for my ears. I thought it might be difficult for me to let go of certain things that I was used to hearing and seeing and I was a little bit afraid.
What made you decide that this was going to be okay?
I mulled over for not very long, really. I think my sense of guardianship kicked in and I thought "you know what? If anybody is going to do this, why not me?" I was like, "I can still do it physically. Sure, I wish I was 20 years younger, that would be a lot easier, but they're asking me to do it. They're not putting me in a battery of auditions."
Casey basically said, "you have to get out of your own way because this could be something really fun and wonderful and we really want you to do it." I was like, "Why am I even thinking twice about this?" I hadn't worked with Casey or Gregg before. There were a lot of firsts for me on this project, and so it was exciting.
Do you have a favorite memory of being on stage?
I remember the first time that I opened my mouth at the Seattle reading to say my first line to Don Darryl and he shrieked or something because it was like Jafar had just materialized next to him.