*
As they sing at the end of In the Heights: I'm hooooome! I flew every day, starting with Friday to New Orleans, Saturday to San Antonio, Sunday to New York, Monday to Toronto, Tuesday to New York, but now I'm back and I don't fly again til Dec. 5 when I go to California to do a benefit with the hi-larious Andrea Martin. I am traveling again this weekend, but I'm going old school (car) to the Poconos to do a show with Ana Gasteyer. It's a Saturday afternoon show, which I love doing because I'm back in the city that night! Delish!
Speaking of Ana, we did a show together in San Antonio and had the best time. At one point, she was talking about making an appearance on "The Talking Dead," which is a talk show about "The Walking Dead." She "watches" the show every week, but the verb is in quotes because she's too scared to do the dictionary definition of watching (looking directly at something). Instead, her viewing sessions consist of her husband Charlie actually watching the show, while she looks in a complete different direction and peppers Charlie with a stream of questions of like, "What's happening now?" and/or "Is he still alive?" One of the shows she actually does watch is "Doomsday Preppers," which highlights various peoples methods for preparing for the so-called "end of days." Ana revealed that she and Charlie would be horrible guest stars on that show. Why? Well, after 9/11 they decided to prepare for an emergency and put a coffee can under their sink with $1,000 stashed in it. She admitted that ever since then, they've used the contents of that can to make last-minute payments the babysitter. Ana calls it their "at-home ATM" and revealed there's around $37 left. Come see us in the Poconos and watch the video from her new CD. Obsessed with her sustained belted high F!
By the way, every week I have to post some travel trauma, and I forgot last week's: I was in New Orleans and so tired. I had done a show with Cheyenne Jackson and then gone to a fabulous party at a New Orleans mansion. I got home at 11-ish and went to bed at midnight. I was devastated I had to wake up early to meet my producer Mark for a 6:30 AM pick-up for our flight to Texas, but I had no choice. So, I set my alarm for 6:15, forced myself out of bed and made it downstairs by 6:30. He wasn't there! I texted him and he told me he would be there... at 6:30. That's right, it was actually 5:30. Yes, my iPhone didn't adjust to the new time zone, so I woke up at 5:15 for no reason. Yay!
On Sunday, I did a benefit for The Humane Society that was organized by Bill Berloni and his wife Dorothy. If you don't know, Bill has been training every animal on Broadway since Sandy for Annie. And what's amazing is that every single animal has been a rescue! The Humane Society is not only an animal shelter, but they also have a very low cost vet for all your animal needs. What was cool about the benefit was there were actually animals in some of the acts. Laura Osnes sang "Over The Rainbow" with a little Toto; Christian Borle sang "My Dogs" with various actual dogs; and Taylor Richardson (who replaced Lilla Crawford in Annie) sang a song from Wynn Dixie with a big dog playing Wynn Dixie! That's a new musical with lyrics by Nell Benjamin (Legally Blonde) and music by Steven Sater (Spring Awakening). The big dog in the song is soon going to be on TV playing Nana in NBC's Peter Pan! Bill said it's the first time an actual dog has played Nana instead of an actor, and I asked if he was a nervous wreck about Nana's behavior because it's going to be live. Bill said he's not nervous at all because, although it will be live, there won't be an audience, so to the doggie, it's just another run-thru. Hmm…it sounds like he's implying the dog will be marking. In my day, we always did it full out. Not cool. PS. Look at the picture I took with "Nana." I love that his smile shows his teeth! On my SiriusXM show, "Seth Speaks," I had Alysha Umphress, who is currently starring as Hildy in On The Town. She had done the original readings of On A Clear Day You Can See Forever but still had to audition for the big workshop. She knew everyone who was auditioning for her role except for one name on the sign-in sheet. She remembers thinking, "Who is Jessie Mueller?" Well, she soon learned when Jessie got the role and Alysha became the understudy. Alysha was, understandably, really upset when she didn't get the role. She felt it was the perfect part for her and another one as good would never come along. Cut to; On A Clear Day… had a very short run and now she has a role in a hit show that is even more perfect! Delish! Remember that, actors: You never know what's coming next!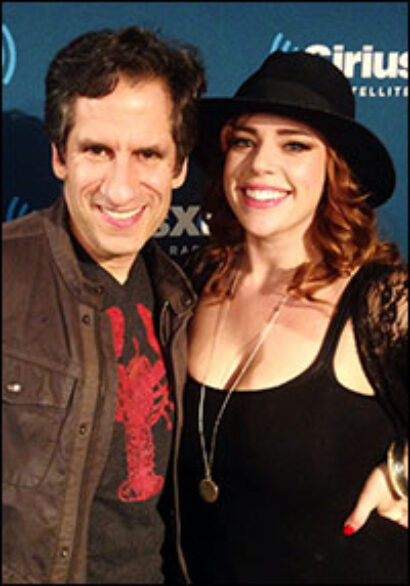 Alysha also told us that she was cast as an understudy in William Finn's Off-Broadway Make Me A Song. She never, ever went on and near the end of the run, her mom visited. They got tix to the new hit show at the time (Young Frankenstein) and Alysha told her mom she was going to call in sick. Alysha had never used a sick day and since she had never gone on, she knew she'd be available that night anyway. So, she called the stage manager, told him she had a bad cold and he wished her well. A few hours later, Alysha got a phone call that Sally Wilfert was projectile vomiting (!) and Alysha had to go on that night! She called her Mom and told her the bad news that she was going to lose money on their Young Frankenstein tix, but her mom was going to see her perform Off-Broadway instead! Alysha then spent the afternoon having a difficult rehearsal with the cast. It wasn't difficult because she didn't know the material; it was difficult because she had told the stage that very morning she had a really bad cold! So after every song, she had to have a fake a coughing fit to keep up her premise. It was a lot of shaking her head and bravely saying, "I'll try to get through it tonight" seguing to a few hours later in front of the actual audience when she never sounded better. Speaking of never sounding better, he's the recent "Obsessed" I did with her. Listen to the incredibly fluid riffs!
On Saturday night, I went to see Priscilla Lopez get a Lifetime Achievement Award! I was asked to be there to deconstruct her amazing performance in A Day In Hollywood/A Night In The Ukraine based on my online deconstruction. Watch! It was so thrilling for me! I obsessed listened to A Chorus Line and A Day In Hollywood… when I was a kid, so to get to talk about I loved her in front of her was so cool!! So many people were there. Kelly Bishop (who played Sheila in A Chorus Line) made a speech telling everyone that she met Priscilla back in the late 60's when they were gypsies. Kelly admitted that she was jealous of Priscilla, and Priscilla was scared of her! But when they did A Chorus Line together, they became best friends... and still are to this day. Kelly said that when they show moved from downtown to the Shubert Theater, she and Priscilla were in separate dressing rooms. They were right next door to each other, but there was a wall separating them. Kelly asked Michael Bennett why they were in dressing rooms with other people and he told her he chose those other people because she and Priscilla could "teach" them. Kelly said she immediately said, in Sheila-style, "I don't care about teaching them anything! I want to be with Priscilla!" Well, Priscilla and Kelly then noticed that the wall separating the two rooms looked like it had been put in after the theatre was built. Kelly said that Gerry Schoenfeld loved A Chorus Line and especially loved Priscilla. She told Priscilla to have a talk with him and a few days, the wall was gone! They were finally together. Kelly ended by saying for almost 40 years she and Priscilla have had a friendship that can break down walls!
Baayork Lee also spoke, Priscilla's costars from her various Broadway shows and film spoke and there were amazing clips from her career…including one from "All In the Family," which was a flashback episode showing how Mike and Gloria met. I'm obsessed with Priscilla's sexy outfit! Check it out (she comes in around 6 minutes in)! At the end of the night, Priscilla got up and gave a fantastic speech. She admitted that when they told her she was receiving a Lifetime Acheivment Award she thought, "Wait. Am I dead?" Then she decided she was being awarded for the work she's done so far. She then told us how she had been feeling out-of-shape this year and having some physical difficulties. She decided she needed to accept she was getting older and she'd never dance again. Then she got an audition for Pippin, went in and got the role of the grandmother who sings "No Time At All." Then she saw the show. AH! She had no idea she was going to have to do a full trapeze act! Priscilla thought she couldn't possibly do it and started sweating. She spent the rest of the show in a panic, obsessing over how she could get out of the contract. Cut to, she didn't quit the show. Instead, she trained, got in shape and now she's loving it! And all of her physical pain is gone!
She's so happy to be doing the show and, like Andrea Martin who created the role in this version, she wants to tell people not to give up and keep living! She remarked that she didn't know the effect her various roles had on other people until she did In The Heights. So many Hispanic people who wanted to work as performers found inspiration in her career. Mandy Gonzalez told her when rehearsals began that when she was a kid and saw the "z" at the end of Lopez, she knew she could also make it on Broadway. Priscilla did mention, however, that there was a time she considered changing her name, but then decided she couldn't do that to her family. PS, she didn't mention the name she was considering using instead of her own, but she told me years ago. Today, she wrote me an extremely sweet note thanking me for my performance last night and signed it with the non-Hispanic name she had considered: Tracy Cartwright. Anybody? Niente. On that note, Peace Out!
(Seth Rudetsky is the afternoon Broadway host on SiriusXM. He has played piano for over 15 Broadway shows, was Grammy-nominated for his concert CD of Hair and Emmy-nominated for being a comedy writer on "The Rosie O'Donnell Show." He has written two novels, "Broadway Nights" and "My Awesome/Awful Popularity Plan," which are also available at Audible.com. He recently launched SethTV.com, where you can contact him and view all of his videos and his sassy new reality show.)