What happened to August? Wasn't it just Memorial Day? Anyhoo, the week began with an amazing Provincetown concert starring Audra McDonald with her husband Will Swenson. They drove in that morning from Williamstown where they were both starring in Eugene O'Neill's drama A Moon For The Misbegotten, and she had the bruises on her legs to prove it. She was exhausted from driving five hours (!) but sang up a storm. At one point we were talking about her big audition in 1993; she was up for an ensemble part in Beauty and the Beast. She was very excited she had a call-back and then devastated she wasn't cast. Well, that spring at the Tony Awards, Beauty and the Beast performed "Be Our Guest," which would have featured Audra as a utensil had she been cast, but instead she was at that Tony Awards ceremony winning a Tony! Yes! It was the same year as Carousel. So, actors: Don't be devastated when you're not cast. You have no idea what's waiting for you. If Audra had been cast, she wouldn't have auditioned for Carousel because she would have already been working. That means she would have never played Carrie Pipperidge and would now only have five Tony Awards. So incredibly sad. Speaking of Beauty and the Beast, Audra just filmed the live-action movie version! I guess she can think of it as one long audition process: She went in for Beauty and the Beast in 1993 and finally, after proving herself, she got the call in 2015 that she'd be playing the Wardrobe. A mere 22 years between final call-back and hearing from her agent.
Will joined her onstage for the most amazing part of the evening when they both sang "You Don't Bring Me Flowers." She started out in her signature beautiful voice, but then Will started singing like Neil Diamond. Audra immediately stepped up to the challenge and fully channeled Barbra's voice. It was fantastic! Audra and Will requested that we make it a trio with me so right after Will sang "It used to be so natural…" I did the high-pitched Barbra echo of "Used to be…". It was horrific/hi-lar.
Speaking of Ptown shows, at the Matthew Broderick/Sarah Jessica Parker show, I asked Matthew about the "Ferris Bueller" shower scene. First I wanted to know about his bizarre wet hair mohawk. He said he had kind of piled up his hair to be funny but then Chris Columbus (the director) exaggerated it into that highrise using conditioner. Matthew then clarified, in his signature dry way, "I think, however, in those days it was called crème rinse." I then asked Matthew why he had his wet hair in a Norma Desmond turban towel wrap, and he said he grew up with two sisters and they always had their hair like that after a shower. I love it! Here's the scene.
Sarah talked about how much she loved filming "Hocus Pocus" with Kathy Najimy and Bette Midler. Her favorite part was flying. She told us that she loved it so much she would fold up the New York Times "like you learn how to do on the subway," put it in her back pocket and then when she'd finish filming a flying scene, she'd sit hoisted up in the air and read the paper! She remembers Bette Midler walking by and asking, in her signature fast-paced Bette Midler voice, "What are you doing up there? Why don't you come down? Why would you wanna sit up there and read?" Speaking of Bette sassing Sarah, here's a scene where she clobbers Sarah in the stomach. The day after the Audra concert, James and I hightailed it to the airport to take a flight from Provincetown to Boston, then from Boston to NYC, then from NYC to the Bahamas, where we'd meet a cruise that I was going to work on. Well, first our plane from Ptown was delayed. By an hour and twenty minutes. It's a really small airport and usually you wait near the gate and go through security right before your plane takes off. Well, suddenly at 11 AM they told us they had clearance but everyone had to be put through security and seated on the plane in seven minutes. It's a tiny plane so there were only 10 of us, but by the time we were all seated, the air traffic controllers told us we missed our window and could not take off. James and I were pretty depressed because if we missed our Boston to NYC flight we wouldn't be able to connect to our flight to the Bahamas and we'd have to leave the next day. Cut to: We found out the good news that our Boston to NYC flight was delayed! If the Ptown flight took off soon we'd make it the Boston plane. We were told we had another window to take off and everyone piled back on the plane and we were soon in the air. Then when we were about to land, we couldn't get clearance and had to circle Logan airport. Ah! We finally landed and James and ran to our gate where the flight to NYC was. Of course, it was on the other side of the terminal so we had to sprint. We got to the gate and saw that our plane was there! But the door to get on was closed. The gate agents then told us we missed by four minutes. AH!
We realized we had to fly to NYC later that afternoon, stay overnight and then fly to the Bahamas the next morning. I'd still make it in time to do my show, and, more importantly, it would give us a chance to see our dog, Sonora. She's 15 years old and she's been having lots of health problems. My intern Ross had been staying in our apartment and he brought her to the vet because she had a bout of pancreatitis. This is on top of her having Cushing's Disease, diabetes and what they think is a tumor on her adrenal gland. The vet was very dire in her assessment of how sick she was. We went right from the NYC airport to the vet and Sonora didn't look good. Still, after she knew it was us visiting she perked up a little in her cage. The next morning we visited her in the vet at 7:30 AM before our flight and, this time, she whined to get out of her cage and started walking around the room. The day before the vet had told us it was probably the end for her, yet there she was with lots of energy! We left for the Bahamas excited that she could probably go home the next day! We got to JFK hoping for an easy flight after what happened the day before…and we found out our flight was delayed.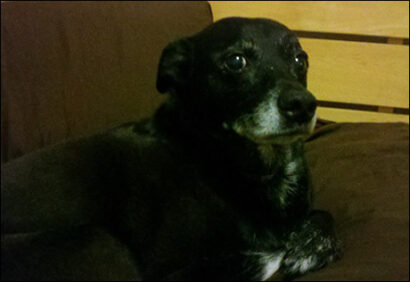 At this point we realized that if we got to the Bahamas past 5 PM, the ship would be gone and we'd miss the cruise (and my gig!). There was nowhere else for me to board unless I pulled an "I Love Lucy" and joined it in the middle of the ocean via helicopter. James thought it was odd that we were delayed because the plane was there at the gate. He assumed it was mechanical trouble, but also noticed all the doors were open. Strange. We waited and finally got on the plane two hours late. The pilot then came out and told us "Well, folks, I could either lie…or tell you all what really happened on the plane." Of course, the passengers started behaving like a comedy club audience and yelling, "Tell us the truth! Tell us the truth!" while I glared and said to James that I hate audience participation. The pilot then told us what happened: the plane had landed a few hours before and as soon as it did, one of the passengers tried to exit before he was supposed to. He wound up hitting/bumping into someone in front of him who then "cut" him. Seriously. Not since West Side Story. It turned into a rumble and ended with someone getting pepper sprayed! Really! The reason the plane was delayed was because it had to get rid of the pepper spray smell inside, hence all the doors being open. The good news is we soon took off and made it down with plenty of time to make the ship.
I was performing with Lindsay Mendez who told me that a few years ago she had an audition for Dogfight. It was a preliminary audition where you go in for casting associates who decide whether you should be brought in for the director. She sang…and was not brought in for the director. This was while she was doing Godspell on Broadway and I had her on my "Chatterbox." Well, the "Chatterbox" is filmed and put online and who was watching but…Joe Mantello. He saw Lindsay on the show and had her brought in and she got cast! He loved her so much that he then gave her the role of Elphaba for the 10th anniversary Wicked! Here she is singing "The Wizard and I" and ending on an E!
So, yet again it's another example of people telling an actor they're not right for a role that they later get (Terrence Mann with Javert in the original Les Miz, Rebecca Luker with Marian Paroo in The Music Man revival). And, Lindsay says, it's why she says "Yes" to everything because you never know where it might lead! I just filmed an amazing "Obsessed" with Lindsay…watch!
While we were on the boat, we heard from Ross that Sonora had come home…but she immediately had terrible breathing problems and had to go back to the vet. She was in oxygen and it looked very bad. We were scared she was going to die overnight. James and I got back from the cruise and went right to the vet…and yet again she got out of the cage and again started trotting around! Now she's home again and doing great! She's still got it! On that positive note, peace out! (Seth Rudetsky is the afternoon Broadway host on SiriusXM. He has played piano for over 15 Broadway shows, was Grammy-nominated for his concert CD of Hair and Emmy-nominated for being a comedy writer on "The Rosie O'Donnell Show." He has written two novels, "Broadway Nights" and "My Awesome/Awful Popularity Plan," which are also available at Audible.com. He recently launched SethTV.com, where you can contact him and view all of his videos and his sassy new reality show.)