We've gotta go back! Back to the Future: the Musical began preview performances on Broadway June 30, and we're rewinding the clock to meet the cast and creative team behind the Olivier-winning production transfer ahead of their August 3 opening night.
"I'm just excited to continue to tell this really good story," says director John Rando of the musical adaption of the beloved 1985 film. Meet the musical's Marty McFly, Doc Brown, Biff, Goldie Wilson, and more in the video above.
Back to the Future has a book by Bob Gale and new music and lyrics by Emmy and Grammy winner Alan Silvestri and six-time Grammy winner Glen Ballard, with additional songs from the film, including "The Power of Love" and "Johnny B. Goode."
Casey Likes (Almost Famous) stars as Marty McFly, alongside Tony winner Roger Bart and Olivier nominee Hugh Coles, both reprising their West End roles as Doc Brown and George McFly, respectively.

They are joined by Liana Hunt as Lorraine Baines, Jelani Remy as Goldie Wilson and Marvin Berry, Nathaniel Hackmann as Biff Tannen, Merritt David Janes as Strickland, and Mikaela Secada as Jennifer Parker.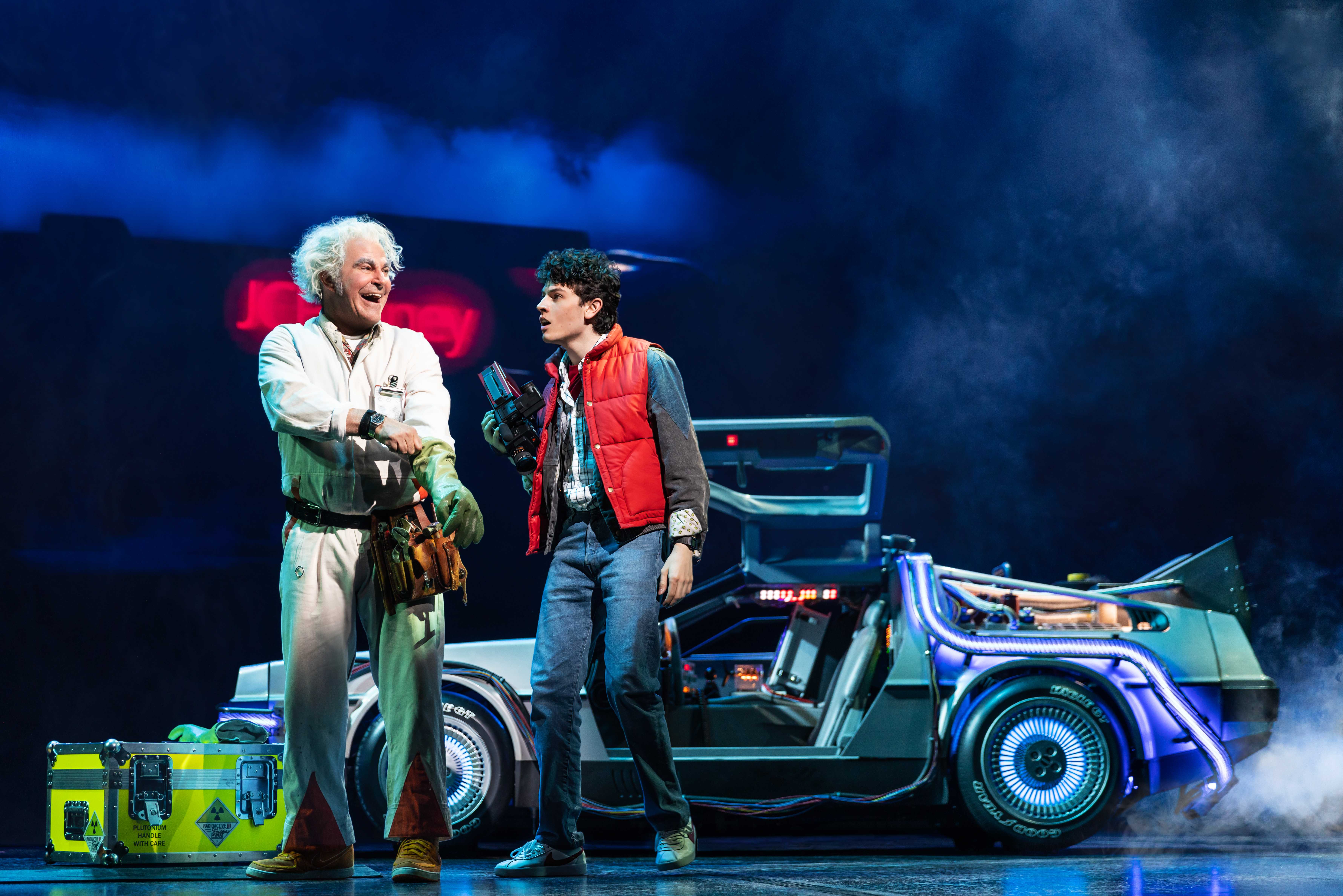 The ensemble includes Amber Ardolino, Will Branner, Victoria Byrd, Brendon Chan, Kevin Curtis, Nick Drake, Samuel Gerber, Marc Heitzman, Kimberly Immanuel, Joshua Kenneth Allen Johnson, Hannah Kevitt, JJ Niemann, Becca Petersen, Emma Pittman, Jonalyn Saxer, Blakely Slaybaugh, Gabi Stapula, and Daryl Tofa. Rounding out the company as swings are Samuel Gerber, Kimberly Immanuel, Joshua Kenneth Allen Johnson, Blakely Slaybaugh, and Gabi Stapula.
The production features set and costume design by Tim Hatley, lighting design by Tim Lutkin and Hugh Vanstone, sound design by Gareth Owen, video design by Finn Ross, choreography by Chris Bailey, musical supervision and arrangements by Nick Finlow, music direction by Ted Arthur, illusions by Chris Fisher, orchestrations by Ethan Popp and Bryan Crook, and dance arrangements by David Chase. Casting is by Tara Rubin.
The production stage manager is Julia Jones, the company manager is Eduardo M. Castro, the music coordinator is Kristy Norter, and the fight director is Maurice Chan. Richard Fitch is the international associate director, Taylor Haven Holt is the US associate director, Darren Carnall is the UK associate choreographer, and Beth Crandall is the US associate choreographer. The associate set design is Ross Edwards. Wig, hair, and make-up design is by Campbell Young and Associates.
The musical enjoyed a world premiere at Manchester Opera House in 2020, a run that was cut short due to the onset of the COVID-19 pandemic. The production transferred to London's West End the following year, earning seven Olivier Award nominations and winning Best New Musical.
Back to the Future: the Musical is produced by Colin Ingram, Donovan Mannato, Deborah Dutcher, Tom Viertel, Steven Baruch, Marc Routh, Richard Frankel, Hunter Arnold, Playing Field, Robert L. Hutt, Ivy Herman, Hallee Adelman, Teresa Tsai, Bob McLynn, Kimberly Magarro, Crush Music, Universal Theatre Group, Sony Masterwork, and Augury.