Framed by a winter green curtain, a casket sits in the center of the stage at the Nederlander Theatre. There's a chill in the air. Then, a total blackout startles the audience into attention. In pitch darkness, Tony winner Jefferson Mays begins to tell Charles Dickens' A Christmas Carol as the light slowly reemerges—beginning with a match, then candles. Next the footlights come on to illuminate the stately Victorian set of dark wood-paneled walls full of shadowy corners.
With Mays playing over 50 characters and a haunting aura in the air, one thing is clear: This is not your childhood's A Christmas Carol.
Starting the show, currently running on Broadway to critical acclaim, with a blackout is more than a signal for audience members to turn off their phones. The show's director Michael Arden explains, "It demands their attention and imagination." It's a deliberate choice to place the audience in the same position as the show's villain Ebenezer Scrooge, who is haunted in the story by three ghosts. "We were really interested creating something that was an incredibly unreliable space for the audience," Arden says, "just as Scrooge has no idea of what is going to happen next or things he thinks will happen don't, and vice-versa." It also scares people, a tactic they use to make the audience emotionally vulnerable as they lean into the story's somber roots instead of its jollier production legacy in pop culture.
In the darkness, the audience is required to first listen before they can watch the visuals unfold, dream-like, from the words. It's as if the performance of A Christmas Carol is a spell conjuring the set and the props into being. For instance, in one moment, Mays mentions that he needs a book. The set's turntable immediately delivers it on a table. Things are often described before they appear to the audience.
Arden calls it "the most complicated set you'll never see": A staircase seems to appear out of nowhere, wallpapers change in a blink of an eye, and full rooms are transformed as the story wanders to new locations. A table is rotated out on one of the production's multiple turntables, narrowly squeezing between a sliding wall and an emerging bed as Scrooge enters his private rooms. The margin for error is incredibly narrow—a matter of inches it seems—in the physical placement between these set pieces, which seem to be moving by magic. The precision required with the set—which includes lighting candles at specific times when they won't bounce off reflective surfaces—makes the production "really tricky, and somewhat terrifying to do," Arden admits.

While the goal is to create that almost otherworldly experience for the audience, it's one that Mays himself undergoes each performance. When he is on stage, time ceases to exist. "It feels like a dream," Mays says. "I think it's a disservice to call Dane Laffrey a set designer. I think he's an architect of dreams. He and Michael made this protean space where everything's coming at me from all fronts, at all times. And it's mind altering."
When Arden embarked on initial discussions with the creative team, he wanted to try out a new approach for A Christmas Carol. In a cabin over the course of a few days, the team read the script aloud, watched different versions, and discussed all the what-ifs that came to mind. The resulting discussions led to the realization that every member of the creative team were invested in playing with light, and its absence. "It was exciting, the sound designer was talking about the set, the set designers talking about the sound, and the projection designers about direction," he shares. It's also become part of the director's process for his work since then.

Since the holiday tale features imagery of frightening phantoms, cold winds, and falling snow, the current Broadway production's origins at Los Angeles' sunny La Brea Tar Pits might seem unusual. While in California, Mays began to develop the solo version with his collaborator and wife Susan Lyons, and Arden, for the Geffen Playhouse in 2018.
It's quite the challenge Mays faces; he voices every character in the story. So how does he approach it for 90 minutes, eight times a week? "I wanted to differentiate the roles as clearly as I could, and as economically I could," the actor says. When speaking about the characters, Mays says, "It's kind of a morbid image, but I always thought it's like bodies looming out of the darkness of a stream, and then drifting away again." The description, while spooky, couldn't be more appropriate when considering the ghostly nature of this production. Helping Mays transform into every character is the central design challenge of the show.
For instance, in one dialogue scene where Mays alternates between Scrooge and Bob Cratchit, the lighting, designed by Ben Stanton, tonally shifts between warm and cool to match each character. As the ghost of Marley, Scrooge's late business partner, Mays' face looks skeletal thanks to a cleverly hidden light in his hat, which Mays removes and holds at waist height for the moment. The light casts stark shadows on his face.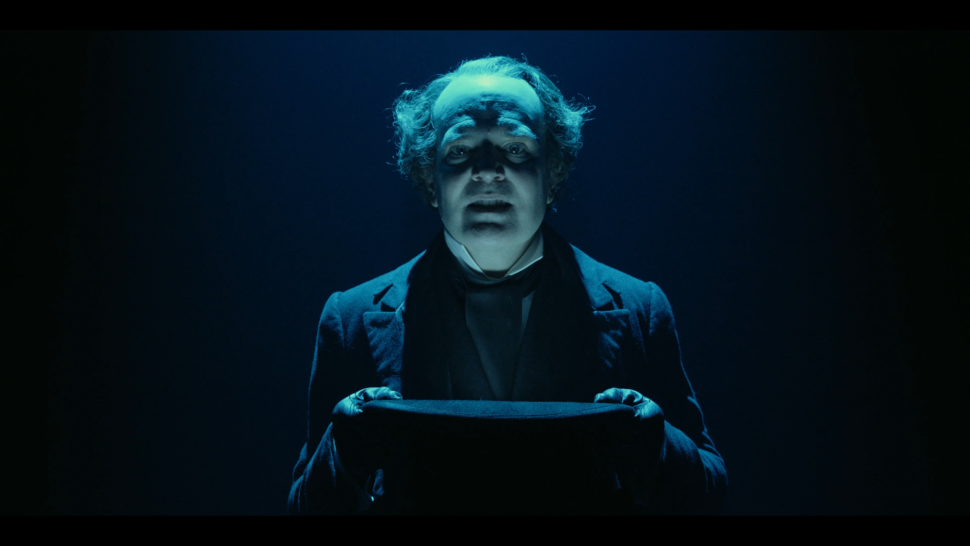 These visual cues range from the subtle to the dramatic. But one aspect of the show that Arden hopes you don't notice: the sound design. To be fair, some of the sound design by Broadway-debuting sound designer Joshua D. Reid is indeed subsonic. "There's type of sound wave that is used a lot in horror film that you can't actually hear, but unsettles you," Arden shares.
Audiences may be surprised to find out that there are actually more sound cues than any other design cues in the show—even more than lighting. For instance, "when Jefferson is narrating, there'll be a slight reverb like he is in a sort of echoing hall," Arden says. "It's incredible subtle stuff that helps the audience know who he is, and whether we are in dialogue or in narration as well." As a truly invisible part of the production and one that has a complexity hard to notice, the sound design is in some ways the unsung hero of A Christmas Carol. "It is one design element that everyone thinks is magic, that no one actually thinks anyone is doing, and actually is being done by the hardest working person in the room usually," Arden says. "Sound is the show's connective tissue."

Underpinning all that theatrical magic is a story and a performance very much about the heart. When he first started writing A Christmas Carol, Dickens wanted to raise moral outrage about the horrors surrounding him in 19th century Britain—poverty, hunger, homelessness—and the author knew writing a fictional story instead of a political pamphlet would be more effective in emotionally reaching people. Those injustices still surround us today, and Arden made that point during technical rehearsals. "'There are homeless people right outside this door,'" Mays recalls the director saying as he pointed to a door at the back of the theatre. "That really hit home with me, I always think about that image every night."
Along with remembering the living each night, Mays also remembers the dead. "My first experience with A Christmas Carol," he shares, "was having it read aloud to me by my parents, who passed the book between them on a winter's evening. I remember distinctly my father's lovely, soft, detached narrative voice. And then my mother, who was a total mad woman, would be possessed by every character. I still hear my parents' voices nightly onstage with me. It's a very emotional journey for me every night I think, in large part, because my dead parents are sort of resurrected on that stage."
A ghost story, indeed.