Curran: Under Construction will feature fully staged short runs of new works, with audiences seated on the theatre's stage to view the action. The festival will launch Sept. 23, inviting audiences to enter through the theatre's stage door alleyway, made famous by the classic 1950 film, "All About Eve."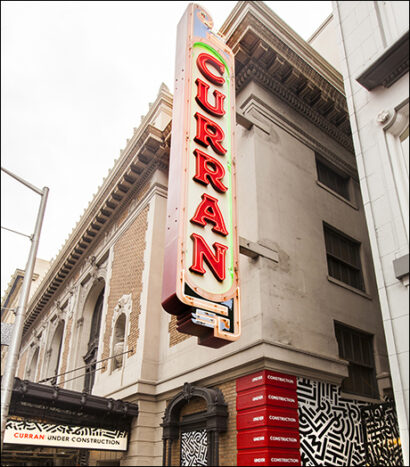 The first staging will be David Greig's The Events, which played the New York Theatre Workshop in 2014, and will run through Sept. 26. Other works featured in the festival include Dave Malloy's Ghost Quartet and Geoff Sobelle's The Object Lesson. Programming has been scheduled through January 2016. For a full list of events, visit sfcurran.com.
"Curran: Under Construction will allow us to utilize this great house during its renovation, and to stage exciting works in new ways," commented Hays in a press statement. "When we reopen as a full-sized venue, we will continue our commitment to programming daring and excellent works that otherwise might not find their way to a major West Coast theater."
Built in 1922, the historic venue is currently undergoing major rehabilitation that will include newly remodeled lobbies and bars, refurbished seats, carpeting, lighting and much more. The theatre has staged more than 8,000 performances and seen such stars as Edith Piaf, Isadora Duncan, Ingrid Bergman, the Lunts, Katharine Hepburn, Carol Channing, Sir Ian McKellen and Hugh Jackman.
Hays is San Francisco's leading theatrical producer and has nurtured the careers of numerous acclaimed American playwrights. Four of her productions have won Pulitzer Prizes, and eight have garnered Tony Awards. She is currently a producer on the Tony-winning Broadway musical Fun Home.