At a Sept. 29 panel, as part of New York City's Advertising Week, Miranda was posed the question of radio possibilities by Playbill editor in chief Blake Ross, who moderated the event.
"I think Hamilton has an opportunity," he replied. "I don't know that it's going to happen, but I think it might happen — for artists to cover songs from this show and then it be on the radio. That would be really exciting for me. I think it would be exciting to reconnect theatre to popular music because it's already been happening in secret — we're already a silent majority. There's a reason 'Glee' ran for so long."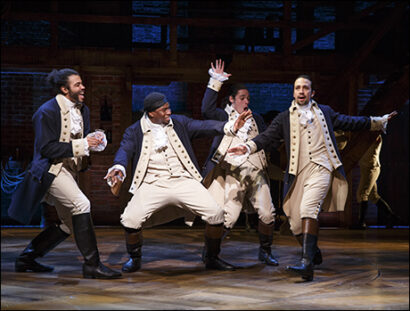 He told the audience at New York City's Hard Rock Café, "All of you guys did a school play at some point, and there's this musical that's in your bloodstream because you played Hansel in Hansel and Gretel or you played Captain Hook in Peter Pan or you were a Munchkin in ninth grade in The Wizard of Oz, and that's a musical experience that you have that we don't reflect in our nature of society, but it's there, so I think there's a huge appetite for it. I just think it's looking to bridge that gap."
The music to Hamilton (referred to on the Internet, specifically Twitter, as #Hamiltunes) hit the web Sept. 21 when Miranda made the music available on the NPR website for free streaming. Since then, the #Hamiltunes hashtag began to trend, and the music went viral.
One of the last Broadway tunes to hit the radio was "Seasons of Love" from Jonathan Larson's Pulitzer Prize and Tony Award-winning musical Rent in 1996. But, during the Golden Age of Broadway, show tunes were considered popular music and were frequently heard by mainstream audiences.
Hamilton, already a history-making musical, would make waves again with radio play.
The album was released digitally Sept. 25.
The physical in-store version, which will include a booklet and full packaging, hits stores Oct. 16. Click here to order the digital version of the album.
The new musical by Tony Award-winning In the Heights star and creator Miranda explores the life of American Founding Father Alexander Hamilton. Inspired by the book "Alexander Hamilton" by Ron Chernow, the musical incorporates historical figures such as George Washington, Aaron Burr, James Madison and Thomas Jefferson.
The two-disc album was produced by Ahmir "Questlove" Thompson and Tariq "Black Thought" Trotter, founding members of the Grammy-winning hip-hop band, The Roots.