Talented actor Patrick Wilson started out on the stage, most notably in The Full Monty, as Curly in the 2002 revival of Oklahoma! and in revivals of the plays Barefoot in the Park and All My Sons, but it's been more than five years since Wilson has tread the boards, aside from the one-night concert of Guys and Dolls at Carnegie Hall, and we're itching for his return. Though he's been acting in movies since the early 2000s, his Hollywood career has seen a recent uptick thanks in part to leading roles in blockbuster horror movies like 2010's "Insidious," 2013's "Insidious: Chapter 2" and 2013's "The Conjuring."
Now that he's a big horror movie star, why shouldn't Wilson meld together his film successes with his stage talents and return to Broadway in something scary? We've come up with a list of ten potential horror-based stage properties for Wilson — existing plays and musicals, imagined adaptations, and ideas for something even more original — that would conjure scream-inducing turns from Wilson, should he choose to pursue our suggestions. Click through to read our ideas.
The Exorcist
In 2012, a stage adaptation of "The Exorcist" played the Geffen Playhouse in LA, with direction by John Doyle and Teller (of Penn and Teller) as creative consultant, and was rumored for a move to Broadway at the time. That transfer never materialized, but the play (adapted by Agnes of God playwright John Pielmeier) seems the perfect vehicle for Wilson's return to the stage. The story of The Exorcist revolves around a possessed young girl (Linda Blair in the film adaptation) whose devastated mother seeks the help of a Catholic priest, Father Merrin, to save her daughter. Though Richard Chamberlain was in his 70s when he played the part of Merrin on stage in LA, Max von Sydow was in his 40s when he tackled the role in the 1973 film version. Wilson, characterized by his even-keeled demeanor, would be excellent as the unflappable priest should the play version ever venture East.
Starring in a classic story is a great way to make a return to the stage. Mary Shelley's gothic classic "Frankenstein" was brought to life on stage in 2011 at the National Theatre in London in a kinetic production adapted by Nick Dear and directed by Oscar winner Danny Boyle ("Slumdog Millionaire"). In London, Jonny Lee Miller and Benedict Cumberbatch alternated in the roles of Victor Frankenstein and the Creature. It's easy to envision Wilson as Dr. Frankenstein, but an all-out physical performance as the Creature could push him thrillingly outside his comfort zone. Plus, there are countless leading men who could star alongside him in such an iconic vehicle, like Jake Gyllenhaal, Hugh Jackman, Daniel Craig, or one of the play's original stars, just to name a few.
Another popular property that could showcase Wilson's talents is Bram Stoker's "Dracula," which has taken a bite out of Broadway before both in musical and play forms. Hamilton Deane and John L. Balderston's play version has appeared on Broadway three times throughout the last century, most notably with Bela Lugosi and Frank Langella in the title role (in 1927 and 1977 respectively). Both of their performances are by now the stuff of lore. Despite Count Dracula's villainous tendencies, his sex appeal is also key and could make Wilson, ever the charmer, the perfect fit for the part. In 2005, composer Frank Wildhorn's musical version opened on Broadway, co-written by Don Black and Christopher Hampton. Though the show closed after little more than six months, Tom Hewitt's performance as the Count was larger-than-life and dripping with macabre charm. Given Wilson's singing chops, Wildhorn's version — which features some big, meaty ballads — could also be worth a second look.
Ghost Brothers of Darkland County
When it comes to contemporary horror, Stephen King still reigns as one of the greats. A musical version Carrie had made it to Broadway in 1988 and returned Off-Broadway years later, but until 2012 King had never written a work of his own for the stage. Collaborating with singer-songwriter John Mellencamp, King wrong the book for a new musical called Ghost Brothers of Darkland County, which has since been released as a concept album produced by T Bone Burnett and produced at the Alliance Theatre in Atlanta in 2012 and, later, in a touring version that will soon be making a stop at the Beacon Theatre in New York City. The musical is a Southern Gothic ghost story focusing on two brothers in Mississippi who died tragically and the present-day effects of those deaths on a man, Joe McCandless, and his two sons. With a folk- and blues-inflected score, the musical — should it ever come to Broadway — the role of Joe, which is being played by Billy Burke on the show's current tour, would give Wilson a chance to show his range by tackling a new musical style.
Misery
Stephen King's novel "Misery," which has been adapted for the stage twice, could also be a tour de force for Wilson. The most recent adaption of the novel, by William Goldman (who also wrote the film adaptation), played at the Bucks County Playhouse in Pennsylvania in 2012. The story centers around a romance novelist, Paul Sheldon, who is rescued from a car accident by his "number one fan," a deranged former nurse named Annie Wilkes who flies off the handle when she realizes Sheldon has killed off his beloved protagonist, Misery Chastain, in a forthcoming installment of his book series. The role of tortured Sheldon, who is slowly unmoored by his tormentor, could be perfect for Wilson, whose casting as complicated characters (like son Chris Keller in the 2008 revival of All My Sons, grappling with John Lithgow as Joe) has proven him more than capable of enacting confrontation.
Dance of the Vampires
Dance of the Vampires, which opened on Broadway in 2002, began its life as a German-language musical in Vienna, written by American composer-lyricist Jim Steinman (a collaborator on Meat Loaf's "Bat Out of Hell") and German lyricist-librettist Michael Kunze (a co-writer of the ill-fated musical Rebecca) based on Roman Polanski's 1967 movie. Though Steinman and his Broadway collaborators essentially rendered the show toothless (or, well, fangless), by playing up the musical's comedy at the expense of its darker impulses, it would be interesting to see a reworking of the piece that's closer to the original Viennese version's intentions. Though Michael Crawford starred in the English-language Broadway production, Wilson's take on the part of mysterious vampire Von Krolock could help steer the show away from the excesses of its revised version. After all, the show, which flopped on Broadway with only 56 regular performances, has been a smash hit around the world, especially in Germany and Austria.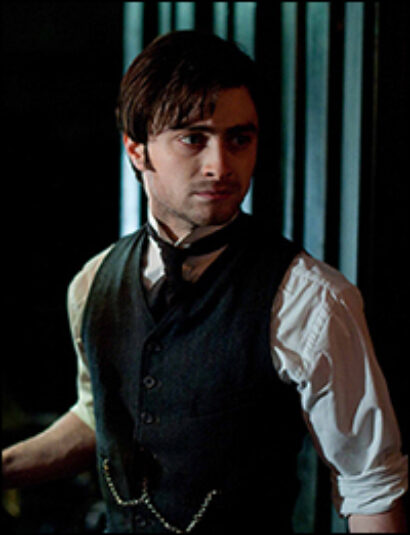 The Woman in Black
Based on Susan Hill's 1983 horror novella of the same name, Stephen Mallatratt's horror play The Woman in Black opened in the West End in 1989 and has been running there ever since. A film version in 2012 starred Daniel Radcliffe as young solicitor Arthur Kipps, but the stage version relies on two actors playing older and young versions of Kipps. Wilson could be an excellent match for the older Kipps, recounting the story of his stay at the haunted Eel Marsh House, where a client of his, Mrs. Drablow, had lived for most of her life with her family, including her troubled sister Jennet, whose son died tragically on the marsh surrounding their home. Essentially a traditional haunted house story, The Woman in Black, which has never played on Broadway, is a good fit for Wilson, whose portrayal of real-life paranormal expert Ed Warren in the haunted house movie "The Conjuring" went over well with critics.
What better musical-horror role for Wilson than Sondheim's greatest male protagonist, Sweeney Todd? Sondheim and book writer Wheeler drew from Christopher Bond's play Sweeney Todd, itself based on the penny dreadful story "The String of Pearls," as inspiration for their bloody Industrial Revolution-set musical, which borrows from the French horror-theatre traditions of the Theatre du Grand-Guignol for its heightened naturalism and composer Bernard Herrmann's film scores for its macabre musical motifs. At first listen, Wilson's tenor voice is not be an obvious match for the role of murderous barber Sweeney, but he might be able to pull it off nevertheless. Can't you just hear his voice in your head wrapping its silky tone around Sweeney's "My Friends" and, later, ripping into "Epiphany"?
'Interview with the Vampire "
Though Anne Rice's Vampire Chronicles served as the basis for the ill-fated Broadway musical Lestat (with a score by Elton John and frequent collaborator Bernie Taupin), a straight play version of Rice's books might be a better fit for Broadway, which seems leery of singing vampires. Rice's suspenseful first novel, "Interview with the Vampire," was the basis of a 1994 film version starring Tom Cruise as Rice's most legendary vampire, Lestat, and Brad Pitt as Louis, a vampire who recounts his centuries-long story to a present-day San Francisco journalist. A pared-down version of the story with the right adaptor and director could make the story work on stage, and Wilson could be the perfect leading man as either Lestat or Louis or, if the play took the same approach as Frankenstein at London's National Theatre, both roles.
A New Play
While there are a number of great horror adaptations, it would be equally thrilling to see Patrick Wilson back on Broadway in an original play. Playwrights like Conor McPherson (Shining City, a stage adaptation of "The Birds") and Martin McDonagh (The Pillowman) are no strangers to ghost stories and dark, twisted themes. A new play from one of these two greats, or another playwright of equal talent, could be an ideal way for Wilson to return to the stage in something original. Though McPherson and McDonagh are both Irish playwrights, it would be great to see them mine the traditions of New York-specific Broadway ghost stories for a totally original play. Title it Ghostlight, make it about theatre impresario David Belasco's famed ghost, and just like that you've got Wilson's newest hit.
(Richard Patterson is a critic and editor for Exeunt Magazine as well as a playwright and lyricist-in-training. Visit him at therichardpatterson.com and follow @broadwaygayby on Twitter.)