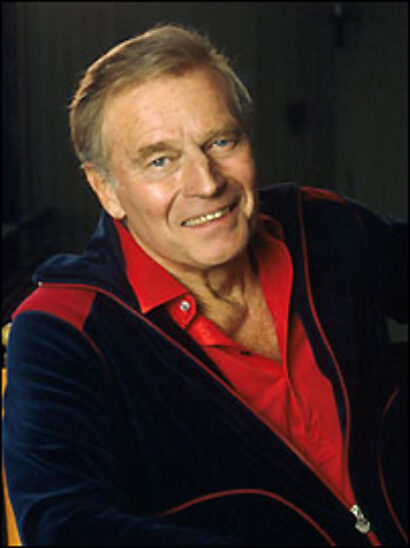 More than any other film actor of his generation, Mr. Heston was associated by the moviegoing public with iconic, larger-than-life characters. The king of the silver screen epic, he played Andrew Jackson in "The Buccaneer" (1958), the title chariot-racing Roman in "Ben-Hur," for which he won an Oscar (1959), El Cid in the film of that name (1961), John the Baptist in "The Greatest Story Ever Told" (1965), painter Michelangelo executed the ceiling of the Sistine Chapel in "The Agony and the Ecstasy" (1965), and Marc Antony in both 1970's "Julius Caesar" and 1972's "Antony and Cleopatra."
He was closely identified with the role of Moses in Cecil B. DeMille's sweeping epic "The Ten Commandments," film in 1956. The movie was a huge hit at the time, and became known to successive generation through annual Easter-time airings on television.
"If you need a ceiling painted, a chariot race run, a city besieged, or the Red Sea parted, you think of me," he once remarked.
Critics often carped about Mr. Heston's stiff acting style, but for audiences the actor seemed to more than make up for his limitations through his instinctual use of his muscular frame, a strong-jawed patrician face that wouldn't have looked out of place on Mount Rushmore, and a dignified bearing that didn't allow for a trace of irony, or even, for that matter, humor. The actor was, legend has it, chosen to play Moses by DeMille because he bore an uncanny resemblance to the statue of Moses carved by Michelangelo.
Just as his career was beginning to flag in the late 1960s, he accepted the lead in a sci-fi fantasy called "Planet of the Apes," in which he was a human captured by an intelligent race of bi-ped primates living on a strangely familiar planet. Following its success, he appeared in a sequel as well as other science fiction movies like "The Omega Man," and "Soylent Green." Films in the 1970s included the disaster flicks "Earthquake" and "Airport 1975" and the costume dramas "The Three Musketeers" and "The Four Musketeers." By the mid-'90s, he had achieved such a legendary stature that he seemed a natural choice to portray the Player King in Kenneth Branagh's film version of "Hamlet." Some film devotees contend that Mr. Heston's greatest contribution to film may have been inadvertent. When Orson Welles was cast as the heavy in a Heston vehicle called "Touch of Evil," Heston assumed the fallen genius was also going to direct it. To please their star, Universal executives went along with the idea. Thus, Welles was given control of his first studio production in a decade. Though given scant distribution at the time, the lurid crime drama has since, in a restored version, been praised as one Welles' best films, and one of the artistic highpoints of Mr. Heston's career.
John Charles Carter was born in Evanton, IL, on Oct. 4, 1923, and took drama and speech classes at nearby Northwestern University, courtesy of an acting scholarship. His parents divorced when he was young. He later commented that he couldn't recall a time when he didn't want to become an actor. After three years in the Air Force during World War II, he won his first Broadway role in a 1947 production of Shakespeare's Antony and Cleopatra starring Katharine Cornell. He followed that with short runs in Leaf and Bough (1949) and Design for a Stain Glassed Window (1950). He took his stage name from his mother's maiden name, Charlton, and his stepfather's surname, Heston.
Appearances in television dramas such as "Julius Caesar" (again playing Antony), "Wuthering Heights" (as Heathcliff) and "The Taming of the Shrew" (as Petruchio) led to his film debut in 1950 in "Dark City." Thereafter, he devoted himself primarily to film. He never completely abandoned the stage, however. Later theatre appearances included Long Day's Journey into Night opposite Deborah Kerr, Macbeth with Vanessa Redgrave, and A Man for All Seasons.
His final stage role was opposite his wife Lydia Clarke in Love Letters at the Haymarket Theatre in London in the summer of 1999.
He was active in the off-screen Hollywood life, putting in six terms as president of the Screen Actors Guild and taking part in the Civil Rights movement of the 1950s and 1960s. Later in life, his interests took a conservative turn. He achieved a sort of infamy among his Los Angeles circle by serving three terms as president of the American Rifle Association, beginning in 1998, and speaking out, often in inflammatory terms, in favor of gun rights. He often feuded with actor Ed Asner, a liberal member of the Hollywood acting community. Mr. Heston campaigned for Ronald Reagan and both Bushes. In the late '80s, he resigned from Actors Equity, wrote the AP, claiming the union's initial refusal to allow a white actor to play a Eurasian role in the Broadway production Miss Saigon was "obscenely racist."
In 2002, he revealed that he had symptoms consistent with Alzheimer's disease. He married Lydia Clarke in 1944. She survives him, as do their two children.