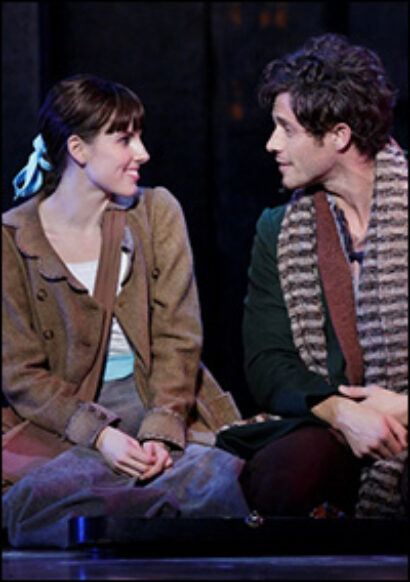 Directed and choreographed by five-time Tony winner Susan Stroman, performances continue through Nov. 30.
Little Dancer features book and lyrics by Tony Award winner Lynn Ahrens and music by Tony Award winner Stephen Flaherty.
The cast includes four-time Tony Award winner Boyd Gaines as Edgar Degas, three-time Tony Award nominee Rebecca Luker as Adult Marie van Goethem, New York City Ballet principal dancer Tiler Peck as Young Marie van Goethem, Polly Baird, Wendi Bergamini, Lauren Blackman, Sophia Anne Caruso, Janet Dickinson, Juliet Doherty, Nina Goldman, Kyle Harris, Seán Martin Hingston, Jolina Javier, Michael X. Martin, Michael McCormick, James Pierce III, Jenny Powers, Katelyn Prominski, Michele Ragusa, John Riddle, Amy Ruggiero, Joseph J. Simeone, Justin Urso, Lyrica Woodruff and Tony Award winner Karen Ziemba.
"Part fact, part fiction, and set in the harsh backstage world of the Paris Opera Ballet," press notes state, "Little Dancer is inspired by the young ballerina who posed for Edgar Degas and became, inadvertently, the most famous dancer in the world. Torn by her family's poverty, her debt to the artist and the lure of wealthy men, Marie struggles to keep her place in the ballet corps—a girl on the verge of womanhood, caught between the conflicting demands of life and art."
The production also has set design by Beowulf Boritt, costume design by William Ivey Long, lighting design by Ken Billington, sound design by Kai Harada and music supervision by David Loud. Shawn Gough conducts the Kennedy Center Opera House Orchestra.
Tickets starting at $45 are on sale by visiting kennedy-center.org, in-person at the Kennedy Center box office or by calling (202) 467-4600 or (800) 444-1324.