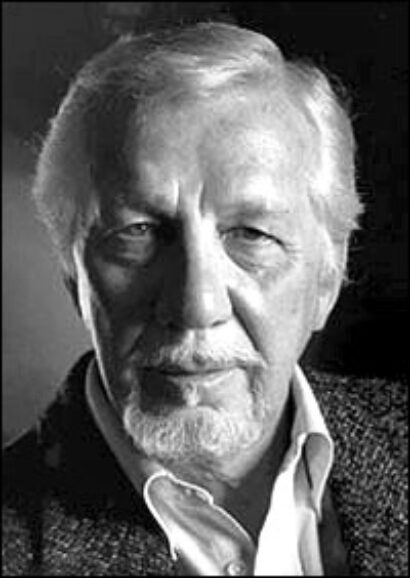 Mr. Hutt was a founding member at Stratford, joining the new festival at the invitation of Tyrone Guthrie in 1953. He would spend 39 seasons there, acting in 130 productions, both comic and serious.
In his time, the leonine actor played many a towering role. Among his parts were both King Lear and The Fool (opposite Peter Ustinov's Lear), Titus Andronicus, Falstaff, Richard II, Jaques, Prospero, Tartuffe, James Tyrone and Lady Bracknell. He played Tyrone in Long Day's Journey Into Night twice, once opposite Jessica Tandy and once with Martha Henry (a feature film inspired by the latter staging was released in Canada). He was Wilde's Bracknell in The Importance of Being Earnest three times, first in 1975. It was his most remembered performance, by Mr. Hutt's own measure.
This season he was cast as Tobias in Edward Albee's A Delicate Balance, but was forced to withdraw in March because of health concerns. That made his 2005 turn as Prospero his final Stratford credit.
In 2006, he played Charles Kingman, an aging Shakespearean in the third season of the popular Canadian series "Slings and Arrows," about a struggling and tumultuous classical theatre company very much like Stratford. The DVD of his season goes on sale in July from Acorn Media.
William Ian DeWitt Hutt was born in Toronto on May 2, 1920. He served in the Second World War from 1941-46 as a member of the 7th Canadian Field Ambulance in Italy, France, Belgium and Holland, and was awarded the Military Medal. After returning home he attended the University of Toronto, where he performed at the Hart House Theatre. He graduated from Trinity College in 1949. Fortune came calling when Amelia Hall, artistic director of the Canadian Repertory Theatre, saw him perform at a summer stock theatre, where he was earning $5 a week. Hall made Mr. Hutt an associate director. Soon after, he joined Stratford.
Mr. Hutt has worked in many cities; he played Broadway three times, most memorably as the Lawyer in the original Broadway production of Edward Albee's Tiny Alice. But in the public's mind, his career is forever entwined with the history of the Stratford Festival. "Theatre in Canada and my career seemed to progress hand in hand," he once said. In fact, the bridge that leads over the Avon River near his home was named in his honour in 2000.
"I felt that I should stay and do what I could," he said of choosing Canada as his professional base. "And once Stratford started, what better circumstances could I find myself in? I had continuous work. I was associated with the greatest playwright in the English language and with a company that produces his plays with love, passion and a good budget."
Among his many honors was a Companion of the Order of Canada in 1969 and the Order of Ontario in 1992. That same year he was the first recipient of the Governor General's Lifetime Achievement Award, English Stage. In 1998 he received the Shakespeare Globe's Sam Wanamaker Award for outstanding contribution to the world of Elizabethan and Jacobean theatre.
A public funeral will be held at St. James Anglican Church in Stratford. Details will be announced when they become available.