*
The final seven episodes of Mad Men begin on April 5. When they do, we'll have to start to say goodbye to Don Draper, Peggy Olson, Pete Campbell, Joan Holloway, Roger Sterling, Betty Francis... and all of the other characters of one of television's greatest shows of all time.
While these characters' stories may be ending, it's also the beginning of a new chapter for the brilliant actors and creatives behind the work. Lucky for us, some of them are choosing projects in the New York theatre scene. Elisabeth Moss is currently leading the outstanding Broadway revival of The Heidi Chronicles at the Music Box, while Vincent Kartheiser spent this fall starring in Billy & Ray at the Vineyard Theatre Off-Broadway.
But then... hasn't "Mad Men" always intersected with Broadway? Indeed, since much of the show is set in 1960s New York City, the gang at Sterling Cooper has seen Broadway shows, sent clients to Broadway shows and even worked on ad campaigns based in part on Broadway shows.
Take a journey through Broadway in the 1960s, through the eyes of "Mad Men."
1. Episode: "New Amsterdam," Season 1, Episode 4
Broadway Show: Bye Bye Birdie
What Happens: A Sterling Cooper client, Walter from Bethlehem Steel, doesn't like the company's work on a new ad campaign. Pete asks Walter to stay in town for another day so they can work further and says that they'll even throw in "tickets to a Broadway show — there's a new one, Bye Bye Birdie." Walter replies, "I don't like birds either." Pete stalls: "… Well, something else, then."
What Could've Happened Next: This episode takes place around April of 1960, which means that Bye Bye Birdie really was brand new — it actually opened on April 14, 1960. Pete is really staying on top of the current Broadway scene in order to keep his New York-travelin' clients happy! But since Walter doesn't like birds, chances are that he ended up at The Music Man, Once Upon A Mattress or Flower Drum Song instead.
2. Episode: "Babylon," Season 1, Episode 6
Broadway Show: The Kind That Perceived Yuppies Go To See
Notable Location: The Gaslight Cafe
What Happens: Don's bohemian mistress, Midge, takes him and her friend Roy to a beatnik cafe in the village. The Gaslight Cafe was a real spot where many important folk musicians, including Bob Dylan, got their start. These days, it's a tattoo parlor located next to an Insomnia Cookies. But back in May of 1960, it was the kind of place where a hippie like Roy might say to an ad exec like Don,"I'm starting a theatre of the people. Conscious drama. Not the soulless bullshit kept alive by the middle class, with season tickets to Dick Van Dyke and Mary Martin. I bet Don here can tell you first hand: Broadway's the birthplace of mediocrity."
This kind of reference is the epitome of one of the things "Mad Men" does best: provides social and cultural context so realistic that it enhances our understanding of the characters and of their time. Passionate anti-establishment youths of the 1960s felt that Broadway was for their parents' generation, something that suburban sellouts and tired businessmen did on a Saturday night. In this scene, we see how Roy, Don and Midge all view each other's place in the world, within the context of several 1960s New York references to real performances.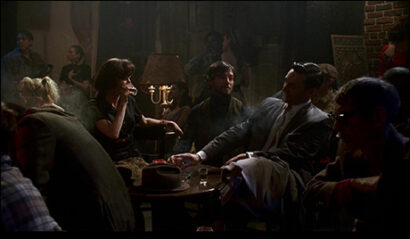 What Could've Happened Next: Unless Roy caught Dick Van Dyke's 16-performance run in a 1959 musical revue called The Girls Against The Boys, this is the series' second (but not last) Bye Bye Birdie reference. I think that Roy must've taken all that rage against the upper middle class and their dang mainstream theatre and become a part of the early years of the Circle in the Square company downtown.
3. Episode: "Shoot," Season 1, Episode 9
Broadway Show: Fiorello!
Notable Location: The Broadhurst Theatre
What Happens: Don and Betty Draper run into Jim and Adele Hobart at intermission of Fiorello! The scene wasn't actually filmed at the Broadhurst Theatre on 44th Street, where the show played, but it's a reasonable facsimile. Jim is the head of a competing advertising firm, and he and Don chat for a bit before Adele and Don leave to go get some drinks from the bar. Here's a rare slip for "Mad Men" in the historical accuracy department — Broadway theatres didn't serve alcohol in the 1960s. In fact, by 1965, there were only four Broadway houses where a patron could order an adult beverage, and even then, the Broadhurst wasn't one of them.
What Could've Happened Next: Later, Betty, who enjoys a good Broadway show, sighs to her neighbor Francine that it'll be six months before she can get Don back into a theatre. Since this is July of 1960, I like to think that this means by February of 1961, Don and Betty were back in the theatre district enjoying Camelot or Tenderloin.
4. Episode: "The New Girl" Season 2, Episode 5
Broadway Show: A Funny Thing Happened On The Way To The Forum
Notable Location: Sardi's
What Happens: We're in May of 1962 now, and the hit show Forum, which just opened, is the talk of the town. So it's no wonder that department store heiress Rachel Menken Katz and her new husband are on their way to see it when they run into Don and Bobbie Barrett at Sardi's.
What Could've Happened Next: Well it's May of 1962 at Sardi's, so I like to think that during Don and Bobbie's sexy exchange, perhaps Bob Fosse and Herb Gardner looked on approvingly from the next table, before heading to their respective pre-production meeting for Little Me and performance of A Thousand Clowns.
5. Episode: "Maidenform," Season 2, Episode 6
Broadway Show: A Funny Thing Happened On The Way To The Forum
What Happens: Recently divorced account executive Duck is taking custody of his teenage kids for Memorial Day weekend. "We're going to have a wonderful time on the town," he announces. "I got tickets for A Funny Thing Happened." "We saw it," his daughter whimpers, clearly far ahead of Rachel Menken Katz in the sophisticated theatregoing department. "Not from these seats!" Duck returns.
What Could've Happened Next: Duck's pouty daughter convinces him to exchange the tickets in favor of seats to the current hit show How To Succeed In Business Without Really Trying starring (future "Mad Men" star) Robert Morse. Annnnnd... INCEPTION.
6. Episode: "Love Among The Ruins," Season 3, Episode 2
Broadway Show: Bye Bye Birdie
What Happens: Sterling Cooper is hard at work on an ad campaign for Patio Cola, and they decide to create a commercial inspired by Ann-Margret's performance of the title song in the film of Bye Bye Birdie. Ann-Margaret proves inimitable, and Sal foreshadows this with his first lines of the episode: "I saw Susan Watson do it on Broadway. She was great, but she didn't have that."
What Could've Happened Next: Sal returns to the Martin Beck Theatre to see Kim MacAfee understudy Karin Wolfe go on for a matinee for comparison. He even treks to the 54th Street Theatre, now demolished, on the "wrong side of Broadway" to see a new Kim understudy, Vicki Belmonte. They both disappoint, but he enjoys sexy Albert Peterson replacement Dick Patterson.
7. Episode: "The Gypsy And The Hobo," Season 3, Episode 11
Broadway Show: Oliver!
What Happens: This episode of Mad Men uses the song "Where Is Love?" from Oliver! in its closing credits. As fans of the show know, creator Matthew Weiner utilizes a different song over the credits of each episode. Some are of their time period, and some are anachronistic, but they all relate to the story that was just told. In this case, the juxtaposition of the sweet "Where Is Love?" from that year's hit Broadway show (we're now in Halloween 1963), with the disturbing Draper trick-or-treat moment we have just seen, is very powerful.
What Could've Happened Next: Sally goes as Fagin next Halloween. No one understands.
8. Episode: "The Rejected," Season 4, Episode 4
Notable Location: Jim Downey's Steakhouse
What Happens: It's now February of 1965 and Pete and Harry meet Ken, now at a competing agency, for lunch at Jim Downey's Steakhouse on 8th Avenue near 44th Street. Downey's would've been off the beaten path for these Madison Avenue men, but not unusual; the place was more of a show biz hang during its heyday. In fact, "Mad Men" cast member and Broadway alum Robert Morse frequented the joint with his co-star Charles Nelson Reilly in the early 1960s during their run of How To Succeed. When I interviewed Donna McKechnie for my book, "The Untold Stories of Broadway," she spoke fondly of Downey's — both its expansive rooms and its clientele, which she noted always included members of the Actor's Studio!
What Could've Happened Next: Pete, Harry and Ken get a little too rowdy and Lee Strasberg shushes them.
9. Episode: "The Collaborators," Season 6, Episode 3
Broadway Show: Hair
What Happens: Pete and Trudy are throwing a party in their home, and Pete flirts with several wives by offering to get them tickets to Hair. He also describes the revolutionary musical as: "Oh, it's just filled with profanity, marijuana smoking, and simulated sexual acts... and a few songs." Later on, he tells one of the women to meet him at Grand Central and he'll hand off the tickets, "and even throw in a hot dog!" We bet you will, Pete.
What Could've Happened Next: This episode takes place in January 1968, so Hair had finished its Off-Broadway run at the Public, and was about to close at the Cheetah, an alternative disco venue, to prepare for its move to the Biltmore on Broadway three months later. This means, again, that native New Yorker Pete was really on top of the Broadway scene! I bet he's already taken his grandkids to Hamilton.
10. Episode: "The Strategy," Season 7, Episode 6
Broadway Show: Oh, Calcutta!
What Happens: Pete gets delayed in Cos Cob and tells his girlfriend Bonnie that she should go see Oh, Calcutta! without him.
What Could've Happened Next: Once again, Pete Campbell is on the cutting edge of new musical theatre, as Oh, Calcutta! had just debuted Off-Broadway in 1969 (and would go on to run for decades in New York). What happens next is obviously that Pete's passion for contemporary theatre leads to the ad agency pitching their first-ever Broadway show account. When the new season returns, I hope we see Don Draper's taglines for Company.