It's a wealth of riches for the theatre-loving couch potato this month. Whether you're looking to stay in a cold Saturday and binge entire new drama series, or if you need to catch some films you missed during their theatrical releases, the streamers have you covered.
Check out a few of our February streaming recommendations below:
Apple TV+
Based on the novel of the same name by Anne Napolitano, Dear Edward follows the lone survivor of a plane crash, 12-year-old Edward. Relationships and communities are formed in the aftermath of grief of the families affected by the tragedy. Creator Jason Katims (Friday Night Lights) has put together an ensemble cast led by Connie Britton and Taylor Schilling, with Colin O'Brien in the title role. Anna Uzele, who was recently seen on stage in Six and will next lead New York, New York, plays the granddaughter of a Congresswoman lost in the crash. Tony nominee Brian d'Arcy James has a recurring role. Stream it weekly beginning February 3.
Tony winner Billy Crudup leads the new dramedy series Hello Tomorrow! Set in a retro-future world (set in the future, but looks like the past), the story orbits a group of traveling salesmen peddling timeshares on the moon. While Crudup's Jack is an inspirational seller to colleagues and clients alike, it's his own unfaltering faith in a bright future that just may leave him lost among the stars. Tony nominees Alison Pill and Hank Azaria costar, along with stage vets Haneefah Wood, Nicholas Podany, and Matthew Maher. The first three of 10 half-hour episodes drop on the streamer February 17 with new episodes releasing weekly.
Broadway HD
Filmed in front of a live audience at Cafe Brasil in New Orleans, Lady Day at Emerson's Bar & Grill features Tony Award winner Audra McDonald in a history-making, tour-de-force performance as jazz legend Billie Holiday. The show opened on Broadway in April 2014 and McDonald won her sixth Tony for the performance, becoming the first person to win in all four acting categories.
Stream the 2010 Tony Award winner for Best Musical, Memphis. It features Montego Glover in her first Tony-nominated performance. Captured live in performance at Broadway's Shubert Theatre with the Tony-nominated cast, Memphis, with a score from David Bryan and Joe DiPietro, is a tale of love, ambition, and a cultural revolution that changed music forever. Available to stream until February 15th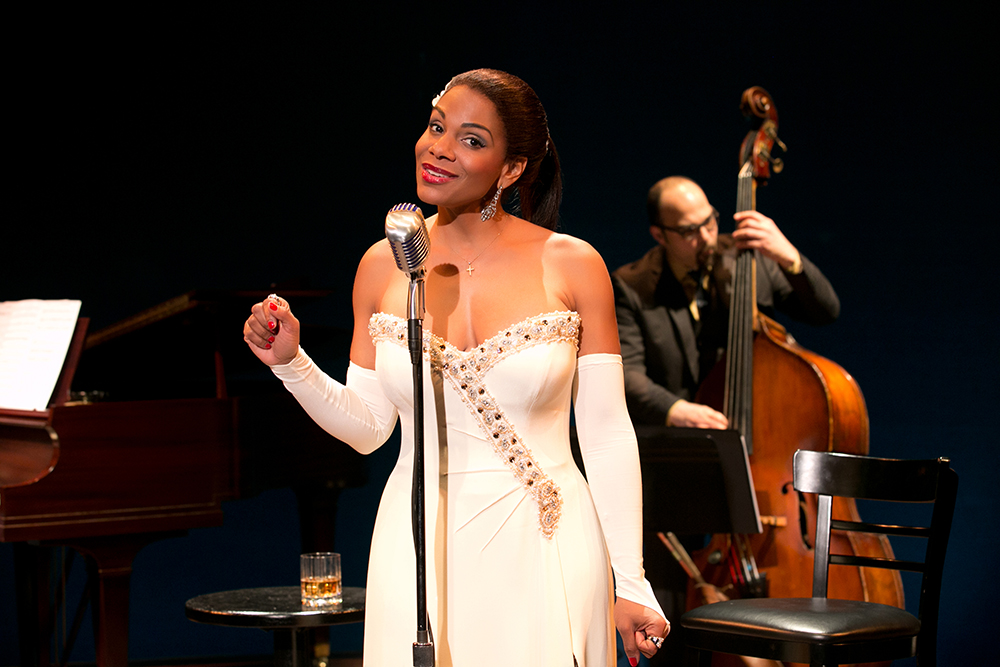 Netflix
Pamela Anderson opens up about her life in her new documentary Pamela, a love story. The Playboy model-turned actress tells her own story for the first time with the help of childhood photos, meticulously kept journals, and tons of home video footage. She addresses the turbulent, but loving, home she grew up in, her own constant search for love, and the trauma caused by the theft and release of the infamous sex tape with her then-husband, rocker Tommy Lee. The doc wraps up with Anderson's jubilant Broadway debut as Roxie Hart in Chicago. Now streaming.
Pop star Shawn Mendes voices the titular reptile in Lyle, Lyle, Crocodile, a new live-action musical comedy film inspired by the 1965 children's book of the same name and its prequel, The House on East 88th Street. Javier Bardem plays Hector P. Valenti, the magician who discovers the singing crocodile. The film features original songs by Dear Evan Hansen Tony winners Benj Pasek and Justin Paul, along with Ari Afsar, Emily Gardner Xu Hall, Mark Sonnenblick, and Joriah Kwamé. The Sony Pictures film saw a theatrical release in October 2022. Stream it February 4.
Theatre fans won't have to suffer Jesse Williams withdrawals for too long. The Grey's Anatomy star closed the second run of his Broadway debut show Take Me Out on February 5. But soon after, he can be found as Reese Witherspoon's potential new love interest in the romcom Your Place or Mine. Single mom Witherspoon leaves her L.A. home and her son under the care of her old college bud, played by Ashton Kutcher, while she takes a break in his New York apartment. Williams sweeps her off her feet just as Kutcher is realizing maybe he should have done that long ago. Also, keep your eyes peeled for Crazy Ex-Girlfriend creator Rachel Bloom. Stream it February 10.
Brand new EGOT Viola Davis stars in The Woman King, a historical action drama about the Agojie, a group of all-female warriors in the African kingdom of Dahomey. Gina Prince-Bythewood directs the film, starring Davis as the 19th-century general training her female army to protect the tribe against colonizers and slave traders. Theatre fans can also look for Tony winner Adrienne Warren (Tina, Room) and Lashana Lynch (Matilda the Musical film). Following a fall theatrical release, the film hits the streamer February 16.
Peacock
Listen. It's mid-winter, and while we wait for more Broadway and Off-Broadway shows to fill our calendars this spring, we're not above passing the cold nights snuggled in with a little reality TV. So, when you dangle our favorite kilt-wearing Tony winner in front of us as the host of a mind-bending game show set in a Scotland castle, we're all in. Alan Cumming hosts the American remake of Dutch-BBC1 favorite The Traitors, which pits a group of "Faithfuls" against a group of "Traitors" in a game of Mafia with $250,000 on the line. The cast is composed of previous reality show contestants (i.e. Survivor, Below Deck, Big Brother), with the impish Cumming guiding them along in a multi-episode game of deceit. Now streaming.
Jim Parsons and Ben Aldridge star in the rom-dram Spoiler Alert, based on the memoir Spoiler Alert: The Hero Dies by journalist Michael Ausiello. Parsons (most recently seen onstage in Classic Stage Company's A Man of No Importance) plays the author, who chronicles his love story with partner Kit (Aldridge) from their meeting, through a cancer diagnosis, to Kit's untimely death. Oscar winner Sally Field and Tony winner Bill Irwin play Kit's "kind of hip" and supportive parents. Michael Showalter directs the Focus Features film, available on the streamer February 3.
Cate Blanchett stars as fictional iconic musician Lydia Tár whose life begins to unravel at the peak of her career, due to an allegation of sexual assault. Tár is currently in contention for six Oscars, including Best Actress and Best Picture. Available now for streaming.