*
"So many movies are being turned into musicals," Tony-winning director Diane Paulus says. "But I think there are certain movies that have another soul as a musical. And when I watched this film for the first time, thinking about it being turned into a musical — I had never seen it before — I was struck by its emotional impact. I was struck by the life of the characters. It felt almost like a very intimate play as opposed to a sprawling epic movie. It had this beautiful whimsy. I said to myself, this movie belongs in the theatre. There's a musical here."
Paulus is describing the new musical Waitress, which she is directing and which has its world premiere this month at the American Repertory Theatre in Cambridge, MA.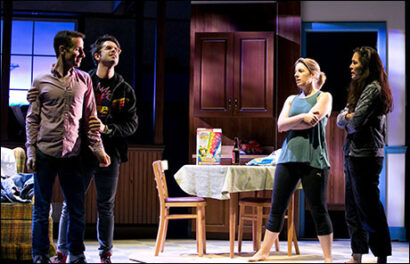 It's a song-laden stage version of the hit 2007 movie of the same name (written and directed by Adrienne Shelly) about Jenna, a small-town Southern waitress with an uncanny knack for making pies who seeks to flee her unhappy marriage and her disappointing life. Keri Russell played Jenna on the screen, and Tony winner Jessie Mueller (Beautiful: The Carole King Musical) portrays her onstage. Music and lyrics are by pop star Sara Bareilles (the hit "Love Song," the albums "Little Voice" and the Grammy-nominated "The Blessed Unrest"); the librettist is Jessie Nelson (the movies "Corrina, Corrina" and "I Am Sam").
Paulus, artistic director of A.R.T., won her Tony in 2013 for directing Pippin. She was nominated for Hair in 2011 and Porgy and Bess in 2012 — all three won the best revival Tony. Paulus says there's something both poignant and subversive about "Waitress'" screenplay. "Adrienne Shelly wrote about how so many women think that when they get pregnant and have a baby it's the most joyful moment of their lives and everything should be happy. And she wrote how she was terrified when she was pregnant. She didn't know how she was going to be a mom. The movie, I think, has a very subversive thread — where the title character gets pregnant and doesn't feel connected to the baby, is not in love with having a baby, kind of politically incorrectly doesn't want the baby. It's the journey of this woman learning to value herself — in the end she treasures that child. It's a story with a real emotional arc — that really appealed to me."
It's Bareilles' first musical, and Paulus says the composer "is a natural writer for musical theatre. She will be a force to be reckoned with. As a pop writer, she writes from character. She tells stories in her songs. She's a very clever lyricist. And she's channeled all of that into these characters."
Read Playbill.com's exclusive interview with Bareilles, in which she shares how writing Waitress made her the most vulnerable she has ever been, here.
The vocal lines, Paulus says, "twist and turn and rise — they go up and down." The music is not necessarily the easiest to sing, she says — and that's one reason Mueller is the perfect choice for Jenna.
Very few vocalists can do what Bareilles can do with ease, Paulus says — "and Jessie Mueller is at the top of the list. She just opens her mouth and navigates Sara's music like it was made for her." Mueller becomes "Sara's soul mate in terms of interpreting her songs."
Paulus won't say if Waitress is headed to Broadway. She will, however, note that it is, at least in one way, following in the steps of Fun Home, this year's Tony-winning musical. "It's an all-female creative writing team. I'm just so excited for the field to be expanding and reflecting the most talented writers of our time — of which many are women."