*
After almost 14 years, Mamma Mia! is closing up shop on Broadway Sept 12. Back when Mamma Mia! opened, it was one month after the 9/11 attacks, and the infectious joy and fun on stage at the Winter Garden Theatre gave this city exactly what it needed — an escape. Mamma Mia! instantly became a hit, as it had been in London and Toronto where it played before the Broadway engagement. The show spawned countless tours and international productions, a movie starring Meryl Streep and a Broadway run of over 5,000 performances.
Let's take a look back at Mamma Mia!'s original Broadway company and find out what they've been up to over the last 14 years, in this edition of Where Are They Now: The Original Broadway Company of Mamma Mia!
Barrett Foa (Swing)
Shortly after acting as a swing in the original company of Mamma Mia!, Barrett Foa got his big break replacing John Tartaglia as Princeton and Rod in Avenue Q. He followed that up by replacing Jesse Tyler Ferguson as Leif Coneybear in The 25th Annual Putnam County Spelling Bee, appearing alongside his former Mamma Mia! castmate Sara Inbar. He's now on television as a series regular on "NCIS: Los Angeles," portraying Eric Beale.
Jon-Erik Goldberg (Swing)
Jon-Erik Goldberg has continued to appear in Mamma Mia!, as recently as summer 2014. He also works as a producer with Stage17, a new organization that attempts to connect traditional theatre with new media. They create original work, both scripted and unscripted, in collaboration with Broadway's best, in addition to working on creating and distributing films of entire live theatre productions.
Hollie Howard (Swing)
Hollie Howard followed up her time with the original Broadway company of Mamma Mia! with an appearance in the original Broadway company of Hairspray, where she played Tammy and understudied Penny. After Hairspray, Howard created The Broadway Dolls, a performance group of female Broadway performers that tour the country singing and dancing to "The Best of BROADWAY, MOTOWN and ROCK N' ROLL," according to their website.
Janet Rothermel (Swing)
Janet Rothermel performed as a swing in the original company of Mamma Mia!, but she was also the dance captain. Before long, she was also the associate choreographer. Over the last 14 years, Rothermel has flown all over the world to prepare and maintain new companies of Mamma Mia!, including the Broadway production. She has also served as associate choreographer for Sister Act and, most recently, Side Show.
Brent Black (Ensemble)
Brent Black is a Mamma Mia! lifer; he opened in the original company as a member of the ensemble, and he's still with them today. Black also understudies the roles of Bill Austin and Sam Carmichael.
Tony Carlin (Ensemble)
After Mamma Mia!, Tony Carlin has remained on Broadway with very few breaks in her schedule. In the almost 14 years since Mamma Mia! opened on Broadway, Carlin has appeared in 19 Broadway shows, including Spring Awakening, Time Stands Still, Lend Me a Tenor and All the Way. Most recently, he replaced Richard Topol as Dr. Stiles in Fish in the Dark.
Bill Carmichael (Ensemble, Father Alexandrios)
After a long career in the theatre, Bill Carmichael made Mamma Mia! his final Broadway appearance, trading New York City for Vergennes, VT, where he operates the beautiful Emerson House Bed and Breakfast there.
Adam Monley (Ensemble)
Adam Monley performed in the Ensemble of Mamma Mia! while also understudying the role of Sky. After he left the company, he has continued to perform Off-Broadway and regionally, appearing in Fanny Hill, The Life + Death of Kenyon Phillips and HAM: A Musical Memoir. Most recently, he made a return to Broadway in the current revival of Les Misérables. He played the Bishop of Digne and Combeferre in the original company, moving up to the role of Javert during Will Swenson's summer hiatus in 2014.
Chris Prinzo (Ensemble)
Following his time in the Mamma Mia! ensemble, Chris Prinzo has been working as a performer on television. He has appeared on "Modern Family," "Kirstie," "Up All Night" and "American Dreams." He also works as a voice trainer and vocal performance coach, a skill he utilized as one of the coach/judges on ABC's 2008 reality competition show "High School Musical: Get in the Picture." Currently, he is on faculty at the Lee Strasberg Theatre and Film Institute in LA in addition to teaching master classes and workshops nationwide.
Peter Matthew Smith (Ensemble)
After Mamma Mia!, Peter Matthew Smith appeared in a string of Broadway shows including Rent, Hairspray, Fiddler on the Roof and Cry-Baby. He continues to perform; regionally, he's appeared at The Fulton Theatre and Pittsburgh Civic Light Opera, and he also recently appeared in the national tour of Memphis. He lives in Pennsylvania with his wife, television news anchor Amy Lutz, and their daughter.
Yuka Takara (Ensemble)
Japanese-born Yuka Takara followed up her Broadway debut performance in Mamma Mia! with appearances in Flower Drum Song, Pacific Overtures, Rent and the most recent revival of A Chorus Line, in which she played Connie. Now back in Japan, Takara continues to perform and has also released several albums.
Sara Inbar (Ali)
After originating the role of Ali in Mamma Mia!, Inbar replaced Sarah Saltzberg as Logainne Schwartzandgrubenierre in The 25th Annual Putnam County Spelling Bee. During her time in Spelling Bee, Inbar started working on a separate career, attending Teachers College part-time. After Spelling Bee closed, Inbar completed her Master's degree in Curriculum and Teaching. She's currently a teacher at the Brooklyn School of Inquiry, which is tailored to gifted children and self-directed learning.
Mark Price (Pepper)
Since creating the role of Pepper in Mamma Mia!, Mark Price has continued a prolific performing career. On Broadway, he created the role of Boris in Dance of the Vampires, appeared in the 2003 revival of Wonderful Town, created the role of Dennis in All Shook Up, and, most recently, created the role of Robertson Ay in the Broadway production of Mary Poppins. Regionally, he appeared as Charles Guiteau in Milwaukee Rep's Assassins and Hercule in Paper Mill Playhouse's 2014 production of Can-Can. He just recently completed a run as Nathan Detroit in Guys and Dolls at Goodspeed Opera House.
Michael Benjamin Washington (Eddie)
Michael Benjamin Washington created the role of Eddie in Mamma Mia!, after which he played Jacob in the 2004 Broadway revival of La Cage aux Folles. In 2006, he played the Tin Man in La Jolla Playhouse's The Wiz, but primarily he's been working in television, appearing in "Law & Order," "Glee" and "30 Rock." Recently, Washington added "Playwright" to his resume; Blueprints to Freedom: An Ode to Bayard Rustin played La Jolla Playhouse in February 2014, in a production directed by Phylicia Rashad.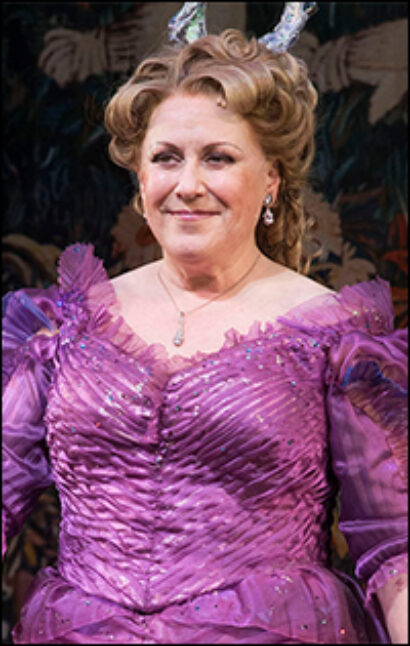 Judy Kaye (Rosie)
Of the original Broadway cast, Judy Kaye brought with her the most prior Broadway experience. She was already a Tony winner for her performance as Carlotta Guidicelli in The Phantom of the Opera and she created the role of Emma Goldman in Ragtime as well. Since making her Tony-nominated turn in Mamma Mia!, Kaye has never been far from the Great White Way for long. She played Mrs. Lovett in the 2006 Broadway revival of Sweeney Todd during Patti LuPone's two vacations, portrayed the legendary Florence Foster Jenkins in Souvenir, and won a second Tony Award for her performance as Duchess Estonia Dulworth in 2012's Nice Work If You Can Get It. Most recently, she replaced Victoria Clark as Marie in Cinderella, playing the role through the production's closing night on Broadway.
Karen Mason (Tanya)
Karen Mason received a Drama Desk nomination for her performance as Tanya in Mamma Mia!, after which she played Velma Von Tussle in the final Broadway company of Hairspray and The Queen of Hearts in Wonderland. Apart from Broadway, she continues to perform around the country in musical productions and as a cabaret artist. Her current cabaret show, Next to Norma (Desmond, that is!): From Broadway to Beatles, played a sold-out run at Don't Tell Mama and will soon inaugurate the Rrazz Room at the Prince in Philadelphia.
Ken Marks (Bill Austin)
Ken Marks has had a persistant presence on Broadway since his performance in the original company of Mamma Mia!. He appeared in After the Fall, Spring Awakening, Rock 'n' Roll, Hairspray (alongside former-Mamma Mia! castmate Karen Mason) and Spider-Man Turn Off the Dark before making his most recent Broadway appearance in Airline Highway.
David W. Keeley (Sam Carmichael)
Before starring as Sam Carmichael in Mamma Mia!, David W. Keeley was primarily known as a Canadian film actor. After he left the production, he returned to Canada and its busy film and TV industry. Most recently, he's appeared on episodes of "Murdoch Mysteries," "Republic of Doyle," "Saving Hope" and "Copper." He's also father to two children, Aiden and Leah.
Tina Maddigan (Sophie Sheridan)
Tina Maddigan came back to Broadway after Mamma Mia! in 2006, replacing Laura Benanti as Julia Sullivan in The Wedding Singer. She now lives in Kansas City, Kansas with her husband and two children. She teaches aspiring young performers, while continuing to perform locally. In 2012, she played Rona Lisa Peretti in The New Theatre's production of The 25th Annual Putnam County Spelling Bee.
Joe Machota (Sky)
In his Broadway debut, Machota created the role of hunky Sky on Broadway, and he hasn't performed on Broadway since. He's been too busy becoming one of the entertainment industry's most powerful agents. He joined Creative Arts Agency in 2005 and was able to nab high-profile clients such as Jim Parsons, Ricky Martin, Scarlett Johansson and Zachary Quinto. In 2013, he was made head of CAA's theater department, where he remains today. He may not be performing anymore, but he is certainly an active part of the Broadway industry.
Louise Pitre (Donna Sheridan)
As the leading lady of Mamma Mia!, Louise Pitre made quite a splash with her performance as Donna Sheridan. She won a TheatreWorld Award for her performance, and was nominated for Drama Desk, Outer Critics Circle and Tony Awards as well. Since then, she hasn't yet returned to Broadway, but has continued to perform at major regional theatres steadily. She took on the roles of Mame at Goodspeed Opera House in 2012, Mama Rose in Gypsy at Chicago Shakespeare Theatre in 2014, and she was just recently announced to appear as The Snake in a new musical adaptation of "The Little Prince," with a score by Nicholas Lloyd Webber (son to Andrew).
(Logan Culwell is a musical theatre historian, Playbill's manager of research and curator of Playbill Vault. Please visit LoganCulwell.com.)