Get a new taste of the upcoming Back to the Future musical in the music video above, in which Cedric Neal performs "Gotta Start Somewhere." The tune hails from songwriters Glen Ballard (Jagged Little Pill) and the original 1985 comedy's composer Alan Silvestri.
Neal (The Voice UK, Broadway's After Midnight) will play Mayor Goldie Wilson in the show's world premiere, beginning February 20, 2020, at the Manchester Opera House. A West End bow is expected to follow.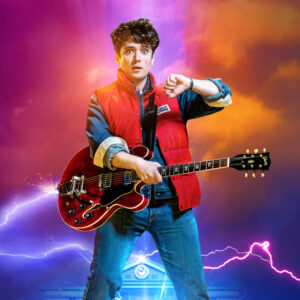 Olly Dobson (Bat Out of Hell) will star as Marty McFly, the role originated onscreen by Michael J. Fox, in the John Rando-helmed musical. The cast also includes newcomer Hugh Coles as George McFly and Rossanna Hyland as Lorraine Baines, with more (including the role of Dr. Emmett Brown) to be revealed later.