Tom Stoppard's Travesties first played the Royal Shakespeare Company in 1974 before transferring to Broadway in 1976, where it won the Tony Award for Best Play. Likewise, the play—a poem meets farce meets vaudevillian performance—was revived in Britain at the Menier Chocolate Factory in 2016 and transferred to the West End before landing at Roundabout Theatre Company's American Airlines Theatre, where it opened officially April 24.
Playbill greeted Stoppard himself—as well as director Patrick Marber and the company of Travesties—to celebrate their opening night.
In the play, set in 1917 Zurich, Tom Hollander (who earned an Olivier nomination for his performance) plays Henry Carr, a real life figure who starred in a production of The Importance of Being Earnest put on by James Joyce.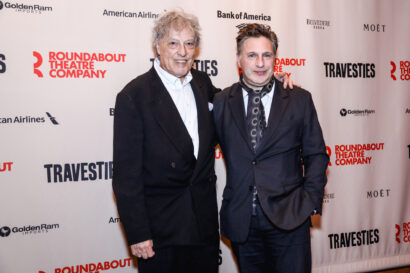 "I was reading a really good biography of James Joyce and it explained him being the business manager of this troupe of actors," said Stoppard. Using this as a foundation for his play, Stoppard imagines what it would have been like to encounter three major thinkers of the time: Joyce, Russian revolutionist Lenin, and dadaist Tristan Tzara. "I happened to know that Lenin was in Zurich as the same time. I didn't know very much about Tristan Tzara, but I had a very nice time reading for fun, but by the time I started writing the play I knew what I needed to know."
"I thought it would be a nice idea to write a play in which each scene was in a different style. There is one scene which is rhyming. All the stuff with Lenin is very documentary and dry," said Stoppard. "It's got a bit of song and dance—actually more than I had in the text—thanks to [director] Patrick Marber. He was very innovative with this production."
Marber joined the broadcast to explain his take on the show. We also loved hearing from cast members Seth Numrich, Patrick Kerr, Dan Butler, Scarlett Strallen, Opal Alladin, Peter McDonald, and Sara Topham about their experience tackling the variety show of a play.
Many of the actors admitted they didn't even fully understand the language when they first auditioned—but that's actually the beauty of the playfulness in the show. "We're each other's lifelines in the chaos of this play that doesn't make sense a lot of the time even to us. What's great is when you can give over to that," said Numrich. "There's a moment when you realize, 'There's no way I'm going to understand all of this, so if I just experience all of it as fully as I can, then I can just see what I can take away from it.' I still don't understand it!"
Watch the full livestream above.