At Edmond J. Safra Hall inside the Museum of Jewish Heritage, one word in large Hebrew lettering blazes on the backdrop of aged parchment paper: Torah. The Hebrew word for the Jewish bible hangs like a tapestry, a soft warm light fixed on it as if to say "Focus on the words."
Indeed, director Joel Grey's mounting of the oft-produced Fiddler on the Roof at the National Yiddish Theatre Folksbiene (NYTF) is an intimate one, a stripped-down version with a microscope on the text.
"He was moved by the smallness [of the space]," says NYTF artistic director and Fiddler's music director Zalmen Mlotek of Grey. "He realized by approaching it as a chamber piece, as a piece stripped of all the Broadway glitter, just going to the essence of the text and the music" would be his way of making it different.
The hypervigilance on words is also due to another crucial fact: This Fiddler is performed entirely in Yiddish. Fiddler was performed in Yiddish once before, in a one-night concert in Israel in 1965, featuring a translation by Shraga Friedman.
While NYTF performs all of its productions in the Eastern European tongue, this time it's the language that Tevye the dairyman, his five daughters, his entire community of Anatevka would have actually spoken.
"Jews in Russia, especially at that time, spoke Russian as a secondary language when dealing with Russian people," explains NYTF associate artistic director and Fiddler's assistant director Motl Didner.
Working from Friedman's 1965 translation for this adapted script, Mlotek, Didner, and Grey committed to the authenticity of the language while also honoring the emotional truth of Joseph Stein's book, Jerry Bock's music, and Sheldon Harnick's lyrics.
"The script is 98 percent as Shraga Friedman wrote it," says Didner. The remaining sliver is often a change in lyrics to balance meaning with the rhythm and phrasing of the music. As Didner and Mlotek worked on the script, "we always tried to go with paying homage to the Sheldon Harnick lyric."
In fact, Harnick, now 94, weighed in on one particular iconic moment.
Audiences who have seen the production may be surprised to know that the opening number "Traditsye" (a word remarkably similar to the original "Tradition") was almost "De Toyrah." Harnick objected to the change.
"He said, 'I didn't write that. That's not what I wrote. I wrote 'tradition,'" recalls Mlotek. "How rare is it to have an author of a piece that you're working with? If he's telling you that he prefers another choice, I had to honor that." As a compromise, the company sings traditsye, but Didner and Mlotek alternate between traditsye and de toyrah in the spoken dialogue to deepening effect, a balance of historical accuracy and author intent.
In a nod to the original Sholom Aleichem stories that inspired Fiddler in the first place, Tevye's famous solo "If I Were a Rich Man" is now "Ven Ikh Bin A Rotshild" ("If I Were a Rothschild"), the aspirational measuring stick of the wealthy at the time.
Herein lies the beauty of this Fiddler: It is the purest convergence of Sholom Aleichem's original stories, Bock, Harnick, and Stein's musical, and history.
But in this massive undertaking, solidifying their Yiddish translation merely marked the preparation for battle. Didner and Mlotek auditioned 700 actors (double their usual audition pool), testing their Yiddish and ability to incorporate adjustments, to assemble their cast of 27. Prior to rehearsals, principals met with Didner for three hours each week for three weeks; he supplied actors with hours of sound files of their complete lines (one slow version and one paced).
"You have to help them literally sentence by sentence," says Didner. "What words get stressed? What is the inflection to make it sound Yiddish and not like English?"
"They're painstaking about it, and they want to be—they need to be," says Skybell, who plays Tevye. "We really want to serve up this Yiddish to the Yiddish ears."
Read: AFTER A LIFELONG QUEST TO PLAY TEVYE, STEVEN SKYBELL'S PRAYERS WERE ANSWERED
That authenticity depends on more than pronunciation and cadence—and Grey knew that.
It's why the structure of the script for this Fiddler is an NYTF first. "We had three lines to every line: the transliterated Yiddish, below that was the direct translation of that Yiddish, and then below that was the Broadway version, and we could see the difference," says Skybell.
"What it has done is made the actor that much more connected with what he's saying and what other people are saying," says Mlotek.
Grey pushed another step further, rehearsing his cast in two languages. "We would do it in English [translation] so Joel could help us carve out moments without the language barrier," says Skybell. Forced to reconcile the literal meaning of the new text, these actors inhabit a new, more authentically shtetled Anatevka.
"It was useful for me just to say, 'This is what I'm saying in Yiddish,' not 'This is the comfortable Broadway line,'" says Skybell. "I don't want to go for the more general."
Moments ingrained in Skybell since he first saw Fiddler as a child gain new impact in Yiddish—like when Tevye finds out his daughter Chava has married a non-Jew. "In the Yiddish version, he says 'Chava is dead. There is no more Chava,' which is in the Broadway. But then he says, 'Let's sit shiva for her as G-d commanded,' which is not in the Broadway. Tevye actually starts to recite some of the Kaddsish [the prayer for those in mourning]," Skybell pauses. "I respond so strongly that."
The most ardent Fiddler fans will notice these differences, courtesy of English and Russian supertitles by Didner. "I was hoping that the subtle differences would make you watch the show in a different way," says Didner.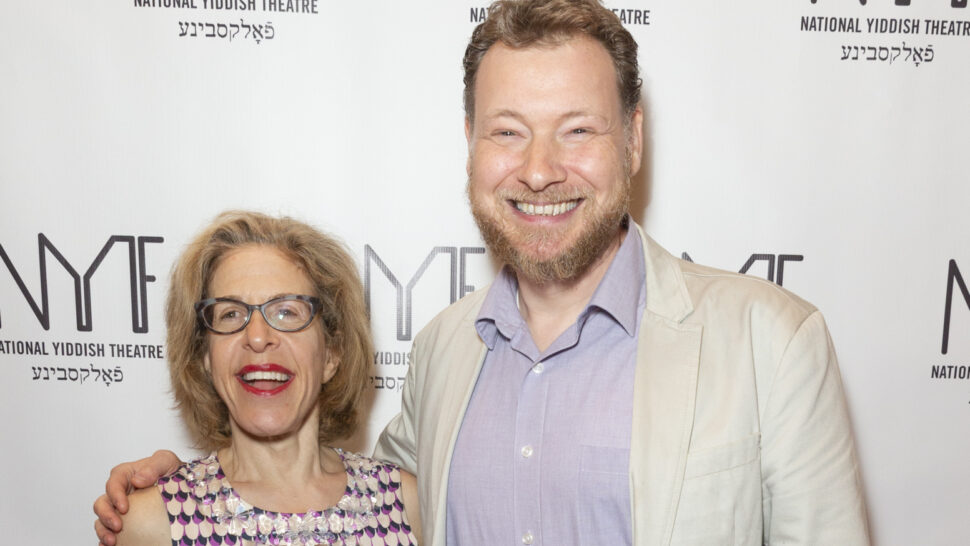 "People can come and they can get a lot without reading the supertitles," says Skybell, "but the thing that is interesting, and I do think what makes our production unique—double unique—is that if you read the supertitles then you get Fiddler slightly askew from the Broadway version and it's slightly through a different filter.
"It definitely feels fantastic to speak it in the language that people would speak it in," says Skybell.
The language has rendered this Fiddler a richer experience for actors like Skybell, but, most importantly, for audiences. "What we find in 2018 is that people are much more hungry for something more authentic and a deeper view into other people's cultures," says Didner. "By giving that deeper, more specific look into Jewish life, the non-Jewish audiences who are coming are responding to it amazingly."
In doing so, Yiddish Fiddler has injected new life into NYTF. "People will say 'I'm not going to understand it.' That's been our difficulty [as a theatre company]," Mlotek says. "With this show, because they're so familiar with the story and the show itself, they have this interest to withstand—if you will—the idea of going to a foreign language production."
Simultaneously, for the older audiences of Yiddish speakers, Skybell feels he and his company have offered them a gift. "It can be a bona fide victory for people who this may be the last play they ever see, and for one last time they can come hear the language that they grew up speaking and revel in it and celebrate it.
"I just feel blessed to be able to perpetuate the life of Yiddish in something so mainstream as Fiddler on the Roof."
National Yiddish Theatre of Folksbiene's production of Fiddler on the Roof plays through December 30. Click here for more information.