As an audience member at the American Theatre Wing's Tony Awards, you undoubtedly know that Broadway's biggest night is co-presented by the Broadway League and the American Theatre Wing. But the Tonys represent a fraction of the work these theatrical powerhouse institutions do for the industry year-round. Their investment in our community—Broadway and beyond—brings theatre to more people and cultivates the next generation of theatregoers and industry professionals, all while celebrating and lifting up the art form in every medium.
"Whether it be tickets, audiences, or careers, everything we do is geared to making Broadway more accessible," explains Charlotte St. Martin, president of the Broadway League. The trade association's programming focuses on the Broadway experience, from young theatregoers' first exposure to the Great White Way to professional development programs and opportunities for people looking to enter the industry.
This begins with getting young people into a Broadway show through a series of initiatives, including Kids' Night on Broadway, Family First Nights, and Broadway Bridges. One of the League's more recent initiatives, Broadway Bridges, has perhaps the most ambitious target goal: getting all 70,000 sophomore students in the New York City public high school system to see a Broadway show.
"This isn't about learning from a book; this is about enhancing your life with a cultural experience and seeing it live," explains St. Martin. "We know that going to Broadway and other cultural live performance events helps round out life for kids and gives them a more positive outlook on their life. They're more likely to go to college and do well in school."
To ensure offerings beyond the specific dates of the aforementioned programs, the League launched www.Families.Broadway in February. The resource partners with productions to provide family-friendly pricing and singular experiences to families—from promotional incentives like parking and dining options to added activities, such as pre-show sing-alongs. "This will keep those parents who enjoyed their Kids' Night experience more interested in going to the theatre all year round," speculates St. Martin.
For students already exposed to Broadway who are considering careers in the industry, the League offers programs that encourage growth on and off the stage.
Each year, over 100,000 high school students compete in a total of 40 regional competitions, culminating in the National High School Musical Theatre Awards, known as the Jimmy® Awards (named after the late James M. Nederlander). Alums of the competition include Jai'len Christine Li Josey (SpongeBob SquarePants: The Musical), Kyle Selig (Mean Girls), and 2017 Tony Award nominee Eva Noblezada.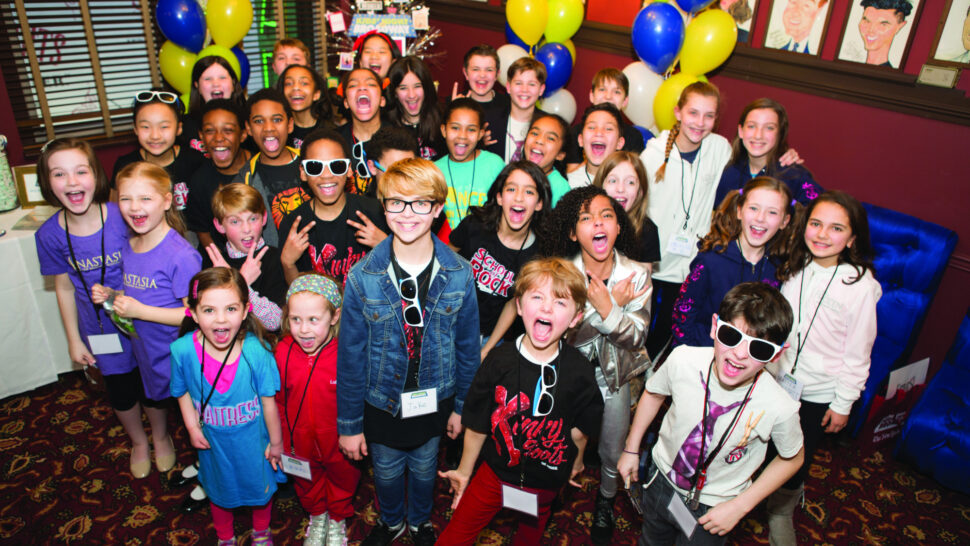 For students considering careers in the wings and beyond, the League hosts various internship programs and the Broadway Speakers Bureau, which introduces myriad non-performance careers in the theatre—from technical design to management—to high school and college students through panels and discussions with industry professionals. "Most people think of careers on Broadway as being onstage. They have no idea about all of the other careers that are available to them," explains St. Martin.
The League's programming also includes Rising Stars, geared toward those in entry-level jobs who may want to explore other fields, and conferences and forums that focus on relevant topics in the industry, including diversity and harassment.
Other initiatives include a new top-level web domain for shows and theatres (dotBroadway); an international marketing initiative that targets U.S.-bound travelers with messaging about how to buy tickets before they leave their home countries; and a new focus on professional development and a robust government relations program that has resulted in significant changes to the Federal tax code that will help make commercial productions more profitable and the extension of a major New York state tax credit that incentivizes touring productions kicking off upstate.
The League also handles collective bargaining on behalf of its members with 16 theatrical unions, and jointly administers employee benefit programs that guarantee healthcare and retirement savings programs to all who work on Broadway.
Much like the League, The American Theatre Wing considers its approach to accessibility and development a pipeline, catering to young students and professionals in various disciplines. However, the Wing takes a slightly different focus, catering to artists and artist organizations including Off-Broadway, national theatre companies, and new work yet-to-be-produced.
Its commitment to this pipeline is rooted in the Wing's origins as an activist organization, founded by seven suffragettes in 1917 as the Stage Women's War Relief on the cusp of World War I. "They were active in the issues of their time," notes President and CEO Heather A. Hitchens, "and that's baked into the DNA of the Wing."
The Wing is committed to fostering a future generation of theatre makers onstage and off that reflects the diversity and dynamism of America as a whole. In order to promote diversity, equity, and access to the arts, the Wing partnered with Sir Andrew Lloyd Webber to establish the Andrew Lloyd Webber Initiative. In two years, the Initiative has awarded over one million dollars in Classroom Resource Grants for theatre instruction in under-resourced K-12 schools, Training Scholarships that allow middle and high school students to attend high-quality afterschool and summer theatre training programs, and four-year University Scholarships that make it possible for talented students to pursue degrees in theatre. So far, the Initiative has provided theatre education opportunities to a diverse group of over 22,000 students across the country, helping them find pathways to careers in theatre.
Beyond K–12, the Wing's professional development programs help students enter and stay in the industry. One of the Wing's primary resources for young professionals began as an informal assembly of interns in the industry. As they gathered to collaborate, the Wing formalized the meetings into the Theatre Intern Network, providing monthly panels on arts management and administration, in addition to mentorships and practical tools. Another pipeline program, SpringboardNYC, gives college theatre students a more complete view of how to be a working actor in New York City. Over 3,500 complimentary tickets to shows on and off Broadway were distributed this past year to participants of these professional development programs.
The Wing also embraces the pipeline mentality with musical theatre writers, starting with a partnership with the National Endowment for the Arts for the Musical Theater Songwriting Challenge, a national competition for high school students. The Songwriting Challenge culminates in a weekend-long mentoring and workshop session for the finalists with Broadway artists—plus a total of $40,000 in scholarships and the publication of their original song through Samuel French.
The program complements the Jonathan Larson Grants, which award unrestricted $10,000 grants and additional artist resources such as residencies, concerts, and recording grants to musical theatre composers. Past recipients include The Great Comet's Dave Malloy and Dear Evan Hansen's Benj Pasek and Justin Paul. The program not only emphasizes "how important financial support is, but for somebody to say, 'I believe in you,'" says Hitchens, who nicknames the program the "Say Yes to Artists" Grants.
The Wing also champions Off-Broadway and regional theatre with awards and grants. The Obie Awards, founded in 1955 by the Village Voice, honor Off- and Off-Off-Broadway. Meanwhile, National Theatre Company Grants are aimed at smaller companies (most in regional markets) exemplifying innovative and dynamic programming.
The Tonys may be the climax of the Broadway season, but the past four Tony-winning Best Musicals and last two Best Plays began regionally or Off-Broadway. "There's no Broadway without Off-Broadway and regional theatre. Small and mid-size companies are where risks can be taken," explains Hitchens. "For a producer, it's good to have known it ran and had the chance to develop."
Capturing each of these steps in the theatrical pipeline is Working in the Theatre, the Wing's long-running, Emmy-nominated documentary series highlighting the inner workings and history of the industry. Recent episodes explore odd jobs (from costume beaders to flame proofers), DIY theatre-makers, and solo performances.
"It's about keeping the whole ecology healthy," says Hitchens of the Wing's ranging initiatives. "All of these components of the theatre community are interdependent on each other. It's a big endeavor, and it's what makes our organization unique."