Disney's The Lion King celebrates its 25th anniversary on Broadway November 13, and while Timones and Pumbaas have come and gone, some members of The Lion King company have made the Pride Lands their home for the last quarter century.
To find them, you have to look below the stage and into the orchestra pit, which includes conductor Karl Jurman; violinist Avril Brown; percussionists Rolando Morales-Matos, Tom Brett, and Junior "Gabu" Wedderburn; flautist David Weiss; and bass trombone and tuba player George Flynn. These musicians have all helped bring the musical's Tony nominated score to life since day one—some even before that!
"We were sending stuff by cassette and faxes," remembered Weiss of the musical's early days in the mid-'90s, when he was assisting music producer Mark Mancina on developing the show's complex woodwind orchestrations. "I was mailing stuff to these guys, or playing it over the phone. No email. No Zoom."
According to this crew, those early days were heady. Before The Lion King was the ubiquitous, long-running hit that it is today, its success felt far from guaranteed. It was only Disney Theatrical's second foray into Broadway, and the brand was not yet the ubiquitous stage presence that it is today.
But all doubts ceased in 1997, when the musical first got in front of audiences, debuting director Julie Taymor's groundbreaking vision that transformed the 1994 animated film into a uniquely theatrical experience. If anyone was expecting to see theme park-style characters on stage, they were shocked to see Taymor's now-iconic puppetry mixed with dance and a score employing African instruments. The music and the visuals were like nothing else on Broadway.
"The very first preview [pre-Broadway] in Minneapolis, I remember starting 'Circle of Life,' that iconic opening. [The animals] start coming down the aisles, and the commotion in the house was something I had never heard before," shared Weiss. "People were gasping — it was audible. I have a solo in the middle of the song when Simba is revealed, and there was so much noise coming from the audience that I was just thinking, 'What is going on?' And then the blackout hits at the end and the audience goes berserk. It works! It was incredible."

Jurman began on The Lion King as an associate to Joseph Church, and is now the production's lead conductor. "No one knew it was going to be iconic, a landmark musical that defined the era we're in. You can't predict that, but it sure was exciting," he remembered.
But what does a 25-year gig playing one musical actually look like? You might think that playing the same score thousands of times would be maddening, but this group balked at that notion.
"Music is never the same. Music is alive," said Morales-Matos. "The energy of the show, the speed of the show, the attitude of the show is always different."
Jurman explained that the audience also helps keeps the musicians on their toes. "We give and take from the audience, so every day really is different. It may feel the same and the repetition gets tiresome, but the show doesn't get tiresome because there's new energy every day," he shared. "That's the beauty of the theatre."
Said Wedderburn, who is one of the show's percussionists that are perched to the side of the stage, in full view of the entire audience for the entire performance: "I have never been bored in 25 years. I'm up there watching the audience, which is a privilege. You see the reaction from the audience — you see people crying. To see that and to witness that, and the music is such beautiful music. As a percussionist, where would I go?"
In short, audiences and audience reactions have been the most rewarding parts of playing The Lion King for many of these OGs.
"My best audience is always when they do a special sensory-friendly show [for people with autism]. To have them in a theatre and letting them just be the way they are — you see these kids dancing. It's the most beautiful thing," reflected Morales-Matos.
Said Flynn with a laugh: "I remember once outside the theatre there was a school group, and someone in the band told their teacher that I did the wart hog's flatulence on my tuba. Suddenly I had like 30 kids running around me. I felt like Elvis Presley."
The group is also acutely aware that they have ostensibly won the New York musician lottery, landing a steady gig in a career that, for most, can be quite tumultuous. "Most people aren't so lucky as us to have something that runs for a long time," said Brown. "Unless you have something that's going to replace it, it's a gift. How could you not like that?"
The Lion King's unique instrumentation has also set it apart from other shows, in the '90s and now. And it keeps things interesting for the musicians. "Shows have so many tracks now and synths and pop sounds, we're still from another era of acoustically getting this done," said Jurman. "What show has five drummers? There's probably never going to be another show with five drummers."
Added Brett: "We're playing dozens of instruments that in any other context would just be bells and whistles. When I was in university studying music, a guy came by and saw me practicing marimba late one night and said, 'Why are you wasting your time? There's no gigs playing that instrument.' Irony of all ironies, that's what I've been doing for 25 years."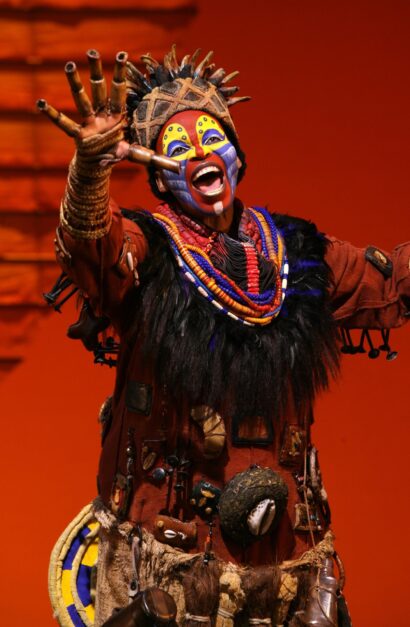 And do they still need their sheet music? "I haven't read the charts for decades," Brett confessed, though the topic did not reach consensus amongst all seven players.
"I don't always look at it. But I have a lot of solos and if I get really off the rails, I don't know where I am," said Weiss. "I have to have it there."
Like any job, playing in The Lion King does feel like work some days. The Broadway musicians' contract helps there by allowing players to have a suite of subs ready to step in temporarily if the primary player gets another gig; this group said they tend to play about 62 percent of the total performances.
According to Jurman, he draws a hard line for players who might not be in the mood to play the show that night: "Stay home! You're not helping. If I'm not totally present for 'Hakuna Matata' because I'm bummed out or sad, I can't do The Lion King that day. You have to be in the proper spirit."
Luckily, those moments seem to be few and far between, and The Lion King shows no signs of even slowing down — the musical is still consistently ranked in the top five highest-grossing shows on Broadway every week, according to box office data released by The Broadway League.
"I remember talking to this girl once who had seen the show 20 times," said Wedderburn. "I said, 'Why are you still coming?' And she said, 'Every time I come, I learn something new.' She had plans of continuing to come. This show gives so much."