If a picture is worth a thousand words, how many words are there to describe a shot of a Tony winner just moments after their big win? The 2023 Tony Award winners took it all in for a moment with Playbill, Tony trophies in hand, to snap some winners' portraits.
See their photos, plus excerpts from their insightful, and emotional, Tony Awards acceptance speeches below.
Rosen: "[This] is the only award given to the interior music department of a show. I want to thank music supervisors, copyists, assistants, and most importantly, all of the musicians who, eight times a week, bust their ass to play Broadway shows every single night."
Carter: "I want to thank the entire aristocracy of Black American music. In 1965, Duke Ellington was denied the Pulitzer Prize because of the color of his skin, and those sacrifices that they made are the reason why I'm standing on this stage. So thank you, so very much."
Rosen and Carter won the Best Orchestrations award for Some Like It Hot.
"I'm stunned actually. I'm speechless, which isn't really my style...And I'd love to just say that this show is about storytelling, and about surviving, and I'd love to see that opening doors for more people to be able to do storytelling from all sorts of diverse backgrounds."
Downing won the Best Sound Design of a Play award for Life of Pi.
"43 years ago, I stepped off a plane at LaGuardia Airport. I had some keys to a studio apartment given to me by Kathleen Moore. I was on tour with A Chorus Line. I was still in college, and all of my college roommates were jealous, and I was going to Broadway to be in Brigadoon and dance for Agnes de Mille. They all got here two years later, and then they started dying...And not just my friends, but some of the giants in our industry who I was dancing for, assisting and working with. I had to do something.
"So I'm in the Will Rogers Follies and I'm dancing naked eight shows a week—thank you, Willa Kim—and my dressing roommate Jason Opsahl goes, 'Go dance on the bar at Splash and raise money for Broadway Cares/Equity Fights AIDS.' And 10 days later, John Ganun, Jason, Troy Johnson, myself, and Jack Doyle put on the first Broadway Bares. I walked home with a pillowcase soaking in beer and sweat. It was 8,000 bucks. Last year, Broadway Bares 30: 2 shows, 6,000 people. $1.9 million—$25 million to date! It's madness! It just proves that anyone can make a difference...I am proud to be a gay man. I am proud to be in this community. I am proud to be married to my husband Ricky Schroeder."
Mitchell won the Isabelle Stevenson Tony Award.
"When you get a call from Tommy Kail, Alex Lacamoire, Jeffrey Seller, Maggie Brohn and Andy Jones, you can be pretty sure it's going to be a good day. The thing to note is that the results have been good, and I'm grateful for that, but the process is extraordinary...I say things, and they happen, and it is magic every time. I'm so proud and honored to be associated with this masterpiece of writing, and this incredible production, and I'm so grateful to be a part of this community."
Steinberg won the Best Sound Design of a Musical award for Sweeney Todd: The Demon Barber of Fleet Street
"This cast is so fantastic. This cast is so game. They're with me 100 percent. They like to work as hard as I like to work, and also have so much joy, and I just love this cast, and the dancers are incredible...Thank you. Thank you. Thank you. I can't tell you how much this means to me."
Nicholaw won the Best Choreography award for Some Like It Hot.
"I'll keep this short and sweet: I'd like to thank Tim, Paul, and Bentley, who are my team. I'd like to thank Max Webster, our director Tim Hatley for getting me onboard. And finally, my mum and dad, and my boyfriend Casper, who is here all the way from Hong Kong this evening to be with me."
Lutkin won the Best Lighting Design of a Play award for Life of Pi.
"Thank you, Tom Stoppard, for writing a play about Jewish identity, and antisemitism and the false promise of assimilation with the nuances and the complexities and the contradictions that they deserve. My ancestors, many of whom did not make it out of Poland, also thank you...And finally, I just want to say this one thing: To anyone who is watching who is a parent, when your child tells you who they are, believe them. Protect, celebrate, and water that truth because an authentic life is a limitless life. The only reason I'm standing here is because my parents did that for me growing up. They stood beside me, and they believed me when I said who I am."
Uranowitz won the Best Performance by an Actor in a Featured Role in a Play award for Leopoldstadt.
"It's such a gift to do Kimberly Akimbo. David Lindsay-Abaire and Jeanine Tesori have written such an incredible gift that came to me very closely after my father died, and it has helped me through my grief in so many ways...My voice is my dad's voice, so I get to bring him to Broadway, eight times a week...This is what's most important, because this is what's going to America: I want to tell everybody that doesn't look like what the world is telling you you should look like, whether you're not pretty enough, you're not thin enough, your identity is not right, who you love isn't right...that doesn't matter, because guess what? It's right, and you belong somewhere."
Milligan won the Best Performance by an Actress in a Featured Role in a Musical award for Kimberly Akimbo.
"I need to mention the 1/52 project, which we created to give grants to young designers from historically excluded groups, funded primarily by Broadway designers who donate a week's royalties. Last year, we gave $100,000 in grants to young designers, but anyone and everyone in this room can donate at oneeveryfiftytwo.org. This production was led by two brilliant women, Susan Stroman and Sonia Friedman, but our industry is not doing well by women. Fifty percent of the U.S. population is having the right to control their own bodies stripped away, and in the Broadway community, that 50 percent of the population is deeply underrepresented. As we strive to make our industry more inclusive, we must remember all women."
Boritt won the Best Scenic Design of a Musical award for New York, New York.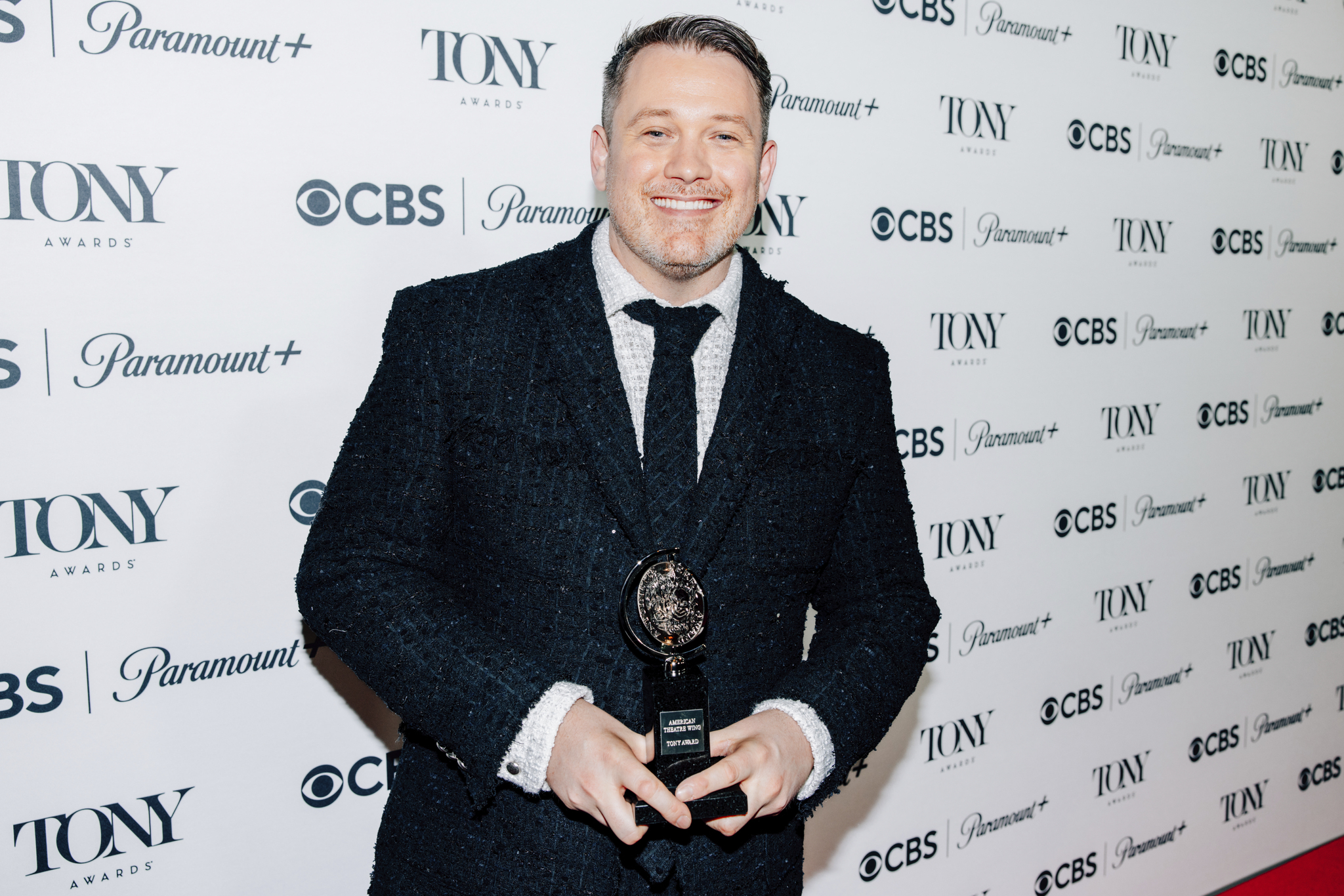 "This belongs to the battalion of people who made Parade, and who bring it to life so beautifully and terrifyingly every night. Parade tells the story of a life that was cut short at the hands of the belief that one group of people is more or less valuable than another, and that they might be more deserving of justice. This is a belief that is the core of antisemitism, of white supremacy, of homophobia, of transphobia, and intolerance of any kind. We must come together, we must battle this, or else we are doomed to repeat the horrors of our history. And to our beautiful trans, non-binary, queer youth, know that your queerness is what makes you beautiful and powerful. Everyone in this room sees you and needs you, and we will fight alongside you, and we will win. Growing up, I was called the "F" word more times than I can remember, and all I can say is that now I'm a f****t with a Tony."
Arden won the Best Direction of a Musical award for Parade.
"Yes! Look at what the spirit can do! This means a whole lot to a whole lot of people. I want to thank, first and foremost, my brother Kenny Leon, who directed this play like the genius that he is. I also want to give thanks to Yahya Abdul-Mateen II and Corey Hawkins, who played every night like there was no tomorrow. They showed up living large in a world that often does not want the likes of us living at all. Theatre is the great cure."
Parks won the Best Revival of a Play award for Topdog/Underdog.
J. Harrison Ghee
"My mother raised me to understand that my gifts that God gave me were not about me: to use them to be effective in the world, to help somebody else's journey. So thank you for teaching me how to live, how to love, how to give. For every trans, non-binary, gender non-conforming human, whoever was told you couldn't be seen: This is for you. As we say in the show, 'some like it hot, and that ain't bad.' And that's the gospel according to J!"
Ghee won the Best Performance by an Actor in a Leading Role in a Musical award for Some Like It Hot.
"Tessa—the woman in this play—has been my greatest teacher, and I have to thank Suzie Miller for that, who wrote this magnificent piece...And to every person who feels represented by Tessa, this has been my greatest honor and it continues to be."
Comer won the Best Performance by an Actress in a Leading Role in a Play award for Prima Facie.
"I am so proud to be a part of this loving, creative community and to be back. Broadway is back...and uptown now tonight! I'm just sorry that Stephen Sondheim is not here to see Tommy Kail's miraculous production of Sweeney Todd. It's one of the most extraordinary and thrilling experiences of my career and I cherish every moment that I had with Tommy as we lit the show together...I do stand on the shoulders of other lighting designers and one in particular tonight, which is Ken Billington, another nominee [who] lit the original Sweeney Todd, and I worked for him. I thank him for all his mentorship through the years."
Katz won the Best Lighting Design of a Musical award for Sweeney Todd: The Demon Barber of Fleet Street.
Uhry: "Jason and I were here 25 years ago and won for Parade, and unbelievably, here we are again. We are here this time because of a remarkable company of professionals onstage and offstage, Ben and Micaela, and wonderful people like Justin and Tom, they are off stage. They're all miraculous. And we will thank you forever."
Nobile: "There's 120 people in Midtown right now celebrating this success. We represent shockingly only a small handful of them."
Nobile, Uhry, Brown, and Caskey won the Best Revival of a Musical Award for Parade.
"This is for my mom, whom I miss beyond expression. She taught me to live life with love, with conviction, compassion, radicalism, and activism. This is also for my dad...He brought me to the theatre as a little girl and got me hooked on this business, and he's also the one who told me that day in the ICU, that I should stick with this play no matter what, even if I wanted to quit, knowing how much it meant to me. Lorraine Hansberry was a visionary and a genius and it is a divine, divine honor to get to speak her words every night. We all know the transformational power of theatre, that it can be a balm to commune with one another every night, and I've never felt that more tangibly...We are a staunchly pro-union household, and I have to say, my parents raised me to believe in the power of labor, and workers being compensated and treated fairly, and we stand with the WGA in solidarity."
Silverman won the Best Performance by an Actress in a Featured Role in a Play award for The Sign in Sidney Brustein's Window.
"We are nothing without our writers and I support the WGA and their struggle for the contract they deserve. Thank you, Jeanine Tesori and David Lindsay-Abaire for creating Kimberly Lavaco, the death-defying role of a lifetime. I was so sure I knew who I was and who I wasn't, and you proved me completely wrong...I dedicate this to my mom Lorraine, who died four years ago. She is the reason I fell in love with theatre. She always said her most inspiring work happened after she turned 60. She didn't believe in limits and neither should we."
Clark won the Best Performance by an Actress in a Leading Role in a Musical award for Kimberly Akimbo.
Sonia Friedman
"To be nominated alongside such exceptional work, to be part of a Broadway season where there were 18 new plays, is something we should all be proud of and must never take for granted. Thank you, Tom, for entrusting me with your most personal masterwork of identity, loss, family, survival, and endurance. Thank you to the co-producers, the investors, all of whom make this possible. You allow us to do this bold, big new work."
Friedman won the Best Play award as a producer for Leopoldstadt.
Tom Stoppard
"I'm teeming with emotions, which a chatbox wouldn't begin to understand. Naturally, they include gratitude and pride in the Leopold ensemble. Sonia works harder than anybody else. Patrick, I adore—he did an impeccable job directing this. And here we all are. I should mention, if I may, during [these] 55 years, I have witnessed the theatre writer getting progressively devalued in the food chain. I find it a bit strange because writers are the sharp ends of the inverted pyramid, and without a script...we all are basically flummoxed."
Stoppard won the Best Play award as the playwright of Leopoldstadt.
LaChanze
These remarks were not from the Tonys telecast, they were what LaChanze told us in the winners' room.
"I'm just so grateful that people really sat and watched Kimberly Akimbo and it touched so many people. Because I've seen it, I can't tell you how many times because I still cry and I still laugh through my tears, and I'm so thrilled that people loved it...I read the script and I thought, this is perfect because it is imperfect, it is perfect in its imperfections. And that's what we need to see in each other, allowing ourselves to be imperfect, and perfect in that."
LaChanze is a producer for Kimberly Akimbo, which won Best Musical, and Topdog/Underdog, which won Best Revival of a Play.
A win always calls for celebration, but all the Tony Award nominees deserve a round of applause. Follow Playbill's coverage from Broadway's biggest night here.
See Playbill's winners' gallery below.