"I choose projects where the writers are rigorous and inspiring and 100 percent smarter than me and challenge me," Tony-nominated director Leigh Silverman says. "And the form of this play, in a way a retelling of the ancient Greek play The Bacchae, with a hilarious, comedic center, felt like a really amazing directorial challenge." She is talking about Hurricane Diane, which she directs at New York Theatre Workshop in a co-production with WP Theater.
The play by Madeleine George, a Pulitzer Prize finalist for The (curious case of the) Watson Intelligence (also originally directed by Silverman) delves into such varied but connected subjects as sustainable gardening, the Greek god Dionysus, housewives in suburban New Jersey, and climate change. It begins performances February 7 and runs through March 10.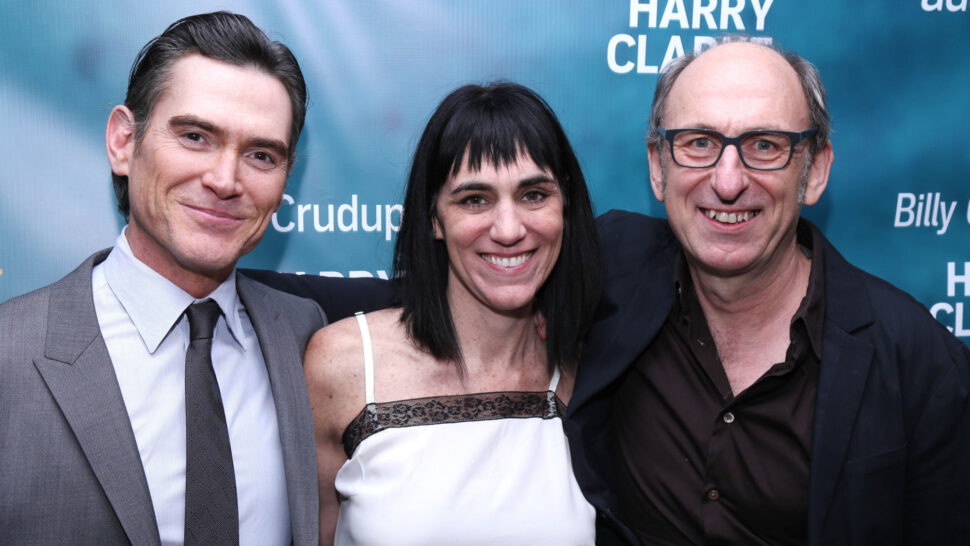 Silverman was nominated for a Tony Award for Best Direction of a Musical in 2014 for the Broadway revival of Jeanine Tesori and Brian Crawley's Violet. She won a directing Obie Award in 2011 for the plays In the Wake and Go Back to Where You Are. This season on Broadway she directed The Lifespan of a Fact, starring Daniel Radcliffe, Bobby Cannavale, and Cherry Jones. Her other Broadway credits include Lisa Kron's Well (2006) and David Henry Hwang's Chinglish (2008). Among the many Off Broadway works she has directed in her busy and productive career are this season's Wild Goose Dreams at the Public, the world-premiere musical Soft Power at Center Theatre Group, last season's Billy Crudup solo smash Harry Clarke, as well as From Up Here, Blue Door, Bright Half Life, The Call, The Way We Get By, Andrew Lippa's The Wild Party at Encores! Off Center, All the Ways to Say I Love You, On the Exhale, and the 2016 Off-Broadway revival of Sweet Charity.
Silverman speaks about her career, her directorial approach, creating specific moments in productions like Hurricane Diane, Violet, The Lifespan of a Fact, and what's up next.
Why she became a director:
"I was a total theatre nerd. I loved theatre. When I was a kid, my life and everything about my existence only made sense when I was putting on plays. I was lucky enough to meet someone when I was 15 years old who said to me, you're a terrible actor, but you seem really smart and you should be a director. It was obviously somebody I had an enormous amount of faith in, because I really staked my whole life on that comment.
"I immediately read everything I could. I feel it's true both that I was a terrible actor and that directing is the best expression of who I am as a leader and a collaborator, a person who can use my imagination in collaboration with other people in ways that suit me as a director and suit the profession. Mostly what I do is new work, and so much of why I'm a director has to do with that relationship with playwrights, and what I love about the tussle and being in the trenches with people who are trying to write something brand new. There's something about the challenge and the difficulty and the harrowing-ness and the vulnerability of that process that just really appeals to my personality.
"From the moment I started directing—I directed in high school and I went to Carnegie Mellon—the experience of directing truly, truly only made sense to me when there was a writer sitting next to me. I was so much less interested in walking into a room with a giant commandment and thinking of myself as the auteur. I was much more interested in what my ideas, plus a writer's ideas, plus a room full of actors could collaborate and come up with. Sort of steering a ship that had that many components was enormously exciting to me even before I knew what it was. That's how I guess I got here."
Her directing principles:
"The thing that is the most important to me is that we're all in the room, and the most important thing that's happening in the room is that we're working on the work. Everything has to be in support of the work on the play. The way that I try to captain the ship is make sure that people stay open—particularly on new plays, because there's so much change. With any play, you're sort of groping around in the dark, but on a new play, you have literally no idea where the floor is. In a room that is vulnerable and scared, and facing impending embarrassment in front of an audience, you try to keep people open and flexible.
Watch: LEIGH SILVERMAN, DANIEL RADCLIFFE, CHERRY JONES, AND BOBBY CANNAVALE TALK LIFESPAN ON THE OPENING NIGHT RED CARPET