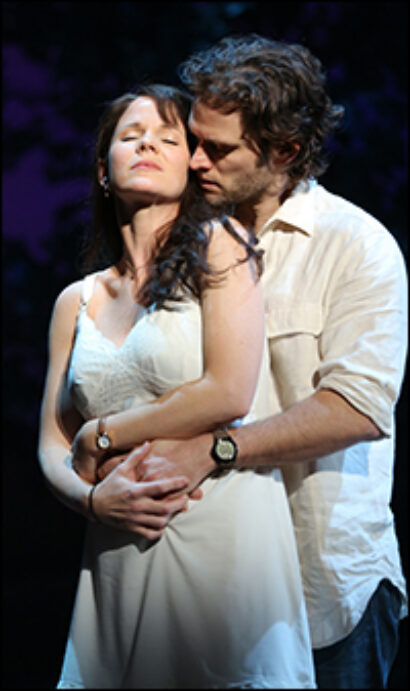 Here's a look at what made our list of favorite cast albums from 2014.
Beautiful: The Carole King Musical
Featuring a score comprising songs by Carole King and her collaborators, Grammy Award-nominated, 25-track Ghostlight Records album captures Jessie Mueller's earthy and soulful performance as King. Standouts include "Natural Woman," "Will You Love Me Tomorrow" and the Act One finale, "One Fine Day."
The Bridges of Madison County
Despite a short-lived Broadway run that ended prior to the Tony Awards, The Bridges of Madison County deservedly walked away with 2014 Tonys for Best Original Score and Best Orchestrations. The performances by Kelli O'Hara and Steven Pasquale, who nearly sang the rafters off the Schoenfeld Theatre on a nightly basis, shine on the 20-track album that preserves Jason Robert Brown's rapturous Tony Award-winning score. Standouts include "To Build a Home," as fine a musical opening number as Broadway audiences will ever hear; Whitney Bashor's wistful, Joni Mitchell-esque solo "Another Life"; Pasquale's powerful "It All Fades Away"; and nearly any track O'Hara lent her voice to, including "Almost Real" and the musical's finale, "Always Better."
Fun Home
PS Classics' cast album is yet another reason why this magnificent and ground-breaking musical should be seen by a broader audience. (And it will be when Broadway previews begin March 27, 2015.) Based on Alison Bechdel's graphic memoir, collaborators Jeanine Tesori (music) and Lisa Kron (book and lyrics) created an intelligent and powerful musical infused with various musical styles and themes that coalesce in surprising ways. The cast album preserves the original Off-Broadway company, including Michael Cerveris, Judy Kuhn - and three actresses who portray Alison at various stages in her life, Beth Malone, Alexandra Socha and the remarkable Sydney Lucas. The 25-track recording, which packs an emotional wallop, includes the notable songs "Changing My Major," "Ring of Keys" and the finale, "Flying Away."
Heathers: The Musical
Step into the "Candy Store" with the Yellow Sound Label cast recording of Off-Broadway's Heathers: The Musical. Laurence O'Keefe, a Tony Award nominee (alongside his wife and collaborator Nell Benjamin) for the pop-kissed score of Legally Blonde and a Drama Desk nominee for the 2001 cult musical Bat Boy, puts his dark and twisted (yet pop-driven) stamp on Heathers. The musical is filled with catchy tunes, belt-heavy melodies and raunchy lyrics performed by Barrett Wilbert Weed (who delivered a star-making turn as Veronica Sawyer), Jessica Keenan Wynn, Alice Lee and Elle McLemore. Aside from the Heathers' anthem, "Candy Store," must-listens include "Fight For Me," "Freeze Your Brain," "Shine a Light" and the show-stopping number "Dead Girl Walking." Read more about each track in Playbill.com's track-by-track breakdown.
Here Lies Love
On occasion a cast recording comes along that plays like a chart-topping pop album. This year it was Here Lies Love, the David Byrne-Fatboy Slim musical, which centers around Filipino leader Imelda Marcos. The musical came to life as a starry concept album, which Byrne released in 2010. Nonesuch Records' two-disc, 26-track album captures the excitement of the immersive Public Theater Off-Broadway staging, ingeniously staged by Alex Timbers. Performances by Ruthie Ann Miles as Imelda Marcos, Jose Llana as Ferdinand Marcos and Conrad Ricamora as Ninoy Aquino are finely preserved in such songs as "Why Don't You Love Me," "God Draws Straight," Natalie Cortez's "Just Ask the Flowers" and the catchy title tune.
Hedwig and the Angry Inch
The John Cameron Mitchell-Stephen Trask musical made its long-awaited Broadway debut last season. And while Mitchell, the show's creator and original star preserved his nearly untouchable performance in both the original Off-Broadway and film soundtracks, the energy of Neil Patrick Harris' Tony Award-winning take on the role is palpable on disc. The Grammy-nominated album from Atlantic Records gets an extra jolt of electricity from the vocals of Lena Hall, who nabbed a Tony Award for her performance as Yitzhak. The album is full of great tracks, including the re-arranged "Sugary Daddy," "Wig in a Box" and "Midnight Radio." Read our track-by-track breakdown of the album here.
If/Then
Live out the roads traveled (or not) by Liz and Beth when listening to the 23-track album of If/Then, produced by Masterworks Broadway. The score of the new musical, a story about chance and choice written by Pulitzer winners Tom Kitt and Brian Yorkey, was Tony-nominated for Best Original Score and guides the listener down two paths taken by Elizabeth, played by Tony Award winner Idina Menzel. Standout songs include "What If?," "Ain't No Man Manhattan" (performed by Menzel's Rent co-star, Anthony Rapp), "Here I Go," "No More Wasted Time," "You Learn to Live Without" and "Always Starting Over," Menzel's powerful 11-o'clock number. Read more about each track in Playbill.com's track-by-track breakdown.
"Into the Woods"
While this is technically a soundtrack, the highly anticipated Disney film of "Into the Woods" and its excellent recording deserved a spot on the list. Journey back Into the Woods with a new, star-studded cast, who play the fairytale characters at the core of Stephen Sondheim and James Lapine's award-winning musical. Meryl Streep, Anna Kendrick, Emily Blunt, James Corden, Lilla Crawford, Daniel Huttlestone, Johnny Depp, Chris Pine and Billy Magnussen are among the cast of the 2014 film adaptation, which features the massive London Symphony Orchestra and new orchestrations by Jonathan Tunkick, conducted by Paul Gemignani. Although the 50-track soundtrack does not feature "I Guess This Is Goodbye/Maybe They're Magic" and "No More" from the original production, highlights of the well-sung album include "On the Steps of the Palace" (with revised lyrics), "Stay With Me," "Giants in the Sky," "Agony," "Moments in the Woods," No One Is Alone" and Streep's vocally-thrilling "Last Midnight."
Lady Day at Emerson's Bar and Grill
Audra McDonald astounded critics, audiences and Tony voters alike when she transformed her powerful soprano into the smoky, gin-soaked voice of Billie Holiday in Lanie Robertson's play about the final chapter in the life of the late blues icon. Her astounding portrayal earned her a sixth, record-breaking Tony Award. PS Classics brilliantly recorded the two-disc album live at Circle in the Square, giving listeners a sense of McDonald's interplay with the audience. Highlights include "Strange Fruit," "God Bless the Child," "'Tain't Nobody's Biz-ness If I Do" and "Deep Song." Read our track-by-track breakdown of the album here.
Miss Saigon
The 2014 live cast recording of Miss Saigon, featuring music by Claude-Michel Schönberg with lyrics by Richard Maltby Jr. and Alain Boublil — adapted from original French lyrics by Boublil with additional lyrics by Michael Mahler — is billed as the definitive recording. The two-disc, 33-track album was recorded live at the Prince Edward Theatre and released by Universal Music and First Night Records. Eva Noblezada, who was plucked from the National High School Musical Theatre Awards, stars as Kim. It is evident from the recording that Noblezada is giving a career-defining performance in her teens (she was the same age as Saigon's original, Tony Award-winning leading lady, Lea Salonga, when she landed the role). The West End revival features new lyrics, slight changes to the score and the addition of "Maybe," a song penned for the character of Ellen (Tamsin Carroll) that replaces "Now That I've Seen Her."
Violet
Fans of the Off-Broadway musical by Jeanine Tesori and Brian Crawley received a special gift this year when PS Classics released a two-disc, 35-track album of the show's Broadway run, featuring even more music from the modern-day ugly duckling tale about faith and redemption. The Roundabout Theatre Company production boasted Tony Award winner Sutton Foster lending her crystal-clear belt to the title role, with stand-out performances by her co-stars Colin Donnell and Joshua Henry. Favorites from the rousing, gospel-infused score are "On My Way," "Let It Sing," "Raise Me Up" and the tender "Lay Down Your Head."
Numerous Broadway cast albums and other theatrical recordings can be purchased at the PlaybillStore.com.