This week Playbill checks in with Tony nominee Anika Larsen, who plays mom Elaine Miller in the new musical Almost Famous, based on the hit film of the same name, at the Bernard B. Jacobs Theatre.
Larsen, who was Tony-nominated for her performance as songwriter Cynthia Weil in Beautiful: The Carole King Musical, has been with Almost Famous since its first staged reading in 2018 and the subsequent 2019 engagement at San Diego's Old Globe.

COVID thwarted plans to move the Cameron Crowe-Tom Kitt musical to Broadway in 2020. But the multitalented Larsen, who brings much humor and depth to her current Broadway role, used the time off to direct live-streamed play readings and a run of Orlando Bishop's one-man show Unstuck as F@#k at The Studios of Key West in Florida. That production, written and performed by Bishop, is now available for streaming by clicking here.
Larsen has also been seen on Broadway in Avenue Q, Xanadu, All Shook Up, and Rent, while her Off-Broadway credits include Zanna, Don't!; Myths and Hymns; Closer Than Ever; Miracle Brothers; How to Save the World…; Disaster!; and Unbroken Circle. Her album of lullabies is titled Sing You to Sleep.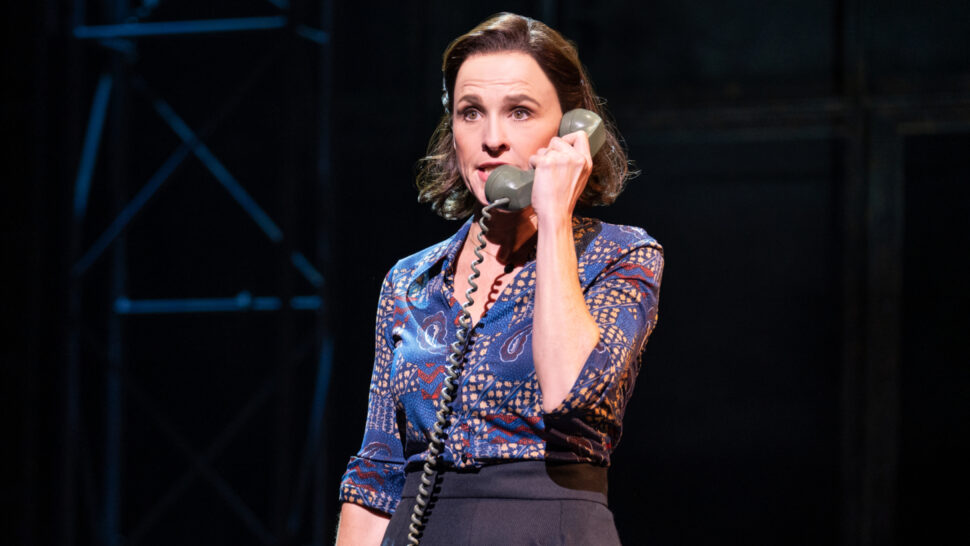 What is your typical day like now?
Anika Larsen: My typical day starts at 6:45 AM, which is not a time I was very familiar with before I had kids. But if I don't get up with my boys (who are five and seven) in the morning, I often don't get to see them until the next day. My husband and I get them ready for school, I walk them there, then I come home and go back to sleep.
I host a live-streamed discussion series for NYC Children's Theater called Meet the Parent about how life in the theatre affects your parenting, and how parenting affects your life in the theatre. When Audra McDonald and Ann Harada were my guests, they told me that napping was the key to surviving a show schedule when you have small children. I have taken that to heart.
After my nap, I get stuff done around the house and on my computer. I intend to do yoga, then run out of time before I get to it. I pick up my boys from school, and we walk home together, which these days is an emotional mix of giddy jumping in leaf piles and whining about having to walk the whole half mile home. I hang with my dudes for an hour or so until my husband comes home, and then I go to the show!
After the show, I book it home. I used to be a social butterfly, but now I just go straight home to sleep. But I do love to hear about any shenanigans and tomfoolery that the cast has gotten into without me.
How does being a mom in real life affect your performance playing William's mom in Almost Famous?
I often wonder what it would have been like to play this role before I had children. The main thing that I wasn't prepared for about motherhood is the intensity of the worry. It is sometimes difficult for me to handle. So I have no trouble conjuring up that worry for Elaine. Or her fierce, controlling love for her children. The combination of my personal experience with the fact that the show is so well-written—I feel like if I just say Cameron Crowe's words or sing Tom Kitt's lyrics and get out of the way, the truth of the emotion is there.
Are there any parts of your role or the musical that seem particularly poignant/relevant following the events of the past two years?
Oh, yes! The show's themes of isolation and loneliness, of aching for communion with others and finding your tribe, ring so much truer now. Every time I watch the cast do the song "Everybody's Coming Together," I want to jump right in the middle of the gang and sing along. They're having so much fun together. The cast loves each other so much, their characters have all found a place where they feel like they belong, and I want to belong with them!
Do you have a favorite rock performer/classic rock song?
You know, I'm a little embarrassed to say that classic rock has never been my genre, so I would just be making up an answer for the sake of this interview, and I have far too much respect for Playbill.com readers to do that. But for funsies, I googled the Billboard Top 100 for the year 1973, which is both the year Almost Famous takes place and the year I was born! No. 1 is "Tie a Yellow Ribbon Round the Ole Oak Tree," and I don't know what to say about that. But No. 3 is "Killing Me Softly" by Roberta Flack, and that is a song I can get behind! It's one of my all-time favorites. That lyric, plus that melody, plus the plaintive honey of her voice—can I pretend to misunderstand the question and make that my answer?
What's it like getting to rock out with the rest of the cast during the curtain call?
Oh, it's absolutely my favorite part of the show! I love being in a group number, since I don't get to do that much throughout the evening. And, of course, it's a thrill to be able to wail for a second and surprise people. Never underestimate a mother.
Tell me about your experience directing the streaming show Unstuck as F@#k, through The Studios of Key West.
You know, I wondered for years if I might be a good director, but I don't know if I ever would've tried it if COVID hadn't stopped my acting career in its tracks. When Orlando Bishop called me in the middle of that time, and asked if I wanted to work with him on his one-man show, it was a no-brainer. He and I have been friends for 30 years. We sang together in a college a cappella singing group, and over the years we've dabbled in collaborating and writing together. So we set up weekly Zoom meetings to develop the script, and they were really fulfilling in a way I was just so thirsty for. After a while I realized we had a truly terrific play on our hands, but it's so hard to get a play produced!
Then serendipity stepped in, and the summer before last, my husband (who's a wicked awesome trumpet player) and I were invited to do a Fourth of July concert on the rooftop of The Studios of Key West. They gave me a tour of the facility, and when I stepped into the black box theatre, I thought, "You know what they should produce here?" Thanks to the great Stephen Kitsakos, faster than I have ever seen a production come together, he had us down at The Studios of Key West doing the show and filming it to stream.
Man, was it a thrilling run. And I am so glad we can share it with everyone now! We often describe the show as what would have happened if Tony Robbins and Richard Pryor had a baby. I knew Orlando was a gifted writer, an astutely inspiring coach, and a hilarious stand-up comedian. What I didn't know was what a beautiful actor he is. He takes the audience on such a rollercoaster ride with the story of his life, coming up out of Flatbush, Brooklyn, through Yale University, and out to Los Angeles to be a screenwriter, director, and personal performance coach. Laughter through tears is my favorite emotion, and Orlando serves that up sorta relentlessly. He is so honest and vulnerable, I found it breathtaking. I am so proud of him and of this gorgeous thing we all made!
During this time of reflection and re-education regarding BIPOC artists and artistry, particularly in the theatre, what do you want people (those in power, fellow artists, audiences) to be aware of? What do you want them to consider further?
I think I can only speak for myself, and say that I was a person who always thought I was walking through the world in a mindful, conscious, and loving way. I grew up with nine brothers and sisters, six of whom were adopted from different races and countries. Tolerance and antiracism were core to my upbringing, to the point where I think I was too complacent in my own "wokeness." But in 2020, when the Black Lives Matter protests were really taking wing, I saw a photo of a person holding a poster that said, "White Silence Kills." It hit me like a truck that I had simply not been doing enough, that even the best intended of us can't have been doing enough, since racism is still such a massive problem. I had a reckoning with my white privilege like I never had before.
I am so glad that reckonings are happening everywhere, and I am grateful that they are happening in the theatre. I think it's vital that we keep having them, even though they are painful. Discussions with my colleagues have made me aware of blind spots I didn't know I had. I have felt shame and guilt, but I want to keep having these conversations. It seems like the least I can do to help be a part of forging a more just world.
What, if anything, did you learn about yourself during the past two years you didn't already know?
I suppose I got confirmation on two things that I've always suspected: I was not meant to be a stay-at-home mother, and I am not me fully realized if I'm not performing. I did what I could to feel like a theatre artist during COVID. But when I went back into rehearsals for Almost Famous, I felt like a goldfish that had been flopping around on a counter for two-and-a-half years, and someone finally dropped me back in my bowl.
Do you have any other stage or screen projects in the works?
You know, after reading yet another terrifying article about the climate emergency, I decided that what I have to make my next priority is joining the climate revolution, so that I can look my boys in the eye and tell them I really tried to help save their planet. So that is currently my focus, doing what I can, where I can locally. Fortunately, my local is Broadway and Broadway gets attention. So I am hoping to use that attention to galvanize folks, and help them go from feeling helpless and hopeless, like I used to, to feeling helpful and hopeful, like I do now that I'm fighting the good fight—and seeing all the inspiring and exciting work people are doing out there for the planet and for climate justice. If we all get fired up and take action in the ways it is possible for us, we can absolutely solve this problem!
I've teamed up with the Broadway Green Alliance, and we have several irons on the fire. I became a Broadway Green Captain, and it feels really good to be helping Almost Famous and the Jacobs Theatre be as green as possible. I would never ask others to do something I'm not doing myself, so I'm trying really hard to be the change I want to see in the world. For example, I want to help get Broadway composting, so me and my menfolk started composting at home. And, we started contributing to carbon-fighting projects to offset the damage our household and our commutes are doing to the environment.
The one specific project people can look for from me is the vlog I will be doing, the working title of which is The Broadway Vlog to Save the Planet. I am overcoming my fear of social media to put it out into the world on Instagram. My handle is @GreenMomAF. Please follow me for behind-the-scenes fun and silliness mashed up with green inspiration and action (the sustainability kind, not the Wicked kind).
What organization would you recommend people learn more about or donate to during this time of change?
There are two organizations I'm most passionate about! One is the Broadway Green Alliance, which is doing so much great work for the planet on a shoestring budget. Jenn Gambatese and I are getting together with Seth Rudetsky and James Wesley at Stars in the House to produce a big, fun, starry, live-streamed fundraising benefit for the BGA on Monday, January 23rd at Green Room 42. You can get tickets now!
The other organization is NYC Children's Theater, which does extraordinary outreach for NYC children in public schools, afterschool programs, and homeless shelters. They do anti-bullying programs, programming for children who've experienced trauma, and for those with special needs. And, they have free programming and resources for families everywhere on their website! Using theatre to serve is where my heart is. I mean, is there a better tool to solve the world's problems than musical theatre?