*
"Puppets have definitely followed me around," Sarah Stiles said, laughing. The actress, whose previous stage credits include operating a puppet in Tommy Tune's Dr. Doolittle, made her Broadway debut in Avenue Q in the dual roles of earnest schoolteacher Kate Monster and exotic dancer Lucy the Slut.
After appearing in The 25th Annual Putnam County Spelling Bee and On a Clear Day You Can See Forever on Broadway and Into the Woods in Central Park, Stiles is back on the Great White Way in Hand to God, Robert Askins' new play about an evil puppet named Tyrone that wreaks havoc on a church community in a small Texas town.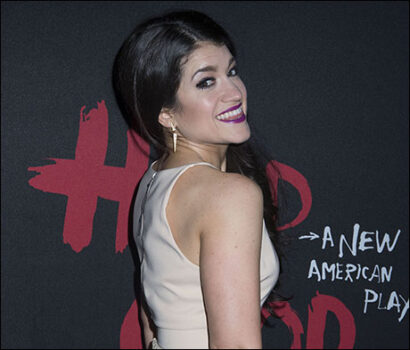 Hand to God, nominated for five Tony Awards, including Best Play, was previously produced Off-Broadway at MCC's Lucille Lortel Theater. Directed by Moritz von Stuelpnagel, the play follows a teenage boy named Jason (Steven Boyer), who recently lost his father and finds a companion in Tyrone, a sock puppet who seems to have a mind of its own. Once soft-spoken, Tyrone becomes more agitated and confrontational and frequently interferes with the mild-mannered Jason's life and, subsequently, his relationships with his mother, Margery (Geneva Carr); his pastor, Greg (Marc Kudisch); and his classmates, Timothy (Michael Oberholtzer) and Jessica (Stiles).
Tyrone's actions result in chaos and confusion within his family and church community — a community in which Jason's mother, grieving the loss of her husband, is also seeking companionship and escape. After Tyrone becomes violent and Jason's mother and pastor flee in terror, Jessica is the only person brave enough to face him and try to end Tyrone's reign of terror. "Rob has just written an incredible girl," Stiles said of Jessica. "I find her inspiring in my own life. I think playing her has made me a more confident person, a better listener, more unafraid. She's so smart and she's so compassionate and reasonable and curious. She's so earth-bound. She's so rooted in the earth and in the moment, and she can really see how to fix problems. She has the confidence to take action on it. I think that's amazing, especially for such a young person... My character just wants to help him and finally has her moment to do that."
Jessica's confrontation with Jason involves a puppet of her own, who engages in a lengthy sex scene with Tyrone — not the first time Stiles has performed puppet sex on Broadway. When performing in Avenue Q, her character also participated in raunchy puppet sex, accompanied by the song "You Can Be As Loud As The Hell You Want." But in Hand to God, Jessica and Jason are involved in a serious conversation while their puppets are going at it — a hilarious scenario that engulfs the audience in laughter while Stiles and Boyer have to remain straight-faced.
"It's a weird thing because there's two things happening at the same time," Stiles said. "There's this comedic scene with these puppets, but also a really serious scene with these two young kids. I think I was lucky; because of doing Avenue Q for so long, the puppetry itself is very second nature. I really don't have to think of it at all. And Steve and I found a way to just really make it a secondary thing and move together like choreography."
"It's not really that hard at all to have that scene with him," she continued. "He's such an incredible actor. I forget about the puppets completely. It's very easy to just lock into him, look into those eyes and have that scene with him. It hasn't been as hard as people want it to be. I guess I should say it's harder!" she added, laughing. "I'll seem more impressive."
Although refraining from laughing during the sex scene is not a challenge for Stiles, rehearsing the scene was, adding that she and Boyer would often invent new moves for their puppets to try.
"Moritz would schedule extra time for that rehearsal because Steven and I could not stop improvising dirty sexual moves," she said. "It was hysterical. It was epic trying to get through that scene in rehearsal. We were actually very thankful for an audience. The scene is so different with an audience and navigating the laughter. The trickiest part about that is navigating the laughter and figuring out how to make sure that they're hearing what you have to say, because it's really important." Thanks to her experience with puppet sex, Stiles said she and Boyer did not have to watch the film "Team America: World Police" or engage in other methods of research.
"That was all in our sick brains!" she said. "It's funny being directed in that way. Moritz [would] be like, 'Sarah, on this line now you switch to doggy. And please don't grab her boob until this line.'"
Hand to God inspires numerous questions about faith and humanity, and while some have questioned if the subject is shocking to audience members, Stiles, who was not raised in a religious house but currently attends a church in Manhattan, said she views the show as inspiration for a new way of thinking.
"Some people get nervous that it's sort of bashing religion, but I don't find that at all. I think it makes you think about it in a different way. I think it's more evident than ever that we need faith and we need God. We need something to look up to and something that makes us feel safe and, for me, anyways, knowing that there's a presence of God and faith in my life now makes me more confident to just walk through my day," she said.
In order to ground herself between scenes, Stiles practices yoga and meditation in her dressing room, where she has hung a small hammock. "[Jessica's] so earth-bound and I tend to be someone who's a little bit more in the clouds and high-strung, I guess. I play [the ukelele] every time I leave the stage. There are three big long scenes [before I go back onstage] and I always go upstairs, change to my second outfit, sit in the swing and play the ukulele. It's so Jessica. I'm a little method up there."
(Carey Purcell is the Features Editor of Playbill.com. Her work appears in the news, feature and video sections of Playbill.com as well as in the pages of Playbill magazine. Follow her on Twitter @PlaybillCarey.)