It's the end of my southwest travel and the beginning of my travel "across the pond." My gigs in Texas and Arizona are officially over and I'll be in London this week because I'm doing shows with John Barrowman on Friday and Saturday at the Leicester Square Theatre.
John was one of the stars of Sondheim's Putting It Together on Broadway and I must ask him about the final performance where the whole cast was doing the opening of Act 2 and Carol Burnett stopped the show. Not "stopped the show" as in she brought down the house, she literally yelled "Stop!" She had valiantly tried to do the song, but finally had to accept she couldn't continue the number because the elastic on the top of her skirt had broken. She then showed the audience what was wrong…by letting her skirt completely drop to the ground! She was fully standing in just her stockings. It was like a sketch from The Carol Burnett Show. The crazy thing is, they were filming the performance and the whole thing is caught on tape! Watch!
John has starred in so many shows including Anything Goes, Company, Evita, Sunset Boulevard, Chicago, La Cage Aux Folles and I know I'm going to have him sing songs from all of his musicals.Plus, I'm gonna have a giant library of music on my iPad so the audience can request songs! Here's the link for tickets.
I did a huge fancy fundraiser on Thursday with Christine Pedi for the Houston, Texas arts district. I deconstructed up a storm and then Christine did tons of great songs, including her signature Liza Minnelli singing the score of Mamma Mia! written by "…my best friends in the whole word: Benny Kander and Bjorn Ebb." She recently filmed a faux "Liza answering 73 questions" a lá Vogue's 73 Questions series. I love the line reading of her favorite book: "What Happened?" Watch here!
While in Houston, we were put up at the Hotel Zaza and I have never ever been in such a crazily large hotel room. I had to film it. OMG!

The next day I flew to Scottsdale, Arizona to do a show with Vanessa Williams. I decided to partake in nature and invited my producer Mark Cortale and Vanessa to do a hike with me. For some reason, we all haughtily decided we were going to do the difficult hike. Well, it began fine. Look how happy we were…when we began.
At first, we were going up Echo Canyon and keeping up with all the other hikers. The views were beautiful!
Then we got to an area that was less upward hill and more vertical wall. On the left was a railing you could hold on to as you pulled yourself up, but that area was really crowded. Mark and I decided to go to the right, which was open. Of course, now I realize it was open because it was basically unclimbable. However, we didn't figure that out til we were halfway up.
Mark somehow managed to get himself over to the left side and grab the railing, but I was literally unable to move up or to the left. It was just too steep to move. Period. My only option was not mortifying at all: I had to literally lie face down on the mountain. The fun part was, I had a bag with me full of the requisite water bottles and sunscreen. Well, it was full of those things. That's right, as I laid down to prevent early death, everything in my bag went careening down the mountain. Eventually, after a harrowing do-I-have-to-call-a-helicopter-to-rescue-myself minute of full panic, I got a grip and crab-crawled to the railing. I stood there, hanging on, while the experienced climbers behind me handed me back all of the things from my backpack that had fallen (on them). Vanessa, of course, had the good sense from the beginning to use the railing and quickly scaled up the hill. During her down time waiting for us, she courteously took a photo of Mark clutching the railing in full panic and me beginning my crab crawl off the ground.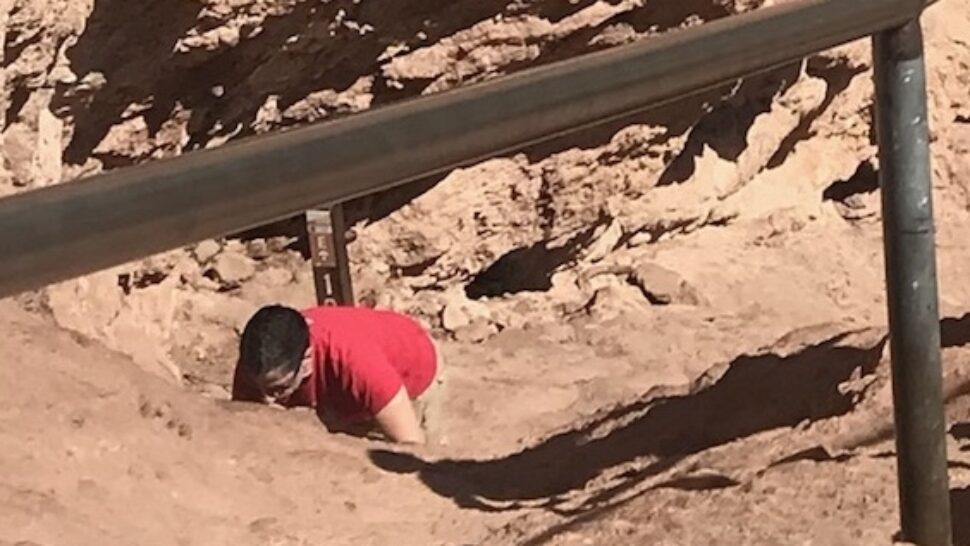 Well, we decided it was just a minor setback. We kept the hike up for a while and then saw a climber who told us that the way down was much worse than the way up. He then pointed to his legs and proudly told us that we should prepare ourselves for the lactic acid buildup that would make our legs look like his…shaking uncontrollably. And still she (we) persisted. Finally we saw this sign, which literally looked as if it were lifted from a production of Disaster!. (See below).
That's all it took for a collective "We're out!" and we hightailed it back down the mountain. My legs were unshaken, but my sneakers were filthy.
Speaking of Disaster! signs, look at the poster I was just sent for the upcoming Emmanuel College production. I love it! It's so '70s disaster film!
The good news is, Vanessa's show went great that night and she was chock full of Broadway and TV stories. Afterwards, an audience member asked me if I'd known Vanessa for 24 years and I thought he was crazy—until I realized that I mentioned playing rehearsals for Vanessa when she took over the title role in Kiss Of The Spider Woman in 1994…24 years ago! Wowza. It does not feel like 24 years ago. To me, I feel that once you hit 25, everything from then on feels like it's happened within a five-year-span. Regardless, here she is singing the title song.

I asked about onstage mishaps, and she remembered one performance where she was supposed to get shot and die but they wound up playing the wrong sound cue. So, the trigger was pulled, but instead of hearing a gunshot, the audience heard a "terrifying" phone ring. I guess you can program your ringer to sound like a shot and you can program your gun to sound like a phone?
And finally, I wrote in this previous column about last week's BC/EFA Forever Plaid concert before it happened. Well, I heard it was fantastic! I was so sorry I wasn't there. When I had David Engel (who was in the original Off-Broadway production of Forever Plaid) on my radio show, I asked about the classic (but unrelated) video he had done years ago. He and his friend Jim Sutty silenced all the dialogue and singing in the first big Sound of Music nun scene and then redubbed it themselves, doing all the different voices—and perhaps changing some of the dialogue to make it a little more blue. My friends and I have been obsessed with it for years and it's finally online. You have to watch!
All right, I'll write you next week about my adventures in jolly olde England. Peace out!