Harold Prince, the influential director-producer who ushered such musicals as West Side Story, Fiddler on the Roof, Cabaret, Company, Evita, and The Phantom of the Opera to Broadway, has just released an expanded and updated version of his 1974 publication Contradictions: Notes on Twenty-Six Years in the Theatre.


In the first half of Sense of Occasion, Prince revisits sections of his original 1974 text and pairs those chapters with chapters of commentary and fresh perspective on chapters chronicling his Broadway start as a co-producer on The Pajama Game in 1954 through West Side Story and Fiddler on the Roof. The 21-time Tony Award recipient tracks his own evolution as a Broadway director, detailing the creation of Cabaret, and his collaborations with Stephen Sondheim on Company, Follies, and A Little Night Music. First published when Prince was only 47 years old, the Contradictions concluded with his unconventional 1974 Broadway revival of Candide.
The unstoppable 89-year-old showman then picks up where he left off 40 years ago, which has been expanded to 358 pages in this new publication from Applause Books. Prince writes for the first time about the creation of the musicals Pacific Overtures, On the Twentieth Century, Sweeney Todd, Evita, Merrily We Roll Along, The Phantom of the Opera, Kiss of the Spider Woman, and Parade, among others—leading up to his current Broadway project Prince of Broadway, a musical retrospective of his life's work that currently plays the Samuel J. Friedman Theatre.
To purchase Prince of Broadway tickets, click here. For discount tickets on select performances, click here!
Prince saves some of his best stories for the chapter on The Phantom of the Opera, in which he details his collaboration with Andrew Lloyd Webber on what ultimately became the biggest commercial success of their careers.
Read the chapter on Phantom below and order your own copy of Sense of Occasion here.
It began ordinarily enough, while I finished dinner at Le Caprice in London. I don't recall what I was doing in that city at the time; I might've been checking up on Evita. In any case, across the room at dinner were Andrew Lloyd Webber and his then wife, Sarah Brightman. They invited me to take my coffee with them, and I moved to their table. In passing, Andrew said that he'd been thinking of doing a musical based on Gaston Leroux's Phantom of the Opera and asked if I would be interested. It is uncharacteristic of me to say yes without thinking of some reasons not to take on a project. In this case, no hesitation whatsoever: "Yes, indeed!"
Andrew and I share a great affection for Rodgers and Hammerstein's South Pacific. It represents one of the few great romantic musicals of our time. It's interesting about romance and musicals—you would think that most musicals would be romantic, whereas very few actually are. I think of My Fair Lady, which works its way to its most romantic moment: "Eliza, where the devil are my slippers?" Or The King and I, where the leading couple never gets any further than a gorgeous waltz. Of course, She Loves Me was romantic, and there are other examples, but far fewer than one would imagine. I mention romantic musicals here because Phantom is unabashedly romantic, which I believe is a key reason for its great and continuing success.
Phantom's metaphor was omnipresent for me. I'd always wondered why in the presence of deformity our atavistic response is to pull back, perhaps not in horror, but instinctively. And then, if we are sentient human beings, we quickly realize how irrational that response is. Years ago, when I was in the Casbah in Algiers, a leper shook my hand, and I recoiled. Then I was with George Abbott in Havana when he told me that the manager of the Tropicana was a leper who was missing fingers, and I shook his hand timidly. I shared these memories with the company on the first day of rehearsal, and I have continued to say it to new companies ever since. It is for me the reigning metaphor of the show, the concept that gives the show its human focus and along with the romantic theme supplies a good part of the power it continues to have for audiences.
Andrew invited Richard Stilgoe onto the team as lyricist. He and Andrew had had a considerable success with Starlight Express, and I knew him as an excellent writer, a prescient commentator who delivered much of his material on radio. Andrew had written some themes for the show, but we were pretty much at the starting gate. At one point, when Andrew felt he needed an additional writing partner, he chose Charles Hart, who had recently graduated from the Guildhall School of Music and Drama. Andrew's producing partner in the venture was Cameron Mackintosh. They had come fresh from a huge success with Cats, and Cameron independently had opened Les Misérables. Gillian Lynne (also from Cats) joined as choreographer. I had known her for years; she had had a long and celebrated career, first as a corps dancer and then featured in the Royal Ballet.
It was the summer of 1984; I went to Majorca for a brief spell and Andrew to his country home. Cameron Mackintosh sent me photos of the work of various designers, one of whom was Maria Björnson. The photos of her set from a production for an Ibsen play persuaded me. The set was spare, and yet it contained such atmosphere—nothing tricky, but in its simplicity there was great beauty. I chose her. We brought on Andrew Bridge for lighting design and Mick Potter for sound design. Both were standouts.
I decided I should pay a visit to the Palais Garnier, the opera house in which much of Phantom takes place. I contacted the management, who offered me the grand tour. There are five floors from the stage to the roof, and another five to the lake below—and I covered all that ground. It isn't actually a lake; much of Paris is built on sand, so architecturally the theatre is supported by a mixture of water and sand. It's a huge edifice, and of course I don't understand what I'm explaining, but I took them at their word. At the time I dropped a coin down a grate in the basement and heard it plunk into the water. I was informed that occasionally they drain much of the water and have taken publicity photos of ballerinas in rowboats.
Rising above the cellar is a series of dungeon-like staircases leading to workrooms, shops, and finally the dressing rooms. The dressing rooms are especially interesting because they have extremely high ceilings and are more commodious than what we're used to in New York. When you reach the stage, it is large, and there is some stage machinery still in the house, but mostly everything is quite modern. Upstage of the playing area behind the rear wall is a beautiful fin de siècle red damask room with small tables and chairs, in which the ballerinas of the company historically entertained their gentlemen friends, I was told, sometimes even during performances! All of this supports the relationship of our leading character, Christine, with the juvenile vicomte, Raoul de Chagny.
There are five floors before you reach the magnificent roof of the Garnier. There's a walking path around the lower part of the roof and gold angels mounted on the four corners of the roof, and rising from this is a dome. I was invited to walk to the top of the dome and straddle its peak. I did so, and there was a fierce wind. The fellow who took me on the tour stayed below—I'm sure it was safe, but it felt precipitous. Once at its peak, I viewed a panorama of the Place de l'Opéra and, behind it, the Galeries Lafayette—Paris's largest and probably most famous department store. The whole experience was that currently overused word—awesome. Oh yes, the management offered me a directing job: any opera of my choice. I never took them up on it. Damn!
I left Paris and returned to New York, where Andrew and I exchanged notes about progress and agreed to meet in London fairly soon. Then I received a letter from Mackintosh informing me that he would be in New York and asking if we could arrange a breakfast meeting at the Ritz-Carlton on Central Park South. I arrived for breakfast with all my documentation, which by now was pretty impressive. Photos, books relating to the subject, ideas of my own in notebooks, correspondence from Andrew: a great deal. Before I could say anything, Cameron interrupted to tell me that he'd had second thoughts—this was an English show and should be directed by an Englishman. Obviously stunned into silence, I rose from the table, gathered my materials, blurted out the f-word, and left.
I walked back to my office and told my secretary to keep all this material near at hand because "they'll be back." I've always thought it was thanks to Andrew that they were. In about three weeks I received a call and I was back on the team.
In discussing the structure of the show, we all agreed that it should open without music at an auction on the stage of the opera house—an abstract, dreamlike sequence. When directing it, I've always told the actors that they are working underwater. As the auction progresses, they applaud ritually with gloved hands in a disjointed tempo that I feel adds unease to the sequence. All of the voices at the auction are deadly, unemotional, as at a funeral. The music is introduced during the sequence, notably, by the juvenile love interest, who when we meet him is a man in his nineties in a wheelchair—fragile and more attentive to memory than to the present. Eerie. Perhaps everyone on the stage has died?
From that prologue through all of Phantom, which has many settings in its storytelling, each sequence must deliver a surprise, often a shock. The lighting is timed so that in some scenes the stage goes dark before the dialogue has finished, and in others the dialogue precedes the lighting.
As I had with Evita, I insisted on "doing" the entire show on a half-inch model. When the model had been completed, I remarked to Björnson that there were no costumes designed and we would be presenting the show to the producers in ten days. "Not to worry," she assured me—she would design fifty costumes every day, and by God she did! Five hundred costumes exquisitely designed in ten days! Maria and I showed it to Andrew and Cameron that way, and then again the first day of rehearsal to the entire company.
Maria Björnson's set designs were minimalist. Tell that to any of our audiences and they won't believe it. But it's true: Phantom is staged in a shiny black enamel box in which choice props are revealed. Yes, there's one huge sequence with a staircase representing the lobby of the Garnier; there are some canvas drops rendered in the style of nineteenth-century scenery; and of course, there is the roof of the Paris Opera that I climbed. There's the travelator which delivers the Phantom and Christine to his underground lair. But otherwise, there is a small dressing room, a desk, a table, no doors, but many beautifully designed hand-painted drapes that were by a family that Björnson had located in France. All of the drapes, like some of the scenery, are delivered from the floor rather than the flies.
Of course, there is the chandelier. Andrew always envisioned it in dust covers on the stage when the audience entered the theatre. The dust covers were removed, and it rose over the audience's heads to the ceiling. And it has—for thirty years. So often the show is referred to as a spectacle—it isn't. I would maintain that once again the proscenium design—the picture frame—is the key to the show. Its magnificently carved gilt figures erotically entwined. And when it is revealed after the prologue, I don't believe the audience examines it, but I'm certain that it casts a heavy erotic atmosphere over the entire show.
Speaking of the proscenium, I recall taking one trip early by Concorde to London to meet with Björnson in a warehouse where a segment of the proscenium had been mocked up in plaster. We approved it, and I caught the afternoon Concorde back to New York. Which brings up traveling, doesn't it? I took about ten trips to London to meet with the authors as the material was being written. Simultaneously, I met with Björnson to refine the scenery.
Andrew came up with the title song, and with "Music of the Night," as well as "All I Ask of You," my favorite in the show. When I first heard "Music of the Night," I thought it was such a long number that staging it would be a hell of a task. After all, for two people to simply stand onstage with one singing and the other listening seemed to beg for old-fashioned opera staging. However, when I realized that the Phantom was Svengali and Christine his Trilby, I discovered that the words in the lyrics were commands and that not only was he hypnotizing Christine, he was seducing her. That solved it.
"Masquerade," Gillian Lynne's Act 2 opener, reveals about eighty figures—forty of them our cast, and the other forty dummies fully costumed and on springs. As the dancers move among them, they move as well. Early in the show's run, it fooled a lot of experts: "How can you afford such a huge company?"
For me, a major accomplishment is the three cod operas. The first is a faux Verdi Aida, the second a Mozart commedia dell'arte, and the third a twelve-tone Schoenberg. I'm still amazed that such a popular show features material of that nature, and that the audience seems to get it and is entertained by it . . . twelve-tone and all.
The show developed well and on schedule, and so it was time for casting. Andrew had fashioned the leading lady for Sarah Brightman, who did audition for it and seemed the personification of a nineteenth-century leading lady. Her voice and acting fit that bill perfectly. We then looked for a Raoul and our Phantom. Steve Barton, an American who was living with his wife in Germany and starring in the Theater des Westens, flew to London, and the role of Raoul was his. Parenthetically, his wife, Denny Berry, came on to assist Gillian Lynne as dance supervisor, and thirty years later she is still on the team.
As for the Phantom, we had little luck during the London auditions. I returned to New York having cast all the supporting roles and the chorus, but still no leading man. Andrew phoned about a week later to say that he believed that he had solved it: "What about Michael Crawford?" Well, I had seen Michael Crawford as a farceur; he played in Peter Shaffer's Black Comedy and was currently starring in a very successful production of Barnum, in which he was called on not only to sing but also to exhibit astonishing gymnastic prowess. But as the Phantom? Andrew supplied the missing information: Michael had been a star boy soprano and also had trained in opera. I flew to London the next day, and we met in Andrew's office. Michael sang perhaps eight bars and we'd found our Phantom.
Before the first day of rehearsal, I flew from Spain to London to meet with the prosthetic expert, Christopher Tucker, where we decided on the design of the Phantom's mask. I wanted a mask which bisected his face from forehead to chin, because it would free half of his face to express everything he was feeling. It was molded of clear thermo plastic. For each performance, the false deformity beneath the mask would be applied to his face, along with a bald pate. All of this would be discarded after each performance and replaced.
We went into rehearsal on schedule in a gymnasium in Lambeth for five weeks. I wish I had stories to tell about difficulties and surprises—there were none. I stuck to a schedule, arriving at rehearsal at 10:00 a.m. and leaving every day at 1:00 p.m. for lunch. I did not return in the afternoon, because Gillian Lynne would stage numbers and Ruth Mitchell, my assistant, would rehearse scenes that had already been blocked. This process continued for the duration of rehearsal, the last day of which we put the entire show together for the producers and the crew. It went beautifully, no hitches, and the storytelling and the score were in place.
As I was dismissing the company and telling them I would meet them at the theatre to begin technical rehearsals, one of the youngest ballet girls in the ensemble raised her hand and said that she had been delegated by the company to ask me a question. I nodded to go ahead. "What do you do in the afternoon?" And I replied, "Watch Coronation Street!" which was admittedly smart-ass.
Some afternoons, I would take Ruth away from rehearsal to the theatre to test some of the stage machinery. We had discovered that Her Majesty's is the only theatre in London that still has working Victorian machinery—traps, lifts, everything turned by hand. Maria loved that and designed the set to conform with it. The show was teched with candelabra cranked by hand from the basement. Ruth and I checked the travelator [sic: the bridge Phantom and Christine walk across to the depth of the opera house] ourselves to prove that it was safe.
Late in the show, there is a moment when Raoul dives into the lake in the opera house from the travelator—it's one of the most effective moves in the show and very simply rendered. All he has to do is climb over a rail and drop through the stage floor to a pile of mattresses. Smoke is used to complete the illusion. Ruth took that drop. This is as good a time as any to mention that the chandelier was dubbed "Ruthie" in London, and to this day, it still bears her name all over the world.
We broke early after the Saturday run. On Monday, we convened in Her Majesty's Theatre, the crown jewel of London's West End. Slowly, carefully, we introduced the company to their new home. We showed them the arrival and departure points of scenery, paths, stairs, and traps, all in full light to avoid accidents. Given the nature of the material and its staging, I had ordered many more surprises than we needed. I had no idea which ones would work or, more relevantly, which would enhance the tension, the sense of unease we wished for our cast, but also for our audiences. So I ordered:
· A prop horse on which Christine could be led by the Phantom to his lair below. (The horse was so cumbersome, so heavy, that it moved tentatively and at a snail's pace. Good-bye, costly horse.)
· Six live white doves to bedeck the roof of the opera house and on cue to escape into the flies. (I had been assured by their wrangler that they would do as rehearsed. However, when they flew, it wasn't up, but rather across the auditorium and to the ceiling of the theatre, where they perched for two days until he could coax them down. Six unemployed doves.)
· A ratcatcher is discovered on the travelator. Purpose? To direct the audience's attention to a scene which followed with the ballet mistress and Raoul. The ratcatcher was directed to chase a swarm of rats with blood-red eyes. (The rats looked like a string of foot-long sausages pulled offstage, followed by a man with a net! The man with the net remains in the show, but I defy anyone to tell me what that fellow is doing—guess it doesn't matter.)
· Finally, I ordered costumes for two statues featured in the cemetery sequence, when Christine goes to visit the grave of her famous violinist father. They were to come alive along with lightning and thunder. Yes, and five jets of fire from the stage to scare the hell out of the audience The statues failed to shock. Goodbye statues, welcome jets of fire!
We teched for four weeks, and there were more orchestra calls than I have ever experienced. Andrew is a stickler for sound, probably more than any composer I've ever worked with. And it is worth it. Then there was a dress rehearsal when the chandelier refused to budge from the stage. Later, in previews, when it refused to plummet from the ceiling to the stage, no one seemed to care. Difficult to believe, but Phantom at its first preview was the same show that is celebrating its thirty-first year in London, and will rack up thirty years on Broadway on January 26, 2018.
Opening night in London was everything we hoped for, so the next move would be to Broadway. Cameron preferred the Martin Beck Theatre in New York (now the Hirschfeld) because it mirrored the capacity in London. The Shuberts offered the Majestic—I had played a number of shows there, and despite its much larger capacity, I knew it to have excellent sight lines and a large welcoming lobby, which is helpful when you have late arrivals. The Majestic is one of Broadway's jewels. Andrew and I called Cameron, and he agreed to book it. I am certain the Majestic is a key to our longevity. As each year passes, we become more of a New York landmark, plus of course our audience now includes our grandchildren. I know I've taken mine to see it.
Now it was time to contract our original triumvirate of stars—Crawford, Brightman, and Barton—for the Broadway opening. There was no problem with Barton, who is American, or with Crawford, who is a known star. However, Actors' Equity tossed us a grenade: not so fast! It seemed its board was refusing to accept Brightman as a star, insisting we cast an American. There followed from that spring and through the entire summer hearings before the board. Mackintosh, Lloyd Webber, the Shuberts, and I appeared separately to testify that Andrew had written the musical specially for his wife and surely that was his prerogative. In addition, I pointed out that it was a starring role and the producers were backing up the decision with a hefty investment, so if it failed they would be facing substantial losses. The whole damned dispute seemed ridiculous, but still they said, "No!" So Andrew decided to scrap the New York production. I'm not certain who made them change their minds, possibly the Shuberts. One thing was certain: If they continued, they were going to deny their membership the many thousands of jobs Phantom has provided over the years. They caved, and we set rehearsals for November, with a late January opening.
There were to be nine previews, the same number as in London, many of them purchased by charitable organizations. One preview night, Judy Prince and I were backstage with the cast when I suggested we skip that performance and dine in the neighborhood. We had to move through the lobby before they opened the front doors to let the audience in. We made a dash for it, but they opened those damn doors before we could get out. Judy blasted her way through the crowd and disappeared, but I was stuck behind, facing an elegantly dressed benefit crowd. Then I saw Donald Trump and his then-wife Ivana ahead. I had never met Mr. Trump before and have never been in the same room with him since. The crowd recognized him, and there was a buzz. As I reached the doors, a voice behind me shouted, "Hal!" I turned. "It's Donald!" I turned again. "Ivana, it's Hal." Ivana didn't know who the hell Hal was. The crowd in the lobby stopped to watch. So I asked, "Is this the first time you've seen the show?" He replied: "Is this the first time?! Is this the first time?! We saw it last night! And in London—twice!" I thanked them and turned to leave, whereupon he shouted, "Hal! Ivana and I are so proud of you!"
Moving on.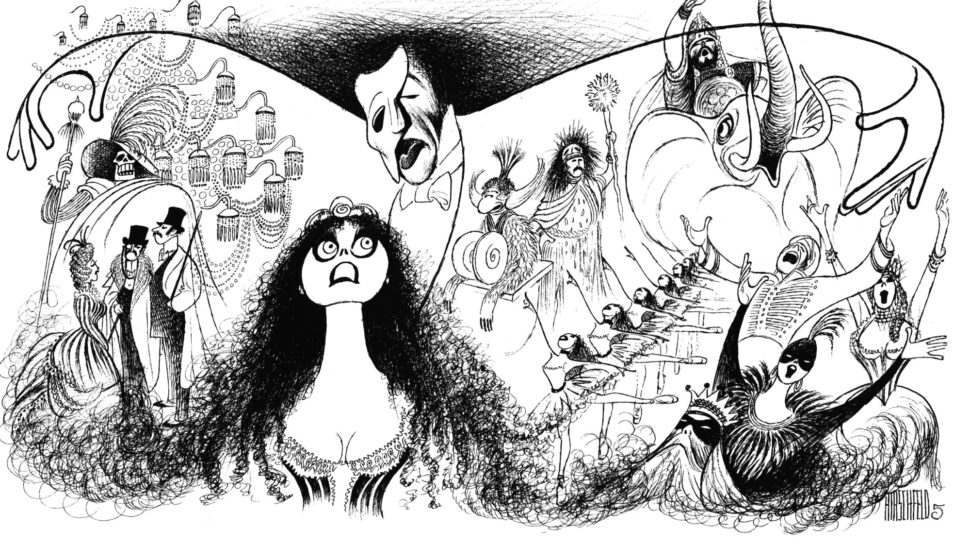 When we opened, the Times review was okay, not thrilled, but our audiences were. The advance sales indicated how successful we could be, dependent on the word of mouth, the Tony Awards (which we later won), and more importantly, whether we kept the show in mint condition. I had been a producer before, and I realized how difficult it was to get the original directors to revisit their shows. Cameron had had the same experience. So of paramount importance is keeping the quality of the performance: casting replacements up to their originals; a resident director on site every night; refurbishing and rebuilding scenery and costumes. What is it they say about not looking a gift horse in the mouth?
Phantom had three touring productions running simultaneously and one in Canada. Ruth Mitchell took charge of those until she died after a lingering illness. Arthur Masella, also in my office, took over the casting, direction, and maintenance of international companies. I oversaw as much as I could of them, but often there were conflicts. The U.S. productions are maintained by our resident director (presently Seth Sklar-Heyn); David Caddick, our original musical director; Kristen Blodgette, his right hand; and David Lai, the Broadway music director.
In 2002, Maria Björnson suddenly and shockingly died at a young age. Soon after, there was an offer from Las Vegas for a version to play at the Venetian Hotel. It was designed by her original assistant, Paul Kelly. I believe it represented pretty much what she would have wished, but additions were needed to satisfy the Vegas audience's appetite for spectacle. Arthur Masella assisted me on every aspect of this version, cutting the show to an hour and forty-five minutes. Kelly and the designer David Rockwell transformed the theatre into a replica of the original Paris Opera—complete with boxes and filled with Victorian ladies and gentlemen, exquisitely costumed mannequins. Our chandelier this time descended right over the audience, stopping just in time to scare the hell out of them. The pièce de résistance was the exterior, in gold, of the front of the Paris Opera, delivered through the stage floor.
The production was awarded best show in Las Vegas by the local newspaper and ran for six years. On its fifth anniversary, the audience was invited to attend in costume. This was not so strange, as audiences had attended anniversary performances in London and on Broadway dressed as the Phantom and Christine. Our audience in Las Vegas arrived as a variety of characters. Two audience members in the front row even dressed as me, complete with glasses, beard, and a bald head. I met them after the show—they were a married couple. That night an audience member told me he had seen our show 175 times.
Phantom as of now has played to over 150 million people in thirty countries in fourteen languages. Aside from London and New York, there are productions playing in Japan and Sweden. But what gives me the most satisfaction, as we approach our thirtieth year on Broadway, is the number of Equity members who have found employment, and add to that musicians, stage- hands, wardrobe mistresses, dressers, front-of-house, box office managers, ushers, and concessionaires. Also the small businesses that count on theatre productions for customers and, oh yes, parking lot owners!
Over thirty years ago, John Wharton, an esteemed senior partner of Paul, Weiss, suggested that pricing of tickets to Broadway shows should be on a supply-and-demand basis. It was logical. After all, it prevailed in department stores and almost everywhere anything was sold. However, our industry was appalled at the idea and rejected it. But he was right, and Hamilton has installed that policy. It keeps scalping to a minimum, and for those who can't afford Broadway prices, there are a substantial number of lottery tickets available at a fraction of the cost. Meanwhile, the creators of the show and its backers share in enhanced box office grosses. I wish we had listened to John Wharton thirty years ago . . . .