As I write this, I'm sitting on a plane returning from the Grammy Awards ceremony, where I was just handed one of those weighty hunks of gold lauding our live recording of Akhnaten at the Met. Rarely, if ever, in the life of an artist is there one project, one role, that merges the experiences and skills you have accrued and channels them into a single practice. If that project then connects with people in a profound way, it becomes truly life-changing.
When I felt the cold metal of the award, a memory flashed in my mind of the first time I set foot on the chilly brass floor in the throne room of Tom Pye's three-tiered, hieroglyphic diorama of a set. I was in a rehearsal at the English National Opera, where we premiered Phelim McDermott's extraordinary production. In that gilded room where my character is crowned pharaoh, I have no lines to sing. How could I convey the fear, the excitement, the vulnerability, the vision of a young man about to change the world with his revolutionary ideas? Phelim encouraged us to explore four different movement qualities taught by theater guru Michael Chekhov—molding, flying, floating, and radiating. Molding, for example, should feel like moving your hand through the air if the air were made of molasses. After I molded through the throne room, with Glass's musical meters of three and four swirling around me, and Sean Gandini's juggling balls traversing my field of vision like magnified atomic particles, I began to unlock the answer to how I could make Akhnaten's thoughts speak. The physical feeling of resistance merged my body with the dark weight of Glass's violin-less score, and simultaneously allowed my mind to relax enough for a kind of clarity to emerge.

I realize I sound like someone who's just returned from a Zen retreat, but as a child on Broadway and doing theater in New York, I had a similar feeling when I intuitively realized that I couldn't try with all my might to shape an audience's attention, but rather had to develop instincts about how people respond to a performer's honesty on stage. The mental lucidity Phelim's technique affords, by occupying your body with a finite task, makes that kind of forthright expression-of-self possible, like beaming a laser from my eyes into every seat in the house.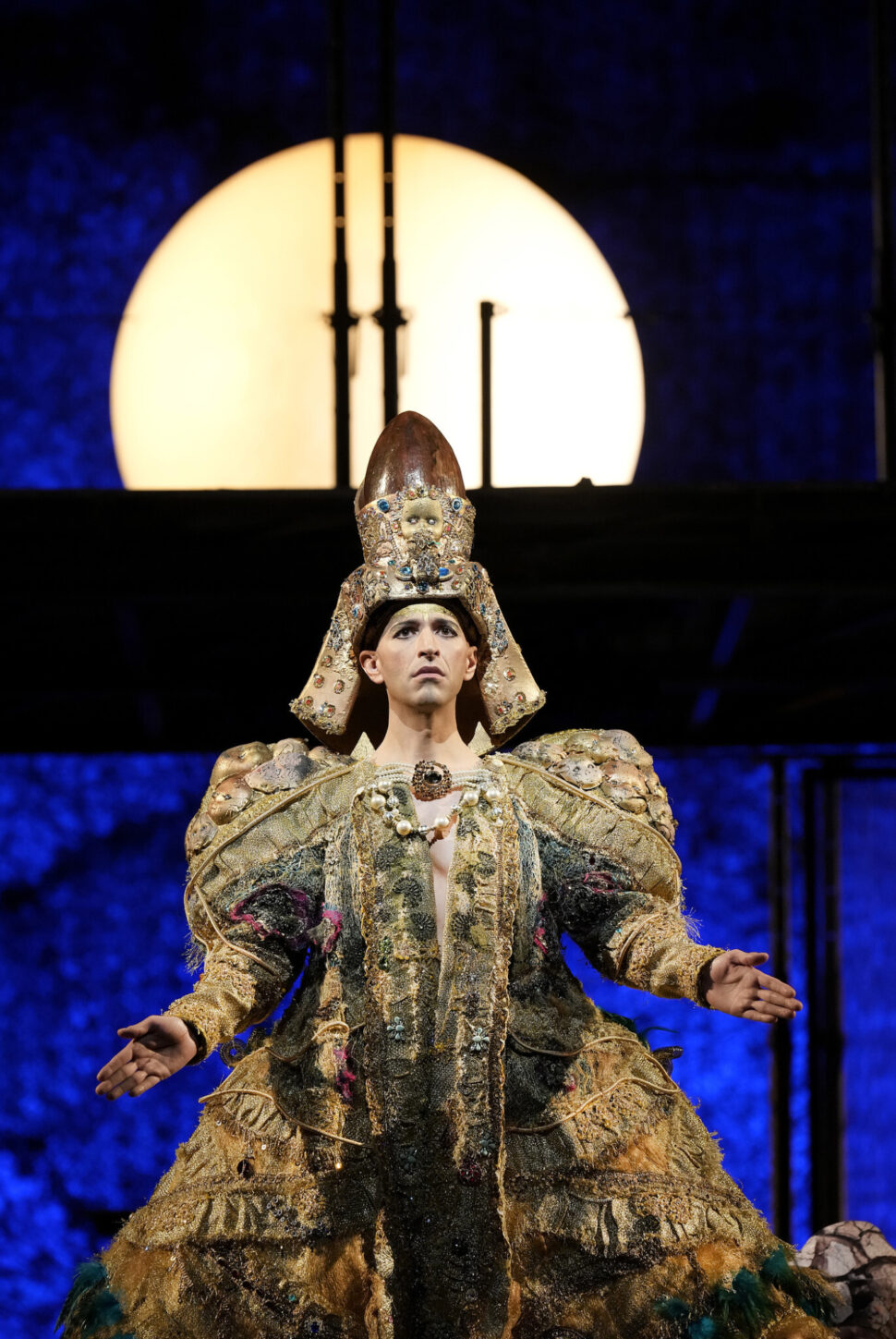 Onstage, as I get ready to open my mouth and sing in ancient Egyptian, I perilously ascend the staircase in heavy gold paraphernalia—40 pounds of it, to be exact—and I think about how I can convey meaning with sound, since no one speaks ancient Egyptian and the production purposefully eschews translation of the ancient text. The human voice exists in a liminal space between voluntary and involuntary—we can't tell the 60-plus muscles that control vocal function exactly what to do. The only way to shape and color your tone is through imagination. For example, if you breathe in and imagine you're smelling roses, your soft palate (the skin at the back of your throat) will magically lift. I had to find images that prompted a constellation of sounds that could combine to tell a story.
In a quest to amass a quiver of imagery, I went to talk to the Oxford Egyptologist Richard Parkinson and the amateur Egyptologist (and famed filmmaker) James Ivory. Richard showed me the original soft-grained watercolors Howard Carter painted of Tutankhamun's tomb when he discovered it exactly 100 years ago this fall. I wanted Akhnaten's "Hymn to the Sun" to have no rough edges, and glide like his brush on the paper. James talked about Akhnaten's crown with its flinty glare and complicated geometry, and I wanted to match the crown's glinting beauty in the timbral steel I could muster to rival the brass in the pit. Combining these ideas with actual vocal approaches, I worked first with my voice teacher Joan Patenaude-Yarnell and then with conductor Karen Kamensek to find Akhnaten's voice.
The entire cast and creative team worked in similarly detailed ways to make a show that was a hit when it premiered in London. But it wasn't until three years later, when we brought this show to the Met, that we climbed toward apotheosis. We worked together to create buzz, inventing engagement, education, and marketing strategies that mobilized my entrepreneurial spirit, and the show sold out. My procrastinating friends called me whining that they had to go on Stubhub and pay upwards of $1,000 for a single ticket. When all those people sat there, absorbing the synthesis of our years of careful craft and the spontaneity of a live performance, it felt as if we were somehow unleashing ancient spirits upon them. More thrilling to me than the screaming, standing ovations at the end of each performance were the sacred, exceedingly rare seconds of breathless silence just after the curtain fell. I stood behind that curtain, imagining that each person had just experienced their own sort of lucid-dream that was wonderfully distinct from but connected to whatever ours were on stage.
As the weight of that Grammy transferred into my hands and I heard the cheering of the audience in a Las Vegas ballroom, I was filled with joy not only because of the recognition that loud roar represented, but because I knew that soon I will hear those seconds of silence again when Akhnaten returns to the Met.
Akhnaten is on stage May 19–June 10. For more information, visit metopera.org.