A few weeks ago, James and I were talking about how bad it was getting in Ukraine and how we needed to do something. Then, we got a text from Jenn Gambatese, who starred in Mrs. Doubtfire alongside Doreen Montalvo. Devastatingly, Doreen passed away suddenly in 2021, and Jenn teamed up with us to raise money for a scholarship in Doreen's name at R.Evolutión Latina on February 10, 2022. The scholarship helps performers 30-years-old or older (Doreen didn't make her Broadway debut until her 40s). Right after doing the fundraiser on Stars In The House as James and I were talking about helping Ukraine, Jenn reached out and told us she wanted to help with any possible fundraisers responding to the crisis. Well, that was all the impetus we needed!
READ: 11-Hour Stars in the House Raises Nearly $140,000 for Ukraine
We picked a date and then found a charity – The International Rescue Committee. IRC was founded in the 1930s by Albert Einstein to help Jews fleeing Nazi-occupied Germany. Now, they help refugees fleeing strife all over the world. Since the crisis began, they have been helping Ukrainians get out of the country and find housing, work, money, food, etc. James and I got to work inviting people to appear with the help of Jenn and Patti Murin; we quickly built up a roster of so many people. We had thought the telethon would go from 12-10 PM ET, but we soon realized it would go past 11 PM.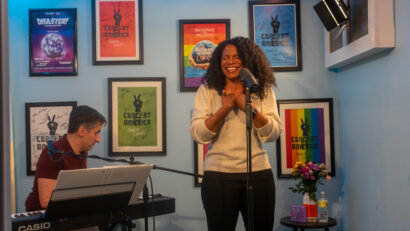 Then, we had to decide from where to broadcast. Instead of doing the whole show virtually, we really wanted to be in the same room as the stars. We thought about various small theaters or clubs around the city before deciding to broadcast from our apartment which is already set up for my weekly concert series in the downstairs area. So, we knew we could do all the live music performances from there. We then invited anyone who was in the city to our place. Thankfully, we were able to get our mitts on 100 COVID-19 tests and our friend Victor Légra, a COVID compliance officer on Broadway, said he could do the testing.
We realized the music studio we use every week, however, would be too small for everyone coming and going. Instead, James and our small team of peeps including David Katz, Margie and Jonah Verdon, and Andrea Martin set up the living room as a broadcast area/green room for people to watch the guests that were on before and after them. We also had lighting designer Jamie Roderick come by to make sure the lighting was great and we got our buddy Kiran Edwards to do sound.
The first person I asked was Josh Groban who said an immediate yes. He also wound up being the first person in the telethon to perform, opening the show by singing and playing "Bridge Over Troubled Water" which was, not surprisingly, beautiful. Then, James and I spoke to President of The International Rescue Committee David Miliband. We got so much insight into what IRC is doing for Ukraine, as well as assurance that no aid is being taken away from other places in need that IRC is helping like Sierra Leone.
After Miliband, Josh came back and I told the audience I had put out the word that Josh would have to sing the role he played in high school if someone made a $500 donation. Well, one of our next stars wound up making the donation – Patti Murin! Josh had to recreate his teenaged performance as Tevye from Fiddler on the Roof. Naturally, we chose "If I Were A Rich Man." While he sang, Patti sat right next to him on a stool and literally, and I mean literally, giggled every 20 seconds.
Before Josh went on, we told him we were introducing him as a Grammy Award winner. He informed us he had never won a Grammy. Oops! He calls himself "EGOT-adjacent." After that, there were so many amazing moments, there's no way I can list them all. But here are a few:
We interviewed Martin Short and Steve Martin who are getting ready to do a show together in Atlantic City. I told Steve I loved his tap dancing and he told me he learned it for the film Pennies From Heaven which I loved, even though it was devastating. I can't believe he learned to tap when he was an adult. He's so good, check him out with Gregory Hines!
Marty not only appeared with Steve, but we also joined a mini-Second City Television reunion as well with Catherine O'Hara, Andrea Martin, and Eugene Levy. I watched that show obsessively in high school and was flipping out being with my comedy idols. When I asked them what sketches they loved of their fellow actors, Andrea talked about how impressed she was with Eugene when he would play the host of the game show "Hi Q." Andrea could not believe Eugene was able to do the sketch so well because he had so many lines that required him knowing where everyone was sitting while being interrupted constantly. Because he can't see without his glasses, Eugene couldn't read any cue cards. He replied to Andrew, "It's called memorization." I loved the response! Here's the sketch:
Then we had the hilarious Colleen Ballinger as her fictional persona Miranda Sings. While talking to her, we also had Melissa Gilbert and her husband Tim Busfield waiting to come on. We found out Melissa was a big fan of Miranda Sings, so we brought her on with Tim. Miranda sang this hilarious version of "Think of Me" where she has her assistant stick a sword through her neck, changing her voice from horrific Miranda to soprano Colleen. But, instead of her brother helping, who is an actual magician, she asked her husband. I guess they never practiced because he put the sword through the wrong hole – she was literally almost stabbed! She started laughing so hard, but still got through the song. Watch her performance:
We also had a mini reunion of the original cast of Saturday Night Live with Jane Curtin and Laraine Newman. You may not know, but Hannah Einbinder who stars in Hacks is Laraine's daughter. I asked her if she was "shepping nachas as our people say." Laraine went along with it and told me, yes, she was "plotzing." Jane then played into it, bouncing off the two of us Jewish people with an exclaimed, "Oh, Ave Maria." Brava on the quick mind.
Jane and Laraine are both from improv and that factored into the answer Jane gave about SNL. I asked Jane if SNL was the hardest job she ever had, which I assumed was yes. I mean, creating a show in a week and performing it live for the very first time in front of a national audience? And her answer was no! She felt the hardest job she had was co-starring in Noises Off on Broadway. Huh? I was so surprised. I thought doing Broadway would be easy, because once a show is set, you just do it eight times a week. But, Jane told me that doing a Broadway show is much harder than SNL because it requires "precision." Jane comes from the world of improv and feels sketch comedy is much more free flowing than a Broadway show. She explained, "the wonderful thing about sketch comedy is that the lines are blurred. So, you can go outside the lines if you want. It's more fun."
I am old enough that I was able to watch that original cast when I was in elementary school. I remember so many sketches. Here's one I loved with the original female cast and host Madeline Kahn:
There's so much more to tell about the telethon! But I'll put it in next week. Speaking of next week, I have a concert April 4 with the amazing Brian Stokes Mitchell. Have you heard the hilarious story about his crazy-ass plane ride? And have you heard his amazing breath control in Ragtime? Watch this:
Get tickets for our concert if you're going to be in New York on April 4!
And on April 3, I have the livestream concert The Seth Concert Series with the amazing Bonnie Milligan at 8PM ET! My husband and I first saw her on opening night of Head Over Heels and became obsessed. The exciting news is she's coming back to Broadway this fall in Kimberly Akimbo and I heard she was fantastic in the Off-Broadway run. She is so funny and has an incredible voice, be sure to get a ticket!