"There is that feeling around Merrily that's different from other shows," says Jessie Austrian, who plays Mary Flynn in the current Off-Broadway revival of the show. "I don't know if that's because it's so talked about that all of the original cast members were so young, I don't know if it was these amazing collaborators and then it didn't do well on Broadway—but just the lore around it!"
Indeed, Merrily We Roll Along, the collaboration of composer-lyricist Stephen Sondheim, writer George Furth, and director Hal Prince has gone down in infamy, officially opening November 16, 1981, and closing November 28, 1981.
The tale of three best friends told in reverse chronological order from a strained time of friendship in their 40s back to their first meeting on a college rooftop was problematic from the start, and many a theatre company has tried to salvage and improve what, at the core of it, is a story about friendship.
Fiasco Theatre Company, the latest troupe to tackle Merrily is, in fact, run by a trio (Austrian, Ben Steinfeld, Noah Brody)—much like characters Frank, Mary, and Charley (played onstage by Steinfeld, Austrian, and Manu Narayan).
Original Mary, Ann Morrison, recently saw the production from Fiasco at Roundabout Theatre Company Off-Broadway. We wanted to hear her take on the new revised version, her thoughts on Mary, what really happened back in 1981, and more. Who better to ask than another Mary? Austrian, who plays Mary in the Fiasco/Roundabout mounting through April 14, joins Morrison in this one-of-a-kind conversation.
**
Ann Morrison: When we saw that there was going to be a future with the show, which was always a surprise, it became this thing that if I knew where someone was doing a Mary Flynn, I found a way to get a hold of them and invite them to the Mary Flynn Club. My fantasy was that one day we'd all rent a concert space and we'd have an evening of Marys. So I wrote Jessie and said, 'Welcome to the Mary Flynn Club!'
Jessie Austrian: It has felt like becoming a part of this larger family that is the show.
AM: I was telling Jessie that we were all cast six months before we went into rehearsal, and I was the last cast. (I was cast actually on my birthday, April 9.) Everybody just got together and they had picnics together and we did outings together and there was a documentary team from ABC that followed us around almost everything that we did. Of course, that's all scrapped and gone except for two things that Lonny [Price] found for the documentary [Best Worst Thing That Ever Could Have Happened]. So the first day of rehearsal, people were already really good friends. That was very unusual.
READ: How Lonny Price Found His Treasure Trove of Original Merrily Footage
Then we went through all the dramatic changes and all the emotional changes. People like Stephen Sondheim will tell you that it was the best fun he'd ever had putting a show together! And then to have closing night be so dramatic and the very next day having to go into a recording so we couldn't even get drunk! We're still very, very connected.
JA: I feel like because this show is so deeply human, and it's about the minutiae of being human and negotiating friendship that it speaks to people.
AM: For a long time, the show was blamed on the cast because we were too young and inexperienced. (We had to lie about our ages!) It wasn't until the reunion concert in 2002 that Hal really realized the book was the problem. Because you couldn't do the book in the concert.
The other thing is, so many people think that the piece is focused on betrayal, of selling out in the business and that's just not it! I talked to college kids, when they asked me to come and talk to them about our perception of Merrily and I always say, 'Don't forget the rooftop! Just focus on the rooftop.' That's the most important thing in it.
JM: It's about how complicated it is to grow up and how delicate those relationships are. That's why Fiasco wanted to meet it now because we have known each other since our rooftop days, but we're now about the age of the characters at the beginning of the play—which is not the end of their lives! We're only 40!
I also bristle when people are like, 'Oh it's a tragedy!' and I'm like, 'No! They're 40! They can change the whole rest of their lives!'
AM: One of the most important things is in the 'Our Time' number. 'If years from now we'll come back to the rooftop and hang the plaque…' who's to say that doesn't eventually happen? That's the impression I got from you guys focusing on the end of it.
JA: As with Steve's shows, even in his collaborator's writing, they don't tie anything up with a neat bow. He doesn't resolve any of the questions! Because life doesn't.
AM: And that's why people love it. That's why people keep coming back.
JA: I also think there's something useful to [people saying] 'I'm part of a trio.' That was the first thing Steve said when we came to meet him. He said something like, 'In your relationship who's the Frank, who's the Mary, who's the Charley?' I think part of what drives Mary is the desire just to be seen! Mary feels unseen by these two guys and by the world at large.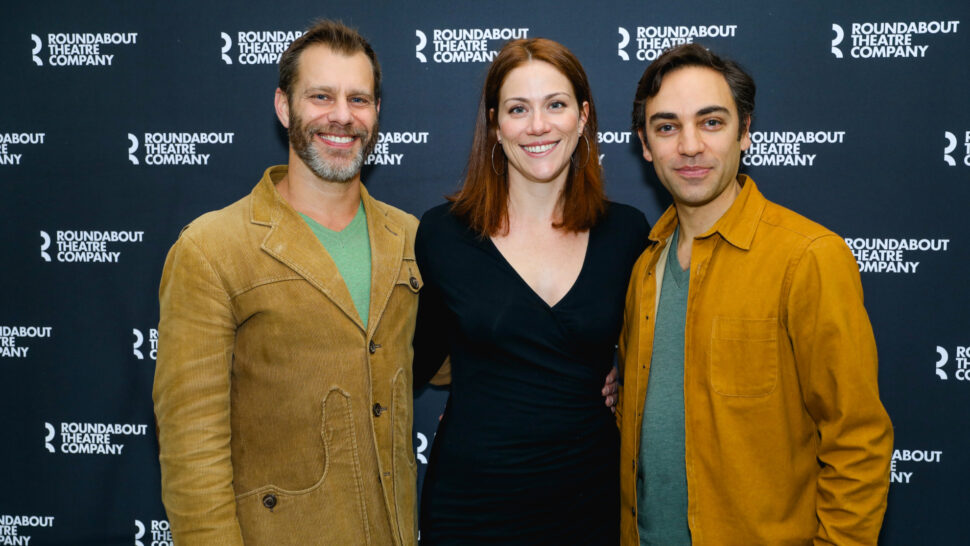 AM: I think Mary really got lost in the rewrites since then.
JA: I got to look at the different drafts. I read the first rehearsal draft and the opening night draft from '81, which are vastly different. But I didn't get to see all the changes along the way.
AM: I have seen [some from] before we even went into rehearsal, which are real interesting!
JA: [There's one version] where Charley goes to jail for protesting Vietnam? That whole storyline? That was amazing to read!
AM: There was a time when Gussie goes to push Meg and Frank grabs her and Gussie goes over the balcony and is killed.
JA: Oh my God!
AM: Yeah! Which was helpful, because the audience really got the show was going backwards and the next scene she was there. It was really clear.
JA: Was there space for you to be in conversation with the creative team about what you understood about Mary?
AM: They were very clear they wanted to hear, but we were all terrified! Because these were musical theatre gods. What could we possibly say that could be of any importance? But especially once we got into previews, and there were times where actually Hal would pull me aside and say, 'That new line that George gave you is not right. You're Mary. How would Mary say it?'
The rest of us were saying, 'When are they going to figure out that Mary needs to be in this particular part of the show? We need to see when she makes the really sad connection in the beginning that she doesn't have Frank. The next day Hal figured it out.
JA: Right.
AM: I'll be honest with you. That first rehearsal that we had, I'm sitting next to Jason Alexander. If you really pay attention to Hal in those first days of rehearsals, he likes to walk you through the set, and if you pay attention, you know exactly how to do his play. He gives you so many clues in that much time. But we read through the whole script and Jason leaned next to me and he said, 'I think we're in trouble.' And I said, 'Nah! They're the gods, they'll fix it.' … I still feel like it's flaws in the script.
JA: I don't know, I think it's human. Its deep humanness is epic. Ben, who plays Frank [in our version], his old theatre teacher came and said, 'Well, it's our Moby Dick!' It's like we're always trying to wrap our arms around this whale of a show!
AM: That's why I always love when people invite me to come see the show.
JA: How does seeing all these different versions over the years, culminating the current Fiasco version, change your understanding of Mary if at all?
AM: Does it change Mary? No. If I were young enough to play it again, I would still make very similar choices. To me, she always was the Mary Rodgers.
JA: My understanding of Mary is a collage of the various drafts. I read a lot of Dorothy Parker, since the original 1934 character is based on her. But I think that's amazing and makes sense, Annie, that you got to witness [Mary Rodgers] and a little bit of her relationship with Stephen and Hal, which is certainly baked in there.
AM: She's such an interesting character in theatre. She really is.
This conversation has been condensed and edited.