**
I feel fortunate to be having a really fun career in the New York theatre world. After over thirty years, I like to say that I'm a small fish in a small pond and that suits me fine. For the past 22 years I have been the Marketing and Public Relations Director at Theatre Development Fund (TDF) – a position I've cherished because I get to be part of a great organization with effective programs that help people gain access to the theatre and support all of New York theatre from Broadway to Off to Off-Off.
The first job I had out of college was as a press assistant in the theatre department of the entertainment PR firm, Solters/Roskin/Friedman, Inc. as apprentice to press agent Josh Ellis (who has currently written a show about his experiences titled, "Call My Publicist" – there's a plug for him). Since apprentice pay is very low and New York City was always expensive, I supplemented my income by working as a photographer for our backstage events. In those days if celebrities came backstage to shows you were working on you'd hire a photographer to chronicle the event and service the photos to the newspapers and news services. They'd hire me cause I was always a good photographer. (It was my minor in college.) I would do it all – take the photos, stay up late developing them at home in the tiny bedroom of my 4th floor walk-up apartment and then bring them to the papers. (In those days I actually could stay up past 11 PM and function the next day.)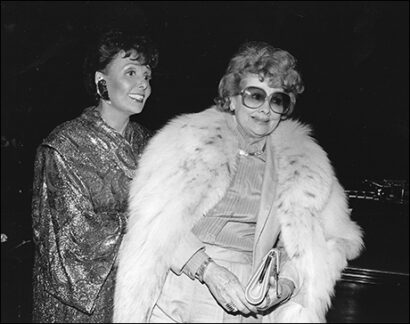 What you see here are some select photos of celebrities who visited backstage at some of the shows the office represented. I later worked for Jeffrey Richards as a full ATPAM press agent when he was solely a press agent, prior to his current prolific producing career of the past 20 years. Some of the photos are from that time period.
I hope you enjoy them. There are many more in my looseleaf folders of negatives that I've just pulled out and started to scan (ergo what you're seeing today). People are encouraging me to do a book. I don't know about that, but I did come up with a title. It came to me when I saw the photo with Princess Grace Kelly backstage at the play The Dresser. I had no memory of meeting Grace Kelly and thought to myself…"well at least I was in the room." So there's the title..with a hashtag, of course: #atleastiwasintheroom
See the full collection here!