DIVA TALK: A Chat With Jekyll & Hyde Star Deborah Cox


Deborah Cox
The high points of the Broadway revival of Jekyll & Hyde, which is currently playing a limited engagement at the Marquis Theatre, occur when Grammy-nominated R&B star Deborah Cox opens her mouth to sing what may be composer Frank Wildhorn's best score. Cox boasts a lush, rangy, powerful alto, and when she wraps that rich sound around such tunes as "Someone Like You," "Bring on the Men" or "A New Life," the result is often thrilling. The singing actress, who previously appeared on Broadway in the title role of Aida, shares the stage here with Tony nominee Constantine Maroulis and Teal Wicks, and Cox's second-act duet with the latter on "In His Eyes" is also especially memorable. Just prior to her opening-night performance, I had the pleasure of chatting with the gifted artist, who spoke about portraying the ill-fated Lucy in the pop musical, which played a six-month national tour before arriving on Broadway; that interview follows.
Question: How did this role come about for you?
Deborah Cox: Well, the Nederlanders, who are the producers of the show — [Nederlander executive vice president] Nick Scandalios is actually the one who approached me about being a part of the project, and he told me to give it some thought, and check out the script, and he told me who the team was — that Jeff Calhoun would be directing, and Tobin Ost would be doing all the designs and that Constantine was signed on as Jekyll and Hyde, and it just seemed like a great project to be a part of. So I kind of went off and read the script, because originally I didn't know that there was a female love interest in the show. I knew the premise of "Jekyll and Hyde," but I didn't know that this story in particular had Lucy in it. That was really intriguing to me. So I went and read the piece and later on went back and said, "Yeah I'm in!" [Laughs.]
Question: What was the touring experience like for you? I'm sure you've toured in concert but I don't think you've ever done a show tour…
Cox: Yeah, I've never done a Broadway scheduled tour, eight shows a week while touring in different cities. It was a great experience to get in front of different audiences every week and to hit these amazing performing arts centers and theatres across the country and really re-introduce the [musical] to people and give people a taste of my version of Lucy.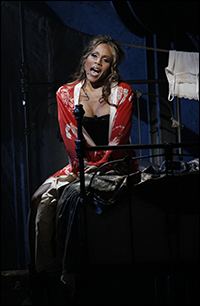 photo by Chris Bennion

Question: You have a really beautiful voice by the way. I'd really never heard you sing until this weekend, and I was really struck by your sound.
Cox: Thank you! I really love the music in the show, all the songs not just the songs that I sing. I really am just taken by the score of this musical and really proud to be in it and a part of it and lend my own version and my own style to the piece. I know that this was the version the Nederlanders wanted to be the more definitive version and I knew I was going to come up against people who had preconceived ideas of what it should be, based on what was done before… I love a great challenge, so it was just important for me to make sure I was truthful with the songs and the material and that it came from that place. It seems to be resonating, which was my goal.

Question: How do you go about protecting your voice? It seems like a very demanding role to sing eight times a week.
Cox: Yes, it's a really demanding score, and it requires an extreme amount of discipline. I went back to vocal rest days on my day off, and warming up before every show, and it really makes a difference. It helps to preserve and it helps to keep my stamina going, and with this type of regimen, you really just have to take care of your health. …And, I think now I've found my rhythm. [Laughs.] I feel like the hamster on the wheel sometimes — just going and going! Because it's not just the eight shows a week, it's the press and the radio interviews and the stuff that we have to do to keep the show going as well. You know, all of it's important, so I try to make sure that I take care of myself. I love massages, I love the spas, and I just relish the days that I can get in and completely just veg in the steam room and just get taken care of by the masseuse. And, that's kind of how I keep it going! That and yoga and lots of tea.

Question: Tell me about working with Jeff Calhoun as the director. What has that been like for you?
Cox: A wonderful experience. Jeff is so specific and has a great vision for what he wants, which is great. He allowed me to follow my instincts in places as well, so it's been a great partnership working with him over the past seven months doing the show and really developing a great, strong, sexy, complex Lucy. He understands the backstory that I've created for my Lucy, and he just is the actor's director. He really delves in and makes sure you explore all the options and all the possibilities emotionally and physically for the character. I feel really free doing this role. It's been a great experience.